How To Make Rhubarb Syrup Just Like Oma
➤ by Lydia Fulson
As an Amazon Associate, I earn from qualifying purchases.
Here's a rhubarb recipe that's surely unique. The best part? You get two in one with this recipe. Syrup and butter. Both equally as lecker as the other. Never heard of them, or have no clue where to start, or even how to serve or use them???

You'll find it all here! Don't worry, Oma never lets you go into a recipe without handy hints and spreading some of her Oma kitchen knowledge to you!
This recipe is a wonderful way to bring a new variety of unique flavor and gorgeous color to the table.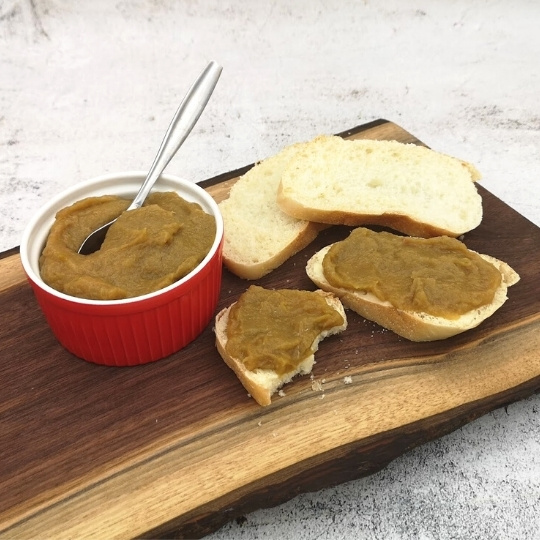 MMM! can you taste it already?
Making rhubarb syrup has never been so easy, or so tasty. Follow this recipe along with its hints and tricks to make this delicious summertime treat.
Wait until you hear the best part. It is made using only THREE ingredients! It's as simple as that.
Oma made this using freshly chopped rhubarb from her garden. Of course, she had me try some of her homemade syrup and butter, and I ate SO much of it. The butter, I tried on a few different things to give you all some ideas.
First I tried it on these spectacular salted caramel cookie crisps. The salty flavor with the sweet and sour taste of the rhubarb was the perfect pair.
Then... I know it sounds odd, but next, I tried this on a slice of watermelon. Oma, Opa, and I were having a Kaffeeklastch coffee break and Oma cut us up a crisp watermelon to enjoy with our tea. I spread some on my slice and it was so dreamy! It was my favorite combination yet. 
When trying the syrup itself, I loved it on its own. But I can see how adding ginger ale would make a refreshingly lovely sparkling treat as well.
Combinations To Try
To try with the Syrup:
Make some sweet drinks!
Gingerale 

Sparkling water

Your favorite cocktail

Drizzle over ice cream (Vanilla ice cream would be lecker!)

Drizzle over pancakes or waffles to add an extra little kick to your breakfast

Mixed with pudding
To try with Rhubarb butter:
Bread (baguette, homemade German brotchen, artisan bread, or whatever you prefer)

Watermelon!

Crackers, or salty chips to get that awesome contrast of flavors that work

Ice cream
When to Make Rhubarb Syrup
The tough thing about making rhubarb recipes are that rhubarb doesn't grow year-round. So the best time to make it is, well, during rhubarb season. You can get the best of your homemade or market-bought rhubarb from mid-spring to mid-summer. 
There are a few ways to know when your rhubarb is ready for picking, but the best way to tell, is by the length of the rhubarb stalks. The stalks should be around 12 inches long. The amount of stalks is important as well. Ten is the usual amount when ready for picking.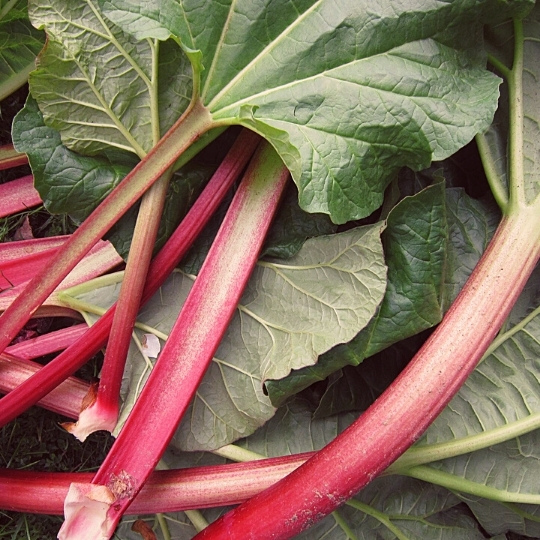 Fresh ingredients are the best ingredients!
But don't forget the rule of thumb for eating homegrown rhubarb. DO NOT eat rhubarb leaves! They can be toxic to humans. So it's best to leave them out of your favorite homemade rhubarb recipes. No one wants a chewy leaf in their strawberry rhubarb crisp!
While fresh rhubarb is preferred for rhubarb syrup, and it is difficult to find during the winter months, it isn't impossible. It just won't be as fresh as you'd like it to be. That's why rhubarb syrup is best as a spring and summer treat.
Is it really all that easy to make? Absolutely. Here's all it takes.
Simply add your chopped rhubarb and other two ingredients into a big pot, simmering and stirring until your mixture goes from this..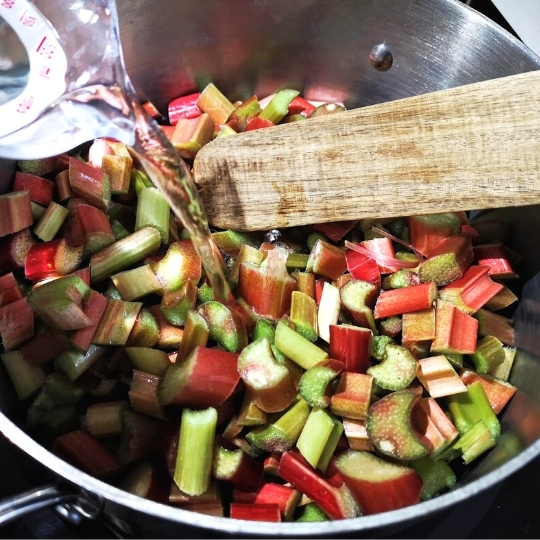 Time to stir and stir some more!
To this! The process to get to this really doesn't take long at all. Next up is the fun part of butter and syrup making. 
Draining all the yummy goodness.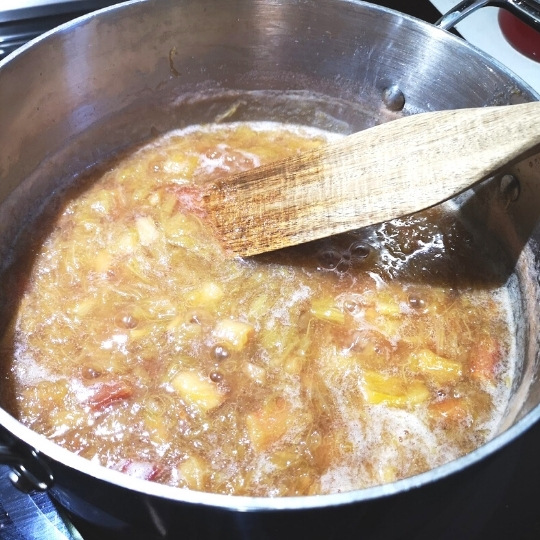 Ah! Perfect!
Using a cheesecloth over a fine mesh strainer and bowl, pour the mixture into the cloth. This is how you separate the liquid syrup from the butter. The syrup will fall through the cloth into the bowl below.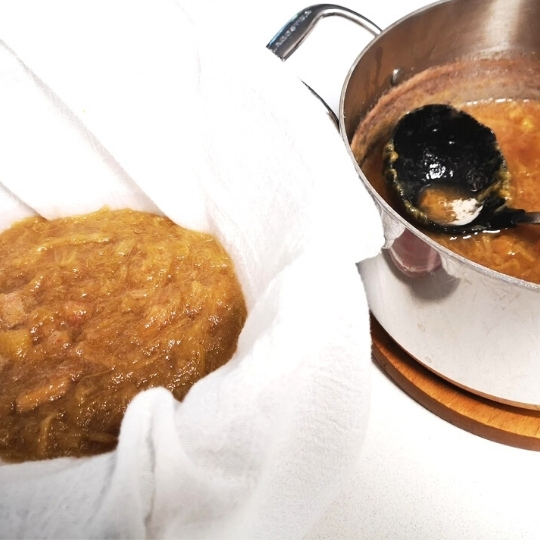 Into the cheesecloth it goes!
Now, you can lift up your cheesecloth containing the rhubarb, and slowly squeeze to get any remaining juice out of there and into the bowl of goodness below.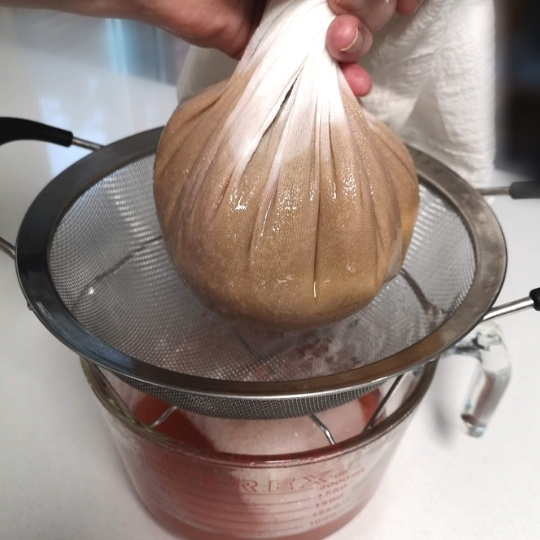 Squeeeeeze!
From here, take the rhubarb from the cheesecloth and put it in its own bowl for use. Take the liquid syrup that was drained and put it in a jar or bottle and admire your beautifully yummy creation. Then of course, try them both!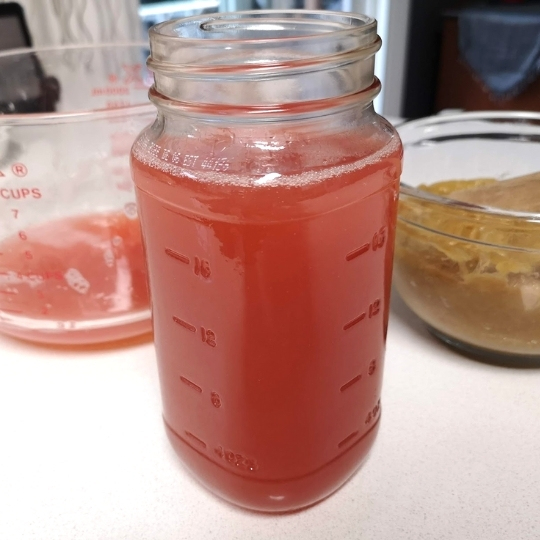 Look at that color! What a great way to add some pizzaz to your drink
Grab your copy of Oma's favorites in her Special Occasion German Cakes & Tortes e-Cookbook.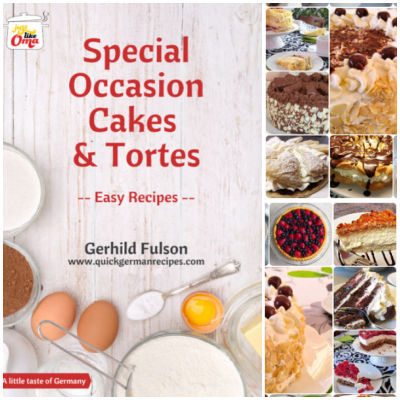 Take a peek at all Oma's eCookbooks. They make sharing your German heritage a delicious adventure!
Maybe this rhubarb syrup recipe looks somewhat similar to something you've seen on here before. Well, you're kind of right! There is another lecker dessert made with the lovely rhubarb. Rhubarb pudding is the name!
Rhubarb pudding is made very similarly to rhubarb syrup, but as you can see, it's served a little differently, and has a few other key ingredients.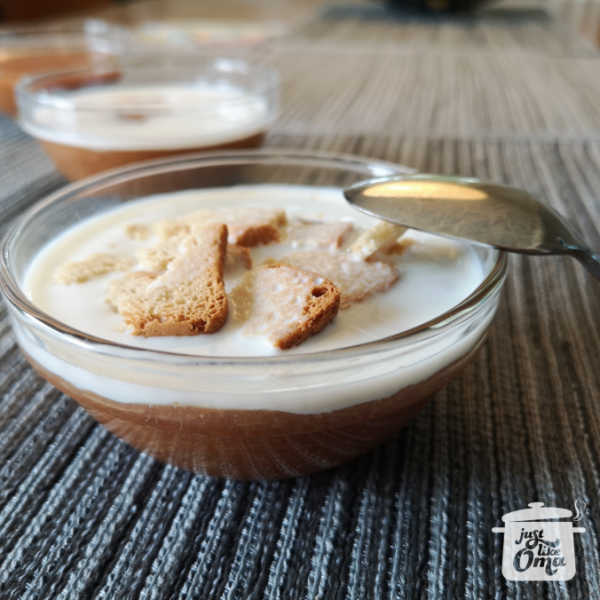 Another one to try during rhubarb season, for sure.
Rhubarb pudding, syrup and butter are all great spring/ summer treats. Especially if you're looking for something new to serve your guests. When Oma first had me try these, I was in awe. 
Once I had that rhubarb butter on watermelon, I've craved it again ever since. I just might have to whip some together soon! Yep, I can whip it together super quick because it takes no time at all and simple ingredients. Now that's wunderbar!
Alright, let's dive into how to make your very own delicious syrup.
Ready to cook?

As an Amazon Associate, I earn from qualifying purchases.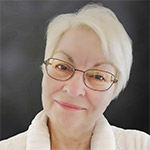 For more German-inspired items that make life easier and yummier, especially in the kitchen and for entertaining, follow my Amazon Storefront.
➙ For groceries,
Try Amazon Fresh
.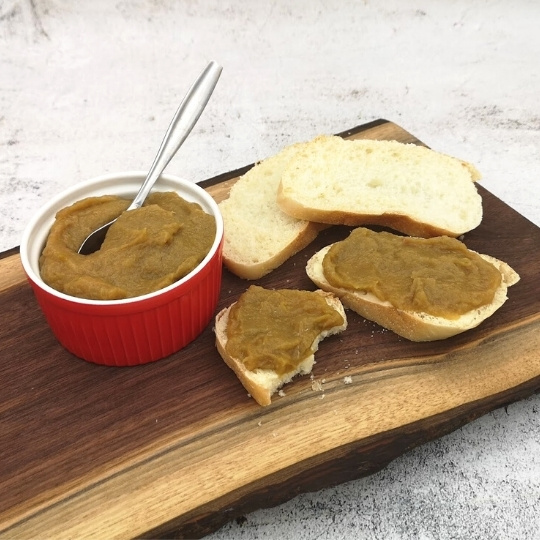 How To Make Rhubarb Syrup Just Like Oma

Making rhubarb syrup has never been so easy, or so tasty. Follow this recipe along with its hints and tricks to make this deliciously snackable treat. The best part- you get two in one. A syrup and a butter. Both equally as lecker as the other.
Prep Time


10 minutes


Cook Time


20 minutes


Total Time

30 minutes

Servings:

Makes 16 ounces syrup, 1 cup butter
Ingredients:
8 cups chopped rhubarb (Roughly 2 pounds)
2 cups water
2 cups white sugar
Instructions:
Combine rhubarb, water, and sugar in a deep saucepan and bring to a boil. Lower the heat to a simmer while stirring occasionally with a wooden spoon for about 20 minutes, until soft and liquid has started to thicken.
Set a strainer lined with cheesecloth, or a fine mesh sieve over a large bowl. Carefully pour the rhubarb from the pot through the strainer to strain the liquid syrup into the bowl.
Lift up the cheesecloth containing the rhubarb, and slowly squeeze to get any remaining juice out of there and into the bowl.
From here, pour the liquid syrup that was drained into a jar or bottle, and remove your butter from the cheesecloth. 
Drizzle syrup and spread butter over the snack of your choice and enjoy!
Notes/Hints:

Use an airtight container with a tight fitting lid for storing rhubarb butter in the refrigerator. If you can't get through it quickly enough, it will last up to two weeks if kept tightly sealed and stored properly.
*  *  *  *  *

Unless otherwise noted recipe, images and content © Just like Oma | www.quick-german-recipes.com

Leave a comment about this recipe or ask a question?

Pop right over to my private Facebook group, the Kaffeeklatschers. You'll find thousands of German foodies, all eager to help and to talk about all things German, especially these yummy foods. 
Meet with us around Oma's table, pull up a chair, grab a coffee and a piece of Apfelstrudel, and enjoy the visit.

This easy German Apple Strudel recipe is one of those German desserts that brings the traditional strudel taste to your table without all the work. Wunderbar!!

Make the perfect German Spaetzle with Oma's easy recipe! This traditional German egg noodle pairs perfectly with caramelized onions for a delicious meal.

Choose from Oma's cookbooks that are immediately downloadable & start cooking easy classic German foods tonight. Or get her newest paperback cookbook. LECKER!
*  *  *  *  *
PIN to SAVE this recipe to your Pinterest board!
And let's be friends on Pinterest!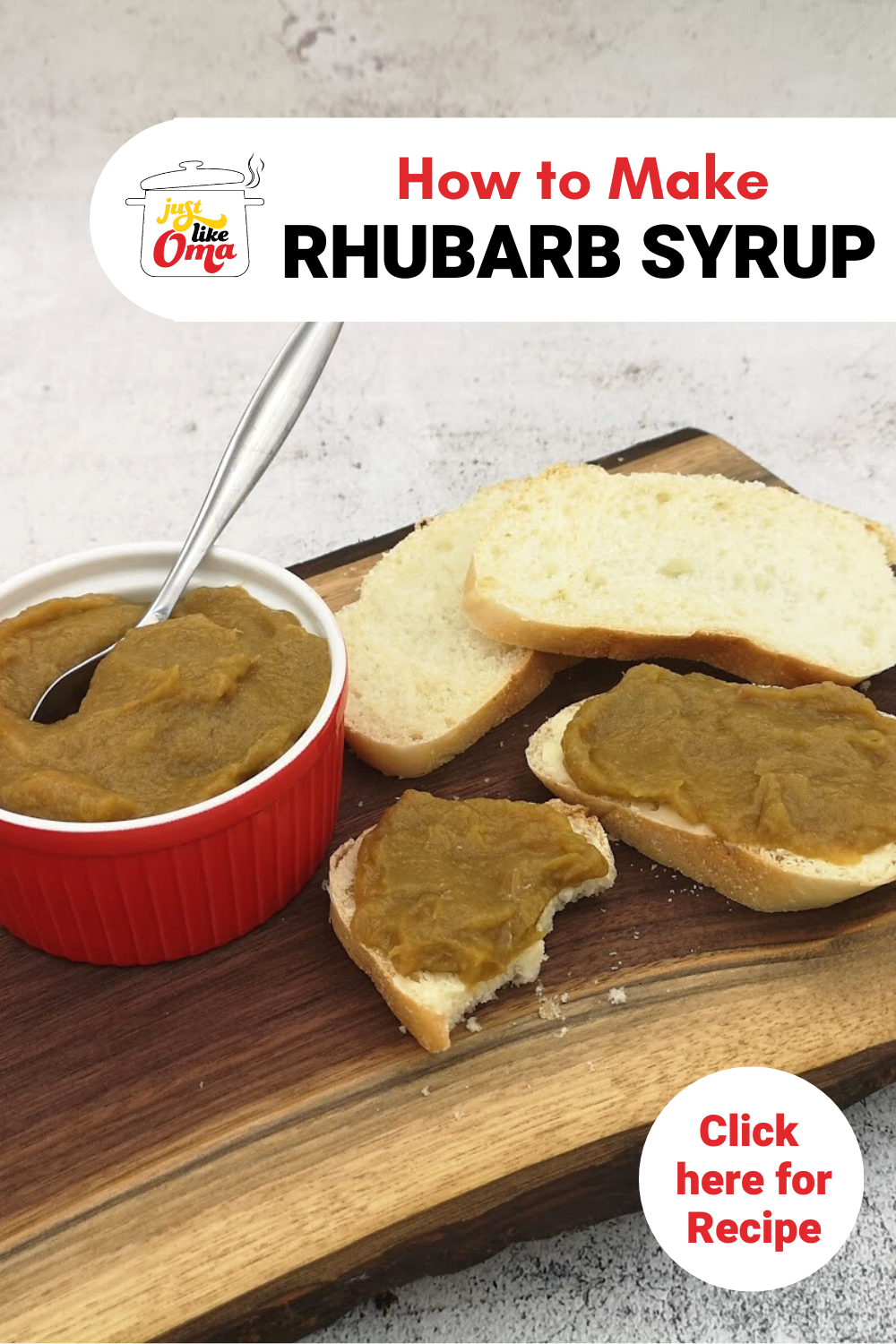 Words to the Wise
When I said, "My foot is slipping," your love, O Lord, supported me. When anxiety was great within me, your consolation brought joy to my soul.
Psalm 94:18-19