German Rhubarb Pudding Recipe – Heidi's Rhabarbergrütze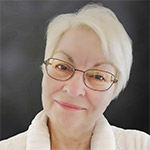 by: Gerhild Fulson  /  Cookbook Author, Blogger, German Oma!

This post may contain affiliate links, which means I'll receive a commission if you purchase through my links, at no extra cost to you. Please read full disclosure for more information.
This German rhubarb pudding, aka Rhabarbergrütze, is a great way to use up and enjoy that lovely homegrown rhubarb!
A warm, solacing treat for the Spring time! Delicious with ice cream!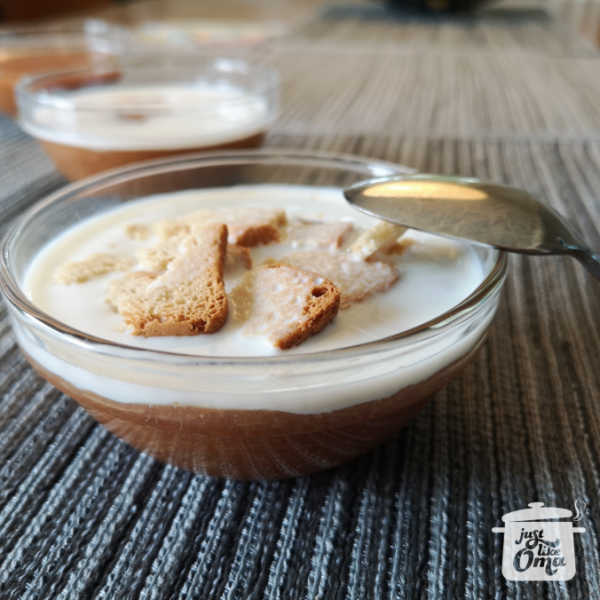 What do you do with Rhabarbergrütze?

In Northern Germany they add something called Zwieback on top. Which is similar to Melba Toast. They look like miniature pieces of toast, which would act as a crumble.

This recipe is traditionally served with either milk, or whipping cream poured into it, taking away that strong tart taste and giving it some sweetness.
This rhubarb pudding also goes great with vanilla ice cream.
Rhabarbergrütze in Milton, Nova Scotia
I first came by the recipe for Rhabarbergrütze along the Mersey River in beautiful Milton, Nova Scotia.
My good friend, Heidi Moellgaard, and I were taking an early morning walk around the scenic property of her new Airbnb.
A truly serene environment, the calming sounds of the river and the birds chirping away. It's that natural type of commotion that makes you want to stay outside for HOURS, and hours.
After roaming around for a while taking in all the scenery, we came across her gorgeous, well kept garden. The garden had a large patch of this bold colored rhubarb, which Heidi then picked for a recipe she called Rhabarbergrütze. 
Once the two of us returned to her kitchen, she prepared for us this delicious rhubarb pudding recipe that she served with milk and Melba Toast crumbled on the top.
Heidi is familiar with this yummy recipe because of her Northern German background, and her special twists make it a truly scrumptious and refreshing treat!
A big thank you to Heidi for introducing me to this recipe, and for showing me around her lovely Airbnb! Be sure to check it out in the link above!

Need that "all's good with the world" feeling? Comfort food will do that. Get your copy of Oma's German favorites in her Comfort Foods e-Cookbook.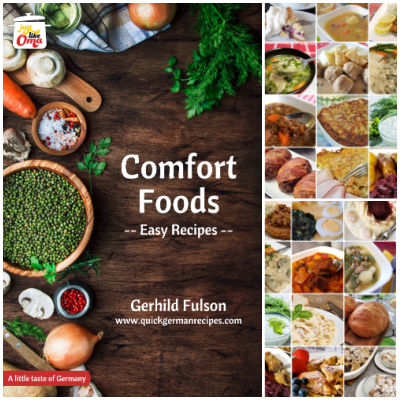 Take a peek at all Oma's eCookbooks. They make sharing your German heritage a delicious adventure!
Chopped and prepared rhubarb, ready for boiling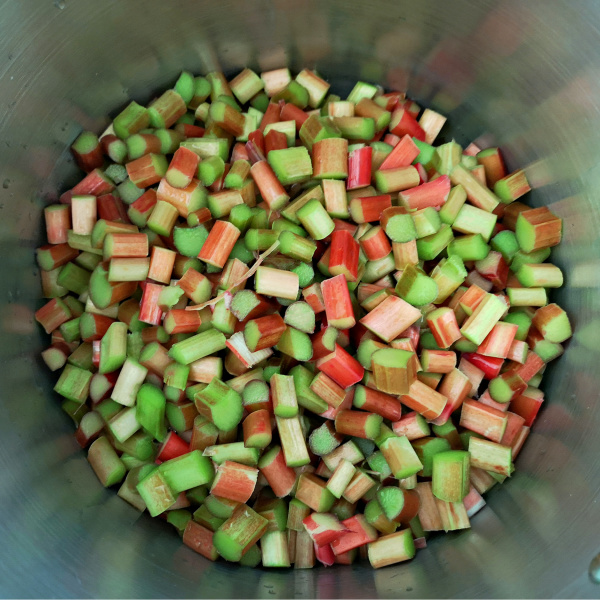 ---
Oma Says:

I've had many people give their preferred method on how they like to serve the rhubarb pudding. Some serving it with milk, and others with cream. Many that serve it with Zwieback or Melba Toast as well.
I imagine something like an oatmeal cookie crumbled on top would be a delicious alternative to the Melba Toast. Now, I've never tried this method, but I envision it would taste similar to the crumble that is put on top of rhubarb crisp. 
Be sure to try it out with different kinds of crisps, cookies or anything else that could act as a crumble like topping.
In the recipe, I mention that I used cherry juice instead of water. I think that by using a red juice as a substitute for water, you can achieve more flavour.
By using the cherry juice as I did, it gave the pudding a fun, different flavour that accompanied the rhubarb very well. It also took away some of the tart flavour that rhubarb can give off, and balanced it out a bit.
I do suggest using any red juice, such as cherry, watermelon, pomegranate, strawberry, or any other kind you can think of that would go well with the rhubarb taste.
Everyone has their own preferred preferences, so make it to your liking! There is no wrong way to make a recipe, and it is always okay to put your own little flare into it. 
---
Keep stirring as it's thickening to keep it from burning on the bottom.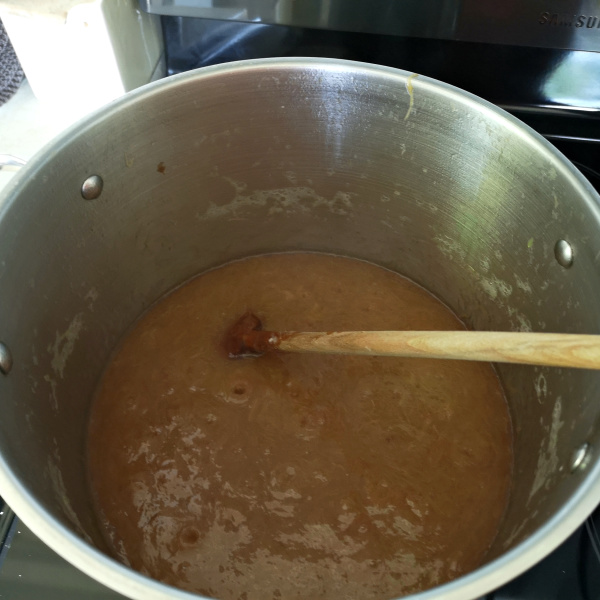 Finished pudding, served beautifully with cream and Melba Toast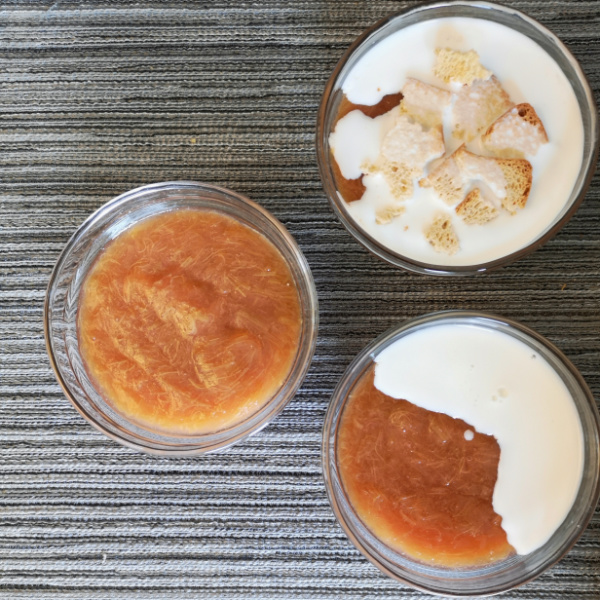 Ready to make Heidi's Rhubarb Pudding?
Is the recipe below locked? Here's why.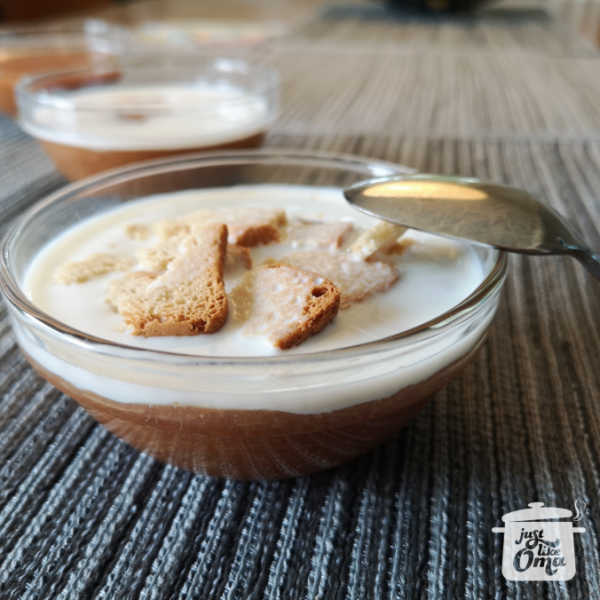 German Rhubarb Pudding Recipe – Heidi's Rhabarbergrütze

This German rhubarb pudding, aka Rhabarbergrütze, is a great way to use up and enjoy that lovely homegrown rhubarb!
A warm, solacing treat for the Spring time! Delicious with ice cream! 
Prep Time


10 minutes


Cook Time


10 minutes


Total Time

20 minutes

Servings:

Makes 8 servings
Ingredients:
2½ pound trimmed rhubarb, chopped 
2 cups water or part juice (any red juice will do)
1 cup granulated sugar
4 tablespoons Bird's Custard Powder (or cornstarch)
¼ cup cold water
2 teaspoons vanilla extract
Instructions:
To prepare rhubarb, you may need to peel it if it is too stringy. Once peeled, chop to whichever size you find best. 
In a large pot, combine rhubarb, water and sugar.
Bring to boil, and simmer for 5 to 10 minutes.
Mix Bird's Custard powder with the cold water.
Add to rhubarb mixture, simmer for approx. 1 minute. 
Let cool and stir in vanilla extract.
Add more sugar or vanilla extract if needed. 
Notes/Hints:

If you choose to use juice as an alternative for water, I suggest using any red juice. I used cherry juice, and it worked great!
*  *  *  *  *

Unless otherwise noted recipe, images and content © Just like Oma | www.quick-german-recipes.com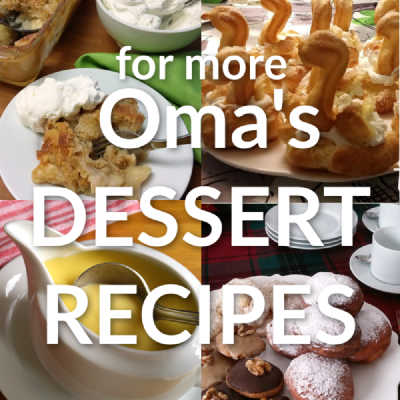 Leave a comment about this recipe or ask a question?

Pop right over to my private Facebook group, the Kaffeeklatschers. You'll find thousands of German foodies, all eager to help and to talk about all things German, especially these yummy foods. 
Meet with us around Oma's table, pull up a chair, grab a coffee and a piece of Apfelstrudel, and enjoy the visit.

Cooking just like Oma, making those German meals, is actually quite easy. Let me, Oma Gerhild, help you with my step-by-step methods to re-create those yummy meals you remember from your Oma.

If you're looking for tasty, traditional, and easy German cake recipes (in English) to try, then you've come to the right place! Check out these lecker treats!

Discover the ultimate German schnitzel recipe with Oma's quick and easy method - perfect for any occasion! Taste the authentic flavors of Germany today.
*  *  *  *  *
PIN to SAVE this recipe to your Pinterest board!
And let's be friends on Pinterest!
---
Heidi's German Rhubarb Pudding made just like Oma


By
Oma Gerhild Fulson
This German rhubarb recipe is a great way to use up and enjoy that lovely homegrown rhubarb! A warm, solacing treat for the Spring time! Delicious with ice cream!

Ingredients:
rhubarb,
sugar,
water or juice,
vanilla extract,
custard powder,
For the full recipe, scroll up ...
Words to the Wise
"Hatred stirs up quarrels, but love makes up for all offenses."
Proverbs 10:12 (NLT)