Oma's Easy German Dessert Recipes
➤ by Oma Gerhild Fulson
Oma's German desserts with American ingredients. Traditional recipes like Apple Strudel, jelly donuts (Berliner), Kirschenmichel, and newer ones too. Wunderbar!
Are you thinking these German desserts are probably really difficult? You'll soon realize they really aren't difficult at all! For example, take a look at the scrumptious Apple Strudel above. This looks so good and tastes wunderbar as well. Delicious! And yes, it's easy!
These quick dessert recipes are fantastic for "Kaffeklatsch" literally translated meaning "coffee gossip" or nicely translated means "afternoon coffee and dessert." 

Grab your copy of Oma's favorites in her Special Occasion German Cakes & Tortes e-Cookbook.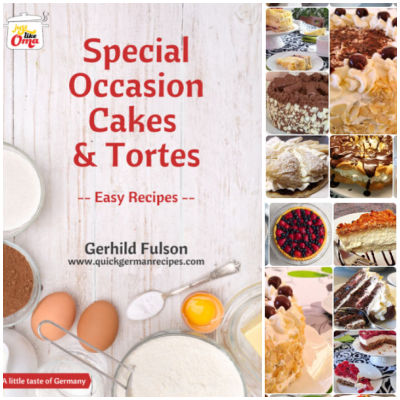 Take a peek at all Oma's eCookbooks. They make sharing your German heritage a delicious adventure!
---
Need help deciding what to make?
My favorites would be the the apple strudel and the cream puffs (as swans or cake or puffs)... these are both so easy to make and so impressive.

Easy Dessert Recipes
---
The Apple Pudding Cake would be great for your afternoon snack! This recipe comes from my dear German friend, Heidi. She serves it deliciously warm from the oven, served with ice cream melting over the top and sprinkled with additional cinnamon. 
Smells divine. Tastes heavenly!
Who would guess the easy flaky dessert was made with soda crackers, instant pudding, and Cool Whip?
It is . . . and it's so quick and easy to make. It's fun making it with my granddaughters; it's that easy Is it German? I don't think so, but it is so light and delicious after a traditional schnitzel dinner, it becomes one of those "cross-cultural" desserts!
I experimented with this, again with the crackers, pudding, Cool Whip, and cherry pie filling, but made it REALLY German. I call this outstanding creation my Black Forest Dessert. You'll understand why once you go and see it. I'm sure you'll want to make it as well. So WUNDERBAR!
In fact, why not check out ALL my quick dessert recipes above.
I'm positively sure you'll find something tantilizingly wunderbar!
Take photos as you make them and post them to my Quick German Recipes Facebook page for all to see!
While you're there, be sure to 'like' the page, OK?
Yes, and just in case you're looking for something special for Christmas, take a look at my Christmas Baking e-cookbook. You'll find, not only great recipes, but also many tips from me. 
I love eating German foods, but I really don't like spending too much time in the kitchen. So almost anything I can do to lessen my time there is something I look for.
As well, not all ingredients that are needed for "German baking" is available here where I live in Canada. So, substitutions are necessary. I touch on those as well in these e-cookbooks. Do take a look. I think you'll like!
Leave a comment about this recipe or ask a question?
Pop right over to my private Facebook group, the Kaffeeklatschers. You'll find thousands of German foodies, all eager to help and to talk about all things German, especially these yummy foods. 
I pop in all the time as well, to chat and to answer questions. 
Meet with us around Oma's table, pull up a chair, grab a coffee and a piece of Apfelstrudel, and enjoy the visit.
These roasted Brussels spouts with balsamic vinegar and maple syrup are so quick and easy to prepare, yet so delicious! This may just be your new favorite go-to recipe for roasted FROZEN Brussels spro…

Love German cabbage rolls? You'll absolutely love Oma's unstuffed cabbage roll casserole. Same great taste, but a LOT less work. No rice or tomatoes here. Just real German goodness.

THE German Krapfen or jelly donut recipe you'll need if you plan to make Berliner Pfannkuchen ~ that traditional treat for New Year's and throughout the year!
*  *  *  *  *
Pin this ...

Make every day a SWEET day!
"How sweet Your words taste to me; they are sweeter than honey. Your commandments give me understanding; no wonder I hate every false way of life."
Psalm 119:103-104