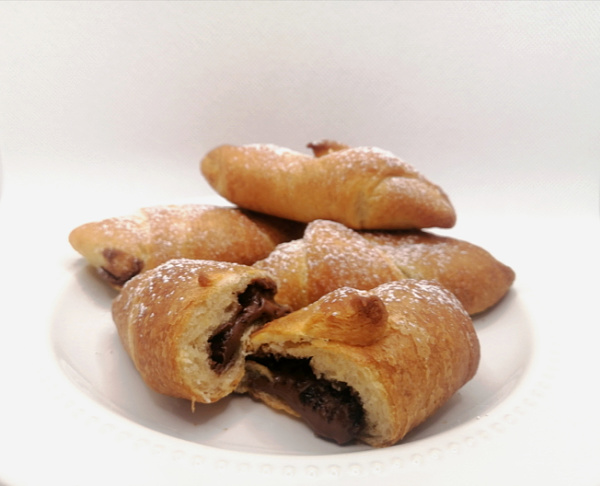 Lydia's Air Fryer Crescent Rolls Recipe – Luftfritteuse Hörnchen

These delicious crescent rolls made just like Oma in the air fryer are stuffed, rolled, and baked to perfection! These sweet treats are perfect for company or your 3 o'clock coffee break. These are so quick and ever so simple to make, exactly how we like it! Best of all, it's a great recipe for two people, or one! 
I used the Instant Vortex Plus Air Fryer Oven to make these delicious rolls. If you have something different, no problem. Simply adjust settings and cook time accordingly. 
Prep Time


10 minutes


Cook Time


9 minutes


Total Time

19 minutes

Servings:

Makes 8 rolls
Ingredients:
1 tube Pillsbury crescent rolls
8 tbsp fillings (see Hints below)
¼ cup powdered sugar
approx 3 teaspoons lemon juice
Instructions:
Preheat air fryer to 350°F on bake.
Prepare 2 air fryer trays by lining with parchment paper. 

Open tube of Pillsbury crescent rolls, unroll and lay dough flat on flour-dusted cutting board. 
Use plastic bench scraper or knife to cut into 8 separate triangles.
Scoop about 1 tablespoon of your filling with a cookie scoop onto the large end of your triangle.
Tuck corners in overtop of filling and roll until you have desired crescent shape.
Lay four crescents on each tray, leaving space between them.

Bake for 5 minutes on the middle shelf, flip rolls, remove parchment paper, and bake for 4 minutes or until nicely browned. Repeat with remaining tray.
Place on cooling rack.
Mix powdered sugar and just enough lemon juice in a small bowl to make icing.
Brush icing over crescent rolls.
Plate and serve! 
Notes/Hints:

Flipping halfway through baking time allows even browning to each side of your rolls. If you use the baking tray instead (the bottom tray), you don't need to flip them over.
Don't over fill your rolls! If you pack too much filling into one roll, it will spill out the edges.
Use prepared fillings, such as canned poppy seed filling, pie fillings, jam, Nutella, etc.
I used 4 tbsp poppy seed filling and 4 tbsp blueberry pie filling for the ones pictured above.
Dust the tops of your crescent rolls with powdered sugar for a tasty and quick topping.
*  *  *  *  *

Unless otherwise noted recipe, images and content © Just like Oma | www.quick-german-recipes.com