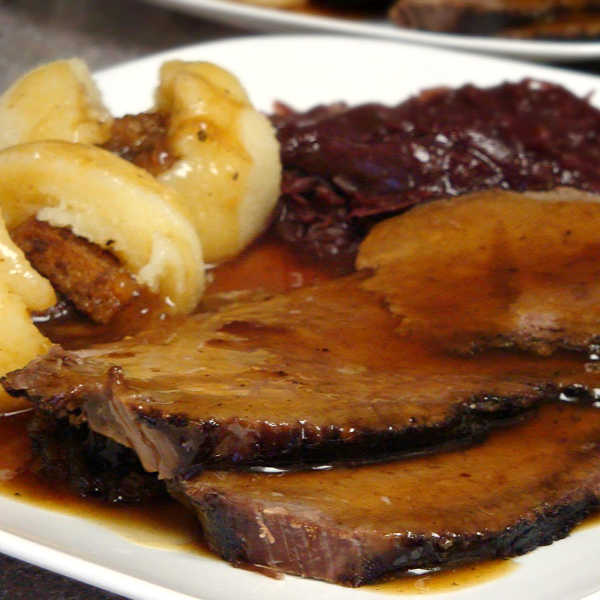 Oma's Traditional Sauerbraten: Slow-Cooked Tender Meat & Amazing Gravy

Here's the sauerbraten recipe that comes from my Mutti's own handwritten cookbook. Her recipes are special to me, full of wonderful memories, especially sitting around the dinner table enjoying these delicious feasts.
This amazing tender beef dinner is one of those and is often served with red cabbage and potato dumplings. Choose according to your taste buds to make the southern version with gingersnaps or my favorite, the northern one without.
Prep Time


15 minutes


Cook Time


3.5 hours


Total Time

3.75 hours + 3-5 days

Servings:

Makes 8 - 10 servings
Ingredients:
4 pounds beef roast (chuck, rump, or round)
1 teaspoon salt
1 cup red wine vinegar
1 cup red wine
4 bay leaves
2 large onion, sliced
12 peppercorns
4 whole cloves
2 to 3 tablespoons bacon fat, butter, or oil for browning
2 carrots, sliced
1 rib celery, sliced
1 - 2 cups beef broth (see hints below)
For north German-style: 2 tablespoons cornstarch or for south German-style: 10 crushed gingersnap cookies
1 cup sour cream (optional)
salt and freshly ground black pepper
Instructions:
Trim any excess fat from the roast and sprinkle with salt and pepper.
Place roast in a large nonmetallic bowl, such as ceramic or glass or into a sealable plastic bag that's been placed into a bowl in case it should leak. Add vinegar, wine, bay leaves, peppercorns, cloves and one sliced onion. Add water to cover.
Tightly cover bowl (or seal bag) and refrigerate for 3 to 5 days, turning once or twice every day.
Drain meat, reserving marinade, see hints below. Wipe meat with paper towels to dry.
In a deep saucepan or a Dutch oven, put about 2 to 3 tablespoons bacon fat, butter, or oil to brown meat over medium-high heat.
Brown roast on all sides. Remove roast to slow cooker, if using, or place on a plate.
Add carrots, onions, and celery to saucepan. Brown slightly. Add 1 cup broth and 1 cup strained reserved marinade (see hints below) and stir to loosen the browned bits at the bottom.
Either pour contents of saucepan over the meat in the slow cooker, if using, or place the meat back into the saucepan, spooning some of the liquid over the meat.
For the slow cooker, cook covered on low for about 7 to 8 hours. On the stove top, simmer covered on low heat, taking about 2 to 3 hours. Or place covered in 350°F oven for 2 to 3 hours,
Remove meat and strain the cooking liquid into a small saucepan. For the north German-style, make a cornstarch slurry by mixing with a bit of cold water in a small bowl. Slowly add just enough to simmering cooking liquid until thickened for gravy. Remove from heat and stir in sour cream (if using). For the south German-style, stir in crushed gingersnaps and stirring, simmer until slightly thickened, adding a bit of cornstarch slurry if needed. Season with additional salt and pepper if needed.
Slice meat and serve with gravy and potato dumplings and red cabbage!
Notes/Hints:

You can add 1 teaspoon of juniper berries to the marinade if you wish.
Apple cider vinegar can be substituted for the red wine vinegar.
I'll often use a mix of butter and light olive oil for browning the meat.
If you don't like your Sauerbraten too sour, add 2 cups of broth instead of using any reserved marinade for the cooking stage. Then next time you make it, try adding the reserved marinade and see how you like it.
For a 'spicier' taste, remove meat from marinade the night before cooking and cover all sides thickly with mustard. Cover and continue the following day with above instructions.
You can use your pressure cooker to make a sauerbraten from beginning to end in 2 hours. 
*  *  *  *  *

Unless otherwise noted recipe, images and content © Just like Oma | www.quick-german-recipes.com

11.05.2021 revision update