Oma's Peameal Bacon Recipe tastes like Kasseler!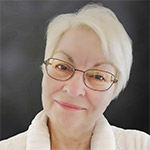 by: Gerhild Fulson  /  Cookbook Author, Blogger, German Oma!
As an Amazon Associate, I earn from qualifying purchases.
Heidi's peameal bacon recipe is one way I satisfied my desire for German "Kasseler" (or "Kassler"). Kasseler was always a special treat as I was growing up. Mutti didn't make it often.
We lived in northern Ontario and the closest German deli seldom had this delicacy. When it was available, it was very, very expensive. It was saved for a company dinner. One we all enjoyed! (One reason we kids loved having company because it meant those special German meals would be had .... kasseler or rouladen!)
This is Heidi's secret recipe for making an alternative to Kassler -- so easy and so delicious! Using a Canadian peameal bacon roast produces a very similar result, at a much, much lower cost!
This is so easy to make. It's simply putting that peameal roast (after I wash off the cornmeal that's surrounding it) into my slow cooker. I add a jar or two of sauerkraut. Turn on and forget it until supper time. Then, it's just a matter of thickening the liquid with a cornstarch slurry. 
Served together with some boiled or mashed potatoes, this is comfort food that hubby and I really enjoy. Add a bit of German mustard on the side, if you wish. Yum!
My Kasseler Adventure ...
I carried my Mutti's tradition over into my own family. That meant, we rarely ever had Kasseler! Rarely, because it's expensive. I kept it as a real treat, and then, only when it was on sale.
Imagine my surprise when I dropped in on my friend, Heidi, and she invited me to join them for supper. They were having Kasseler! It was the middle of the week!
Heidi shared her secret. Instead of spending a fortune at the deli, she uses Canadian Peameal Bacon and a slow cooker. It really tastes like traditional German Smoked Pork Chops or Kassler (my husband said it tastes better!)
Use Slow Cooker for German Foods?
Even though this is to be a site of QUICK German recipes, using the slow cooker really does fit.
However, slow cookers are not that common in Germany. It's the one kitchen appliance my Mutti came to love after we immigrated to Canada. In fact, it's one she used all the time.
She converted her famous Sauerbraten recipe for the slow cooker. And, following her lead, I converted a roast beef recipe that tastes like Rouladen, by using the slow cooker as well. 
Grab your copy of Oma's German Slow Cooker Recipes written in English just for you to enjoy: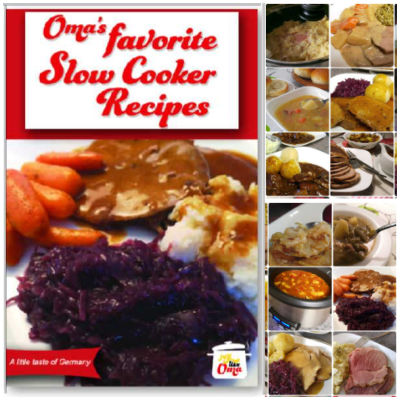 Take a peek at all Oma's eCookbooks. They make sharing your German heritage a delicious adventure!
The preparation is quick. In the morning, once it's all in the pot, just turn it on and walk away. Go to work, go shopping, or just go and do what you want.
Come back at night, dinner's ready with very little else to do. My kind of cooking!
---
Ready to make this Peameal Bacon dish?
Is the recipe below locked? Here's why. 
As an Amazon Associate, I earn from qualifying purchases.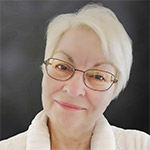 For more German-inspired items that make life easier and yummier, especially in the kitchen and for entertaining, follow my Amazon Storefront.
Oma's Peameal Bacon Recipe tastes like Kasseler!
This peameal bacon recipe, that tastes like Kasseler, is cooked in your slow cooker together with sauerkraut for a real German meal. SO DELICIOUS and so easy.
Prep Time


10 minutes


Slow Cook Time


8 hours


Total Time

8.1 hours 

Servings:

Makes 6 - 8 servings
Ingredients:
3½ to 4 pounds Canadian peameal bacon roast
2 cans (28-ounce each) sauerkraut, drained
1 - 2 tablespoons cornstarch
Instructions:
If the roast is covered with cornmeal, then wash that off. Empty one can of sauerkraut into slow cooker. Place meat on top.
Cover with second can of sauerkraut.
Cover and cook on low about 8 hours.
Carefully remove meat and scoop out sauerkraut. Keep both warm.
Pour slow cooker juices into saucepan and bring to simmer.
Mix corn starch in a little cold water. Slowly add just enough corn starch slurry to the simmering slow cooker juices until sauce is thickened.
Pour sauce over sauerkraut and mix.
Serve slices of meat and sauerkraut with boiled or mashed potatoes.
Notes/Hints:

Another name for Canadian Peameal Bacon is Cured Boneless Pork Loin. If it is rolled in cornmeal, leave it on or wash it off - both ways taste good.
Cut up some peeled apples and put them under meat in the slow cooker for extra flavor.
Adding some browned onion slices to the slow cooker is also a nice addition.
Adjust quantities to slow cooker size and number of servings needed. Leftovers can be reheated in microwave.
*  *  *  *  *

Unless otherwise noted recipe, images and content © Just like Oma | www.quick-german-recipes.com

08.09.2021 revision update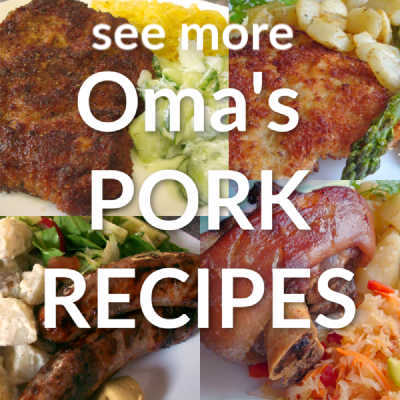 Leave a comment about this recipe or ask a question?

Pop right over to my private Facebook group, the Kaffeeklatschers. You'll find thousands of German foodies, all eager to help and to talk about all things German, especially these yummy foods. 
Meet with us around Oma's table, pull up a chair, grab a coffee and a piece of Apfelstrudel, and enjoy the visit.

Make these Fächerkartoffeln aka Hasselback Potatoes with either regular or sweet potatoes. Make them extra crispy with cheese and breadcrumbs and you have a treat that's amazing!

Discover Oma's secret recipe for making crispy-skinned Bavarian Schweinshaxe (roasted pork knuckles). Authentic taste of Germany's traditional dish. Perfectly wunderbar.

German potato dumplings, aka Kartoffelklöße and Kartoffelknödel, invoke great memories of my Mutti's Sunday dinners. Using cooked potatoes, she created these scrumptious traditional dumplings!
*  *  *  *  *
PIN to SAVE this recipe to your Pinterest board!
And let's be friends on Pinterest!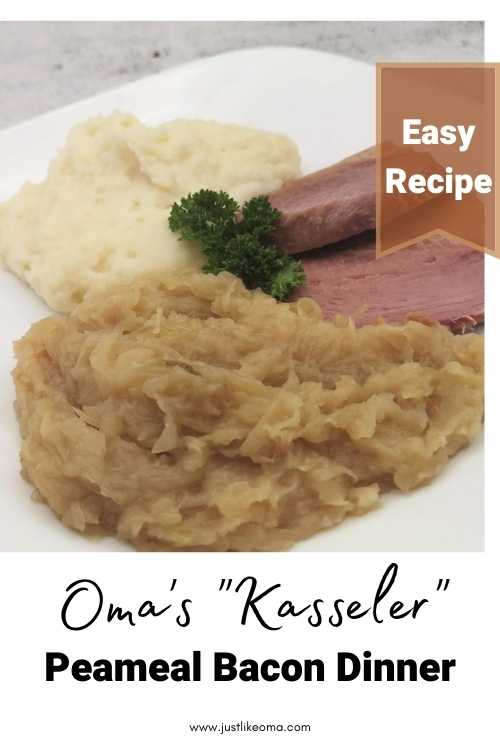 ---
Oma's Peameal Bacon Recipe tastes like Kasseler!


By
Oma Gerhild Fulson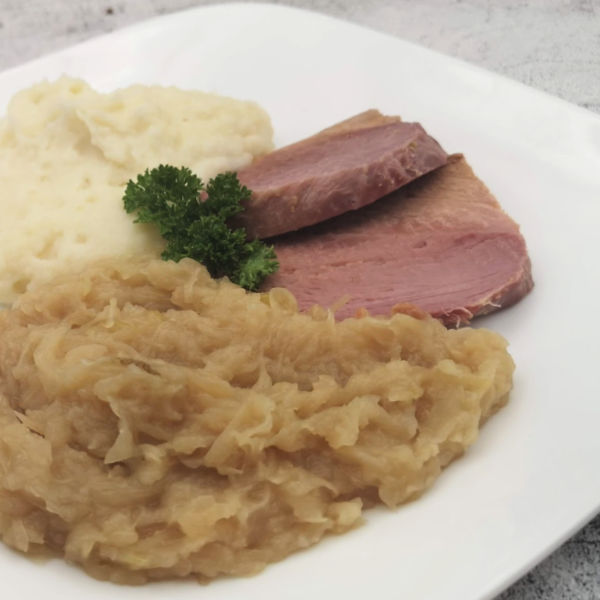 This peameal bacon recipe, that tastes like Kasseler, is cooked in your slow cooker together with sauerkraut for a real German meal. SO DELICIOUS and so easy.

Ingredients:
peameal bacon roast,
sauerkraut,
cornstarch,
For the full recipe, scroll up ...
Words to the Wise
"Intelligent people are always ready to learn. Their ears are open for knowledge."
Proverbs 18:15 (NLT)