Oma's Fried Liver

➤ by Oma Gerhild Fulson
This fried liver recipe, aka Leber, is one of those quick, easy dinner recipes that you'll love. Among liver recipes, this one's a winner. Serve this on a bed of rice along with a salad, and dinner's done within 30 minutes.
If you're making this as a meal, put the rice to cook first and then start with the liver. Prepare the liver first by removing any membrane or veins. Wash and pat drain with paper towels.Then cut into very thin strips.
In German, this is called "geschnetzeltes". This is similar to cutting meat for stir-frying. Then, finish the liver, make a quick salad, and you'll find your rice is ready. Dinner's served!

This recipe uses the liver cut into very thin strips. This way it can be cooked very quickly. To make the cutting a little easier, you can put the liver into the freezer for about ½ hour.
---
Oma says:
Buying "geschnetzeltes" meat (beef, pork, chicken, liver) is so common in Germany these days. Often, it is already marinated and is available prepackaged or fresh from the butcher. A truly home-made fast food.
---
There's something absolutely mouth-watering about having a German meat-and-potato dinner. Get Oma's revised collection of her favorites in German Meat Dishes.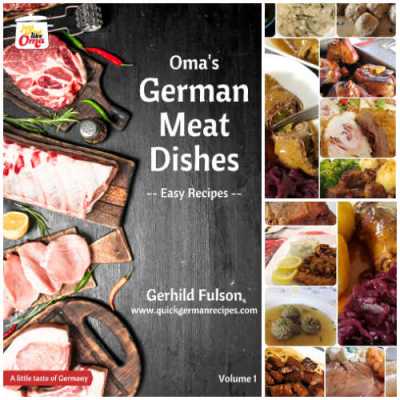 Take a peek at all Oma's eCookbooks. They make sharing your German heritage a delicious adventure!
Liver Recipe Tips
It's very important not to over-cook the liver. If you do, you'll think you're eating leather! So, just as soon as the 'red' is gone, it's done. 
The combination of wine and cream in the sauce is a very German tradition. Since the sauce cooks after the wine is added, the alcohol is cooked off. That way, it's fine for the kids as well.
and here's another liver recipe ...
Liver and Onions and Bacon and Gravy! WUNDERBAR! This is another favorite of mine ... liver with onions ... and bacon .... and gravy. So, so good!
---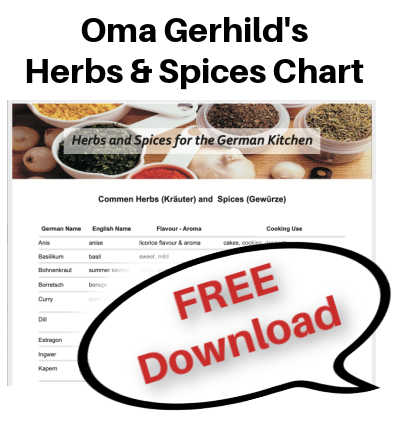 Ready to make fried liver?
Oma's Fried Liver Recipe

To make this fried liver recipe, aka gebratene Leber, you'll need to prepare the liver first by removing any membrane or veins. Wash and pat drain with paper towels.Then cut into very thin strips. In German, this is called geschnetzeltes. This is similar to cutting meat for stir-frying. 
Prep Time


10 minutes


Cook Time


5 minutes


Total Time

15 minutes

Servings:

Makes 4 servings
Ingredients:
1 lb calves liver
1 large onion, diced
2 tbsp butter
2 tsp flour
1 cup white wine
6 tbsp cream
salt, pepper, marjoram
Instructions:
Prepare liver by cutting into thin strips.
In large frying pan, over high heat, melt butter.
Add onion and liver and fry, stirring, until liver is not longer "bloody". This takes just a few minutes.
Sprinkle with flour and, white stirring, add wine.
Cook for about 2 minutes.
Add cream.
Season with salt, pepper, and marjoram.
Notes/Hints:

Do not overcook liver, or else it will turn to"leather"!
*  *  *  *  *

Unless otherwise noted recipe, images and content © Just like Oma | www.quick-german-recipes.com

Want Nutritional Information?

Copy and paste the above ingredient list and the number of servings into Calorie Count for an approximate calculation.
Need Help Doing Conversions?

Make it easier to convert between cups and grams, etc. Use this site to give you all the different conversions for the different types of ingredients. 
Leave a comment about this recipe or ask a question?
Pop right over to my private Facebook group, the Kaffeeklatschers. You'll find thousands of German foodies, all eager to help and to talk about all things German, especially these yummy foods. 
I pop in all the time as well, to chat and to answer questions. 
Meet with us around Oma's table, pull up a chair, grab a coffee and a piece of Apfelstrudel, and enjoy the visit.
Make this chicken fricassee recipe and you'll think you're back in Oma's kitchen. German comfort food. Originally just a 'leftover' meal, now it graces the best restaurant menus.

Oma's TOP 10 German foods that will have you thinking you're back in your Omas kitchen in Germany. Cooking and baking together, but best of all, making memories!

This German apple cake always looks amazing and tastes scrumptious! So quick and easy to make, it's just like Oma's versunkener Apfelkuchen served fresh from the oven.
*  *  *  *  *
Words to the Wise
"If the godly give in to the wicked, it's like polluting a fountain or muddying a spring."
Proverbs 25:26 (NLT)