Oma's Roasted Lamb Recipe

➤ by Oma Gerhild Fulson
FTC Disclosure: Making a purchase via a link on the page? I may earn a small commission on the transaction - at no added cost to you. Thanks!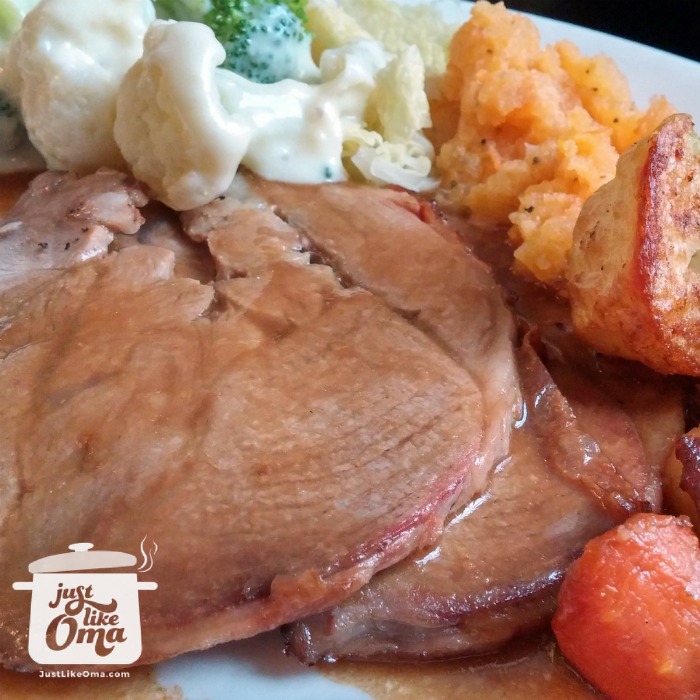 Yum
This roasted lamb recipe, aka Lammbraten,  is especially delicious for Easter dinner. A German tradition, it's great all year long.  Although not as common or traditional as beef and pork, lamb is becoming more widespread with the increase of immigrants to Germany. One of the best lambs to eat in Germany are the Salt Meadow Lambs. These are lambs that have been raised in Schleswig-Holstein on the dykes. Their food is the salt grasses. The meat, saltier? No, just tastier!
Lamb for Easter is traditional. This tender meat has a distinctive flavor and is often enhanced with garlic, and in this case, with mustard.

Oma's Roasted Lamb Recipe

Ingredients:
4 - 5 lb leg of lamb
6 cups buttermilk
½ cup butter, room temperature
2 Tbsp mustard
2 Tbsp tomato paste
2 Tbsp fresh basil and rosemary, finely chopped (if desired)
2 cloves garlic, crushed
1 tsp salt 
freshly ground pepper
1 cup white wine
1 Tbsp cornstarch and a bit of cold water
½ cup whipping cream
Instructions:
Place the lamb roast into the buttermilk and marinate overnight in the fridge.
Preheat oven to 350°F.
Remove roast from buttermilk, rinse, and pat dry. (discard buttermilk)
Mix together the butter, mustard, tomato paste, basil, rosemary, garlic, salt, and pepper into a paste. Spread over the lamb roast.
Place roast onto a rack in the roasting pan and roast for about 2  hours or until internal temperature reaches 160°F.
Remove roast from roasting pan and let it rest, tenting with foil until you make the gravy.
Deglaze the roasting pan with the wine. 
Add the cornstarch dissolved in a bit of cold water to thicken gravy. Add whipping cream and stir. Season with salt and pepper, if needed.
Serves 8 - 10.

Some more German meat dishes ...
*  *  *  *  *
Want nutritional information for a recipe?
Copy and paste the ingredient list and the number of servings into Calorie Count. 
It will give you an approximate calculation.

*  *  *  *  *
Need help doing conversions between cups and grams or any such thing?
Use this site to give you all the different conversions for the different types of ingredients. 
*  *  *  *  *
---
PIN this ...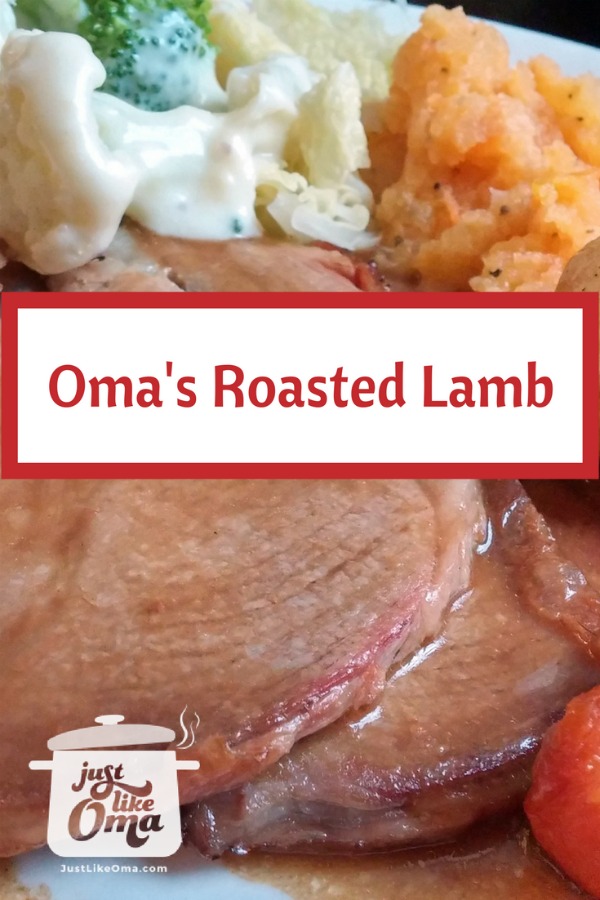 ---
Words to the Wise
"Don't answer the foolish arguments of fools, or you will become as foolish as they are."
Proverbs 26:4 (NLT)