German Chocolate Cream Torte – Claudia's Schokosahne Torte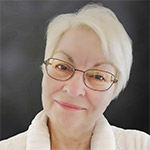 by: Gerhild Fulson  /  Cookbook Author, Blogger, German Oma!
As an Amazon Associate, I earn from qualifying purchases.
You'll LOVE this German Chocolate Cream Torte aka Schokosahne Torte. The frosting is OH SO WUNDERBAR and made in a surprisingly easy way. And the cake. Pure German deliciousness!

Claudia Conley, one of our Kaffeeklatscher Facebook fans has sent in her recipe to share with us all.
Thankfully, it's so easy to make even though it looks like it came straight from a German bakery. The chocolate cream is the simplest recipe, but you'll want to plan this the day before by getting it ready first.
Claudia sent in the recipe (in German) that she received from her friend, Ilse Schlund. It's one of those recipes that's been passed from friend to friend!
I've translated it here below. The German version, as sent in, is at the bottom of the page.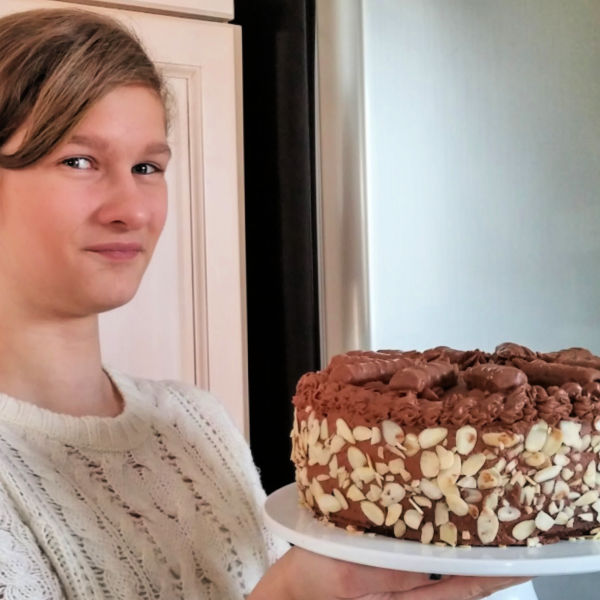 Above is my granddaughter, Lydia. Yes, the same Lydia who now helps me with this website. This photo, though, is from years ago, when she mastered this cake. 
Below is the photo of Claudia's cake. Looking at these two cakes lets you realize that you can be as creative as you wish with the decorating.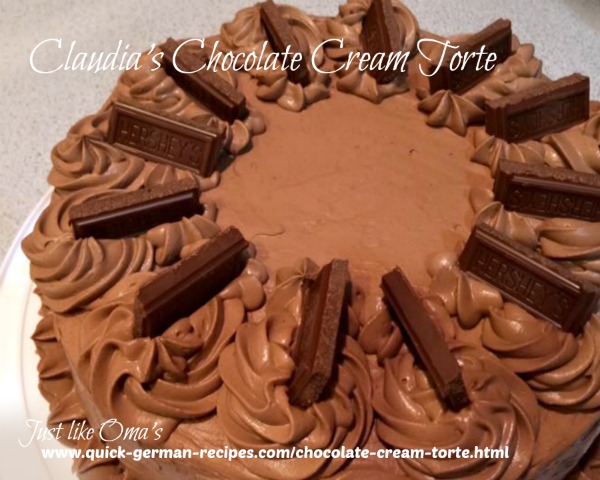 The best part of this cake is truly the chocolate cream. So rich and not too sweet. Do make sure you buy the best bittersweet chocolate you can.
For the cake that Lydia made, I purchased Ghirardelli for her frosting and it turned out delicious.
Lydia's Chocolate Cream Birthday Torte
My granddaughter, Lydia, made this for her 14th birthday celebration, by herself for the first time! It's topped with Twix bars (cut in half), her favorite. Choose your favorite chocolate bar to top yours. Wunderbar!
Grab your copy of Oma's favorites in her Special Occasion German Cakes & Tortes e-Cookbook.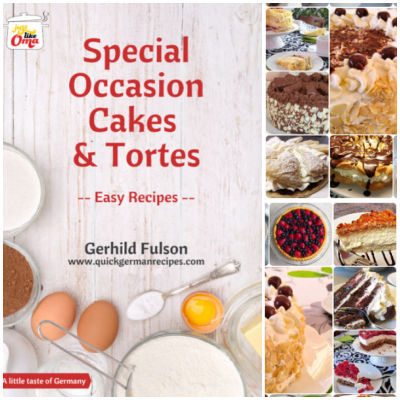 Take a peek at all Oma's eCookbooks. They make sharing your German heritage a delicious adventure!
---
Oma says,
I'm so glad that Claudia posted this onto the Facebook page. It had so many requests for the recipe, that I asked her if she'd be willing to share it here. I'm so glad that she agreed!
---
Ready to bake this Chocolate Torte?
Is the recipe below locked? Here's why. 
As an Amazon Associate, I earn from qualifying purchases.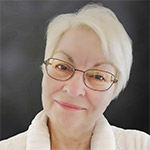 For more German-inspired items that make life easier and yummier, especially in the kitchen and for entertaining, follow my Amazon Storefront.
➙ For groceries,
Try Amazon Fresh
.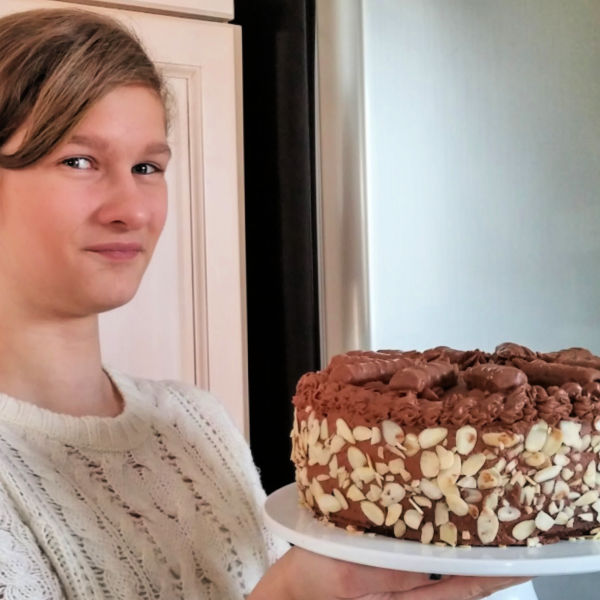 German Chocolate Cream Torte - Schokosahne Torte
Chocolate Cream Torte, aka Schokosahne Torte, is one of those most traditional German cakes that everyone loves.
Thankfully, it's so easy to make! The chocolate cream is so easy to make, but you'll need to make this the day before making the cake.
Prep Time


30 minutes


Bake Time


60 minutes


Total Time

90 min +24 hr

Servings:

Makes 12 servings
Ingredients:
Chocolate Cream:
3½ cups heavy (whipping) cream
3 bars bittersweet chocolate (total weight = 10 ounces)
Cake:
6 large eggs, separated
1½ cups sugar
6 tablespoons water
1 package vanilla sugar
1 cup minus 3 tablespoons all-purpose flour
⅔ cup cornstarch
½ cup cocoa powder
3 teaspoons baking powder
Instructions:
Chocolate Cream:  Start this the day before!
Mix together the heavy cream and chocolate in a pot, over low heat, until chocolate is melted. Bring to boiling point. Cool and place in fridge for 24 hours.
Whip with a mixer until stiff just before you need it to frost the cake.
Cake:
Preheat oven to 350°F.
Grease and flour a 10-inch springform pan (use parchment paper in bottom)
Whip egg whites until stiff and set aside.
Beat egg yolks and sugars until creamy.
Mix flour, cornstarch, cocoa, and baking powder together. Stir into egg yolk/sugar mixture along with the water. Gently fold in the stiffly beaten egg whites.
Pour into prepared pan and bake for 1 hour or until wooden pick inserted in center comes out clean.
Let cool completely before filling.
Assemble Cake:
Cut cake horizontally twice to get 3 layers.
Fill with the cream and frost the outside.
Decorate as shown or get creative!
Keep the cake refrigerated until serving.
*  *  *  *  *

Unless otherwise noted recipe, images and content © Just like Oma | www.quick-german-recipes.com

Here's the German recipe that Claudia sent in:
Claudia's Schokosahne Torte
Boden

6 Eiweiß steif schlagen
6 Eigelb
300 gram Zucker    
1 Päckchen Vanillezucker
100 gram Mehl
100 gram Speisestärke
60 gram Kakao
1 Päckchen Backpulver
Eigelb und Zucker schaumig rühren.  (Ich musste 6 Essl Wasser zu tuen ~ Oma Gerhild ) Mehl usw unterrühren.  Zum Schluss Eiweiß unterheben. In eine Springform geben 180 Grad 1 Std. Auskühlen lassen.
Schokosahne:
4 Becher süsse Sahne
3 Tafeln Zartbitterschokolade
Alles zusammen in einem Topf .bis die Schokolade geschmolzen ist. 1x aufkochen lassen. 24 Std in den Kühlschrank. Danach mit dem Handmixer steif schlagen.
Tortenboden 2x quer durchschneiden.
mit der Sahne füllen und verzieren.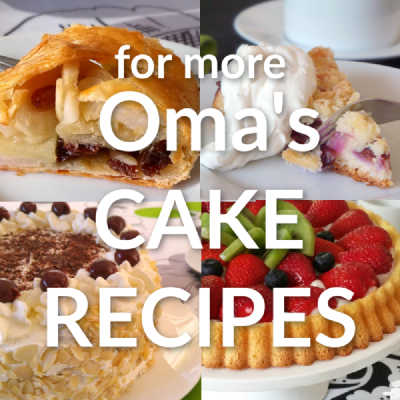 Leave a comment about this recipe or ask a question?

Pop right over to my private Facebook group, the Kaffeeklatschers. You'll find thousands of German foodies, all eager to help and to talk about all things German, especially these yummy foods. 
Meet with us around Oma's table, pull up a chair, grab a coffee and a piece of Apfelstrudel, and enjoy the visit.

Choose from Oma's cookbooks that are immediately downloadable & start cooking easy classic German foods tonight. Or get her newest paperback cookbook. LECKER!

Kaiserschmarrn are among those homemade pancake recipes that will remind you of Oma's kitchen. A traditional Austrian & German light and fluffy shredded pancake.

Discover the ultimate German schnitzel recipe with Oma's quick, easy, and delicious pork version - perfect for any occasion! Taste the authentic flavors of Germany today.
*  *  *  *  *
PIN to SAVE this recipe to your Pinterest board!
And let's be friends on Pinterest!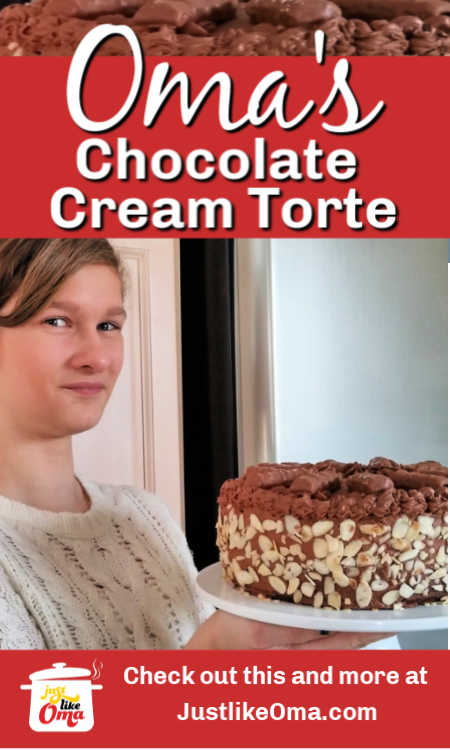 ---
Claudia's Chocolate Cream Torte made Just like Oma
By
Oma Gerhild Fulson
Claudia's Chocolate Cream Torte is SO wunderbar. It's a traditional German cake and you'll love how easy it is to make.
Ingredients:
heavy (whipping) cream,
bittersweet chocolate,
eggs,
sugar,
vanilla sugar,
all-purpose flour,
baking powder,
cocoa,
cornstarch,
For the full recipe, scroll up ...
Words to the Wise
"Enthusiasm without knowledge is no good; haste makes mistakes."
Proverbs 19:2 (NLT)