❤️ Oma's Strawberry Cream Torte 

➤ by Oma Gerhild Fulson
This impressive looking Strawberry Cream Torte came about one day as I played with two recipes to turn them into one. The result? The above awesomeness! I think you'll agree that it looks amazing, but let me tell you the taste.
Light. Refreshing. Super rich. Super deliciousness.
The recipe may look intimidating, but take it step-by-step and you'll soon realize this is really easy to make.
There is a kitchen tool that make this torte (and others) so much easier. You'll need to use a 'cake ring' in order to build up the 'walls' of this torte. If you don't have one, use the ring from your springform pan, although it won't be quite as high. 
Looks difficult ... really isn't ...
This is one of those recipes that looks long and complicated. However, if you've made it once, you'll realize that it's really quite easy and rather quick to make. You just need to be organized and give yourself enough time to allow for the final chilling.

Oma says,
This is one of those German cake recipes you'll keep for when company's coming. It looks so impressive and always brings 'oohs' and 'aahs' when you bring it to the table. Serve with some fresh berries and extra whipped cream on the side if you wish.

This recipe is a mix of two yummy cakes. Check out Lori's Erdbeer Joghurt Sahne Torte and my Käse-Sahne Torte. You'll see how I combined both of these into this Strawberry Torte recipe.
---
Oma's Strawberry Cream Torte ❤️

Cake Ingredients:
2 eggs
½ cup granulated sugar
1 tbsp hot water
1 cups cake flour
½ tsp baking powder
Filling Ingredients:
3 tbsp apricot (or strawberry) jam, heated
1½ pounds fresh strawberries
½ cup granulated sugar
1 tbsp sweet red wine (optional)
2 cups Greek Yogurt
4 tbsp cold water
3 packages Knox gelatin
2 cups whipping cream
Cake Instructions:

Preheat oven to 350°F. Grease a 10-inch springform pan.
Beat eggs, sugar, and hot water together for about 10 - 15 minutes until frothy.
Combine the flour and baking powder.
Gently fold the flour mixture into the egg mixture.
Gently pour dough into springform pan.
Bake for about 20 - 30 minutes or until wooden toothpick inserted into centre comes out clean.
Cool on wire rack.
Filling & Assembly Instructions:
Place the cake onto the serving platter. Brush with the heated apricot jam. Grease the cake ring with butter and place the ring around the cake.
Slice enough strawberries and place around the edge of the cake ring (see photo). Set aside a nice strawberry for garnishing.
Puree the remaining strawberries together with the sugar and wine (if using). You should have about 2 cups of pureed strawberries. Stir in the Greek yogurt.
Place 4 tbsp cold water into a small saucepan. Mix in gelatin powder and let sit about 10 minutes. 
In the meantime, whip the whipping cream until stiff peaks form.
Slowly heat gelatin until liquid, stirring to dissolve. Once the powder has been totally dissolved, whisk in about ½ cup of the strawberry/yogurt mixture. 
Using a whisk or mixer, immediately pour this gelatin mixture into the remaining strawberry/yogurt mixture, until fully incorporated.
Fold whipped cream into yogurt/gelatin mixture.
Spoon this filling onto cake and smooth the top.
Cover with plastic wrap and refrigerate at least 4 hours before serving.

Remove the ring and smooth the cream sides if needed.
Slice the reserved strawberry in thin slices almost to its top (with the leaves). Fan out the slices and place on top of your cake.
Makes 12 servings.
The cake keeps several days in the fridge.

Want nutritional information? Copy and paste the above ingredient list and the number of servings into Calorie Count for an approximate calculation.
Need help doing conversions between cups and grams, etc.? Use this site to give you all the different conversions for the different types of ingredients.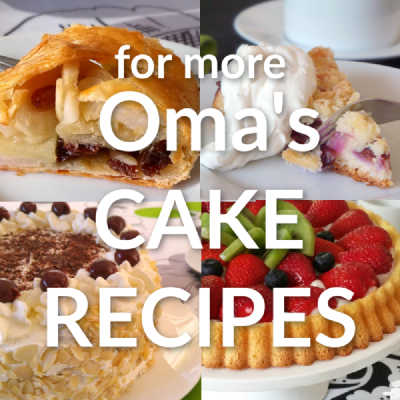 Leave a comment about this recipe or ask a question?
Pop right over to my private Facebook group, the Kaffeeklatschers. You'll find thousands of German foodies, all eager to help and to talk about all things German, especially these yummy foods. 
I pop in all the time as well, to chat and to answer questions. 
Meet with us around Oma's table, pull up a chair, grab a coffee and a piece of Apfelstrudel, and enjoy the visit.
*  *  *  *  *
Want nutritional information for a recipe?
Copy and paste the ingredient list and the number of servings into Calorie Count. 
It will give you an approximate calculation.

Need help doing conversions
between cups and grams or any such thing?
Use this site to give you all the different conversions for the different types of ingredients. 
---
PIN this ...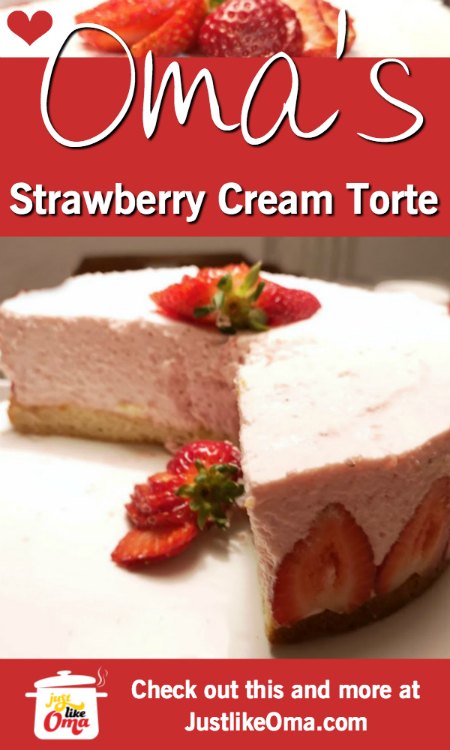 ---
This German sourdough whole grain no knead bread recipe is so delicious and so healthy. Learn this basic method and then alter it to suit your needs. Healthy never tasted this good!

Want a Rhubarb Cake recipe that tastes just like Oma's? Not too sweet, but wunderbar? Try my Rhubarb Streusel Cake that's super quick and easy to make.
---
---
❤️ Oma's Strawberry Cream Torte | Just like Oma


By
Oma Gerhild Fulson
Needing an easy, yet fabulous dessert? This Strawberry Cream Torte is THAT dessert that is one of the easiest torte recipes to make. And ... it tastes so light and fresh and WUNDERBAR!

Ingredients:
strawberries,
eggs,
sugar,
Knox gelatin,
For the full recipe, scroll up ...
Words to the Wise
"If you repay good with evil, evil will never leave your house."
Proverbs 17:13 (NLT)