German Chocolate Torte ~ Oma's Schokotorte
➤ by Oma Gerhild Fulson
Indulge in this decadent German chocolate torte, Oma's Schokotorte at your next Kaffeeklatsch (coffee time). Easy enough even for beginner bakers, you'll be thinking you're back in Oma's kitchen.
Easily the BEST chocolate recipe, this German chocolate cake has such an easy frosting recipe. Truly, one of my best cake recipes, but perhaps it's not what you expected though!

You may have come looking for a traditional German Chocolate Cake -- but wait -- which kind are you looking for?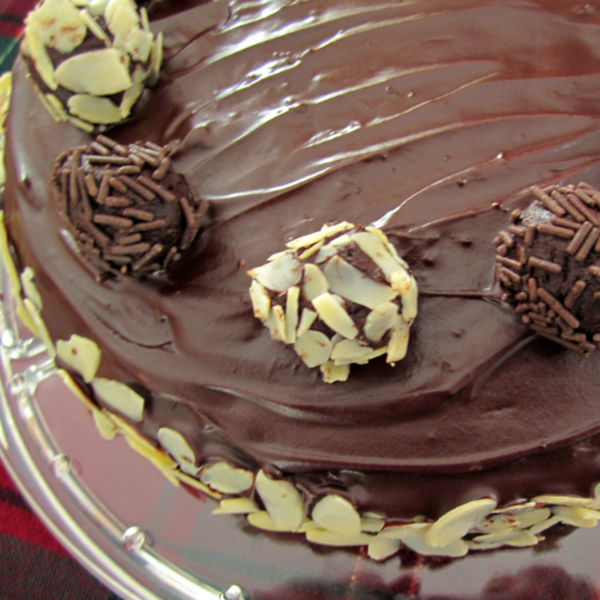 If you want the kind with the pecan and coconut frosting, then you're really looking for an American cake.
For an easy version of that American cake, it's at German's Chocolate Cake. You'll find it's history there as well.
Here, however, is the REAL German Chocolate Cake, a Schokotorte. 
Called a torte in German, this can be decorated in many ways. The one shown here has "truffle" balls made from the frosting, that are formed into little balls, dipped into nuts or chocolate and used to decorate the top of the cake. These little balls of yumminess are such a treat. 
Who can resist the sweet temptation of a German chocolate torte? Delicious 'butter cream', tasty chocolate and a delicious cake base - a chocolate torte is always a pleasure. This one, particularly, works great for celebrating birthdays. Whether for adults or children, no one can resist it.
It's actually one of our German holiday traditions that is so yummy. It's so "chocolate-y" with its easy chocolate frosting recipe that it may just be one that you use for other cakes as well.

Even thought the recipe looks long and complicated, it really isn't. You'll find it well worth the effort.

Roll the balls in chocolate sprinkles or nuts before adding to top of cake. Then coffee is added to the remaining frosting until it is of spreading consistency. Don't want to use coffee? Water works as well.
---
Grab your copy of Oma's favorites in her Special Occasion German Cakes & Tortes e-Cookbook.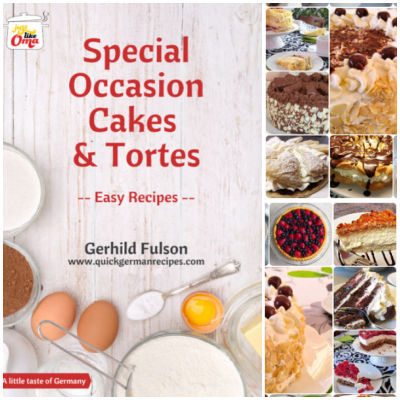 Take a peek at all Oma's eCookbooks. They make sharing your German heritage a delicious adventure!
Oma says:
I think you'll agree with me that this is among the BEST recipes for German Chocolate Torte you've had.
And the easy chocolate frosting recipe? You'll need to watch that it doesn't disappear before it's used to frost the torte :-)
---
Ready to bake Oma's German Chocolate Torte?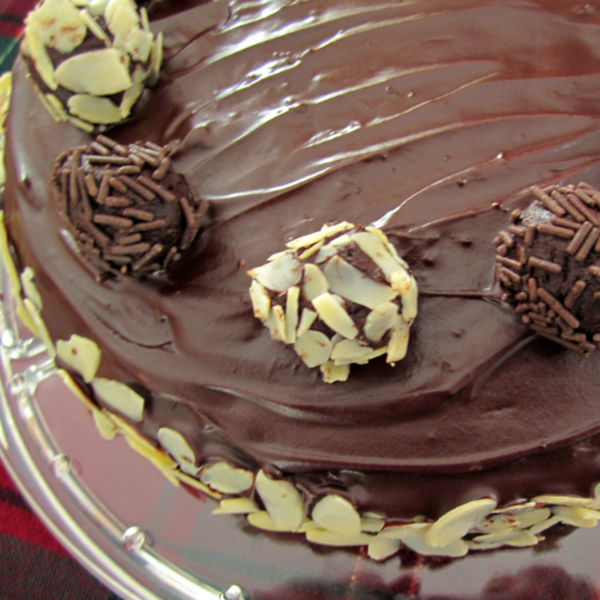 German Chocolate Torte ~ Oma's Schokotorte
Indulge in this decadent German chocolate torte, Oma's Schokoladentorte at your next Kaffeeklatsch. Easy enough even for beginner bakers, you'll be thinking you're back in Oma's kitchen.

Prep Time


35 minutes


Bake Time


25 minutes


Total Time

60 minutes

Servings:

Makes 12 servings
Ingredients:
Cake:
4 eggs, separated
¼ cup warm water
1 tsp almond extract
¾ cup granulated sugar
1½ cups cake flour
¼ cup cocoa powder
2 tsp baking powder
½ tsp baking soda 
Frosting:
¾ cup butter, room temperature
¾ cup cocoa powder, sifted
1½ cups powdered sugar, sifted
1 egg, beaten
1 tbsp rum
2 - 3 tbsp warm strong coffee
Chocolate Glaze:
4 oz semisweet chocolate
1 tbsp butter
2 tbsp whipping cream
chocolate sprinkles or finely ground nuts
Instructions:
Cake:
Preheat oven to 375° F.
Grease and flour 10-inch springform pan.
Beat egg yolks and warm water together in large bowl until foamy.
Add almond extract and sugar. Beat until thick.
In another bowl, mix flour, cocoa, baking powder, and baking soda. Sift this mixture over the egg/sugar mixture, gently folding in.
In a separate bowl, beat egg whites until stiff. Fold into batter.
Pour batter into greased and floured pan, smoothing top.
Bake 20 - 25 minutes or until wooden toothpick inserted into center comes out clean.
Cool in pan on wire rack for 10 minutes. Remove from pan and let cool on wire rack.
Cut cake into 3 layers.
Frosting:
Beat butter until fluffy in a medium bowl.
Sift cocoa and powdered sugar together. Gradually add to butter alternately with egg and rum.
Beat until well blended.
Using a teaspoon of frosting, shape into a ball (wet hands if necessary) and place on waxed-paper lined dish. Make 16 balls. Cover with plastic wrap and refrigerate.
Add 2 tbsp coffee to remaining frosting and beat well. Frosting should be of spreading consistency. If not, add a further 1 tbsp coffee. 
Glaze:
Heat chocolate, butter, and cream over low heat until smooth, stirring continually. Cool. 
Finish Cake:
Place 1 cake layer on serving plate.
Spread with half of frosting.
Put middle cake layer on top and spread with remaining frosting.
Put top cake layer on top, cut side down. Spread Glaze over cake top and sides.
Press sprinkles (or finely chopped nuts) around sides of cake and top edges of cake.
Roll refrigerated frosting balls in chocolate sprinkles and/or nuts and distribute around top edge of cake.
Notes/Hints:

In the cake pictured here, I only made 12 "balls" - slightly larger than normal. I was having some "big cake eaters" for dinner! Also, I used sliced almonds for some of the "balls" and for the outside edges.
Use vanilla instead of almond extract although I think you'll agree that the almond extract makes this the best chocolate torte - adding a taste of marzipan!
*  *  *  *  *

Unless otherwise noted recipe, images and content © Just like Oma | www.quick-german-recipes.com

07.27.2021 revision update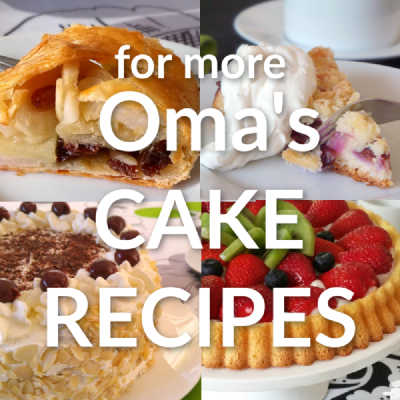 Leave a comment about this recipe or ask a question?

Pop right over to my private Facebook group, the Kaffeeklatschers. You'll find thousands of German foodies, all eager to help and to talk about all things German, especially these yummy foods. 
Meet with us around Oma's table, pull up a chair, grab a coffee and a piece of Apfelstrudel, and enjoy the visit.

Oma's Cream Roll recipe, Biskuitrolle, is the German version of a Swiss roll or jelly roll. Filled with whipped cream and studded with berries, this is an easy-to-make treat anytime of the year.

Make this pan roasted carrot recipe when you're wanting quick and easy carrots just like this German Oma makes them. Similar to oven roasted, just quicker. YUM!

Cooking green beans, German-style, makes a wonderful side dish for almost any meal. Cooking the grüne Bohnen till just tender with a creamy white sauce is so traditional and so lecker!
*  *  *  *  *
PIN this ...
---
German Chocolate Torte ~ Oma's Schokotorte
By
Oma Gerhild Fulson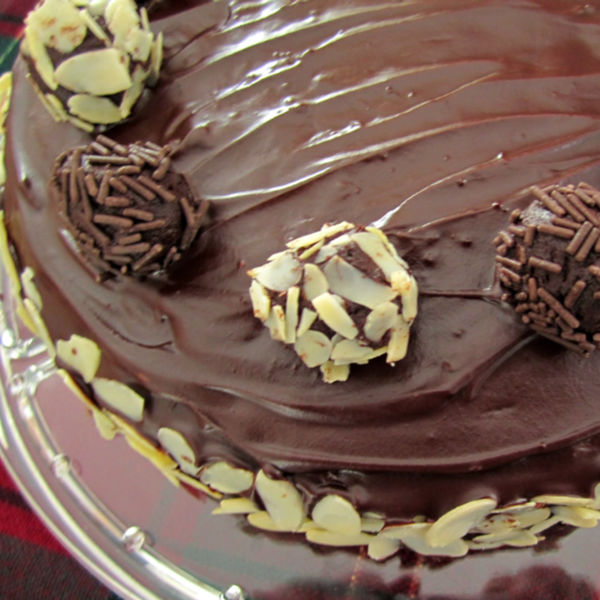 Indulge in this decadent German chocolate torte, Oma's Schokoladentorte at your next Kaffeeklatsch. Easy enough even for beginner bakers, you'll be thinking you're back in Oma's kitchen.
Ingredients:
eggs,
almond extract,
sugar,
cocoa powder,
cake flour,
baking powder,
baking soda,
butter,
powdered sugar,
rum,
semisweet chocolate,
whipping cream,
chocolate sprinkles,
For the full recipe, scroll up ...
Words to the Wise
"Enthusiasm without knowledge is no good; haste makes mistakes."
Proverbs 19:2 (NLT)