American "German" Chocolate Cake
➤ by Oma Gerhild Fulson
FTC Disclosure: Making a purchase via a link on the page? I may earn a small commission on the transaction - at no added cost to you. Thanks!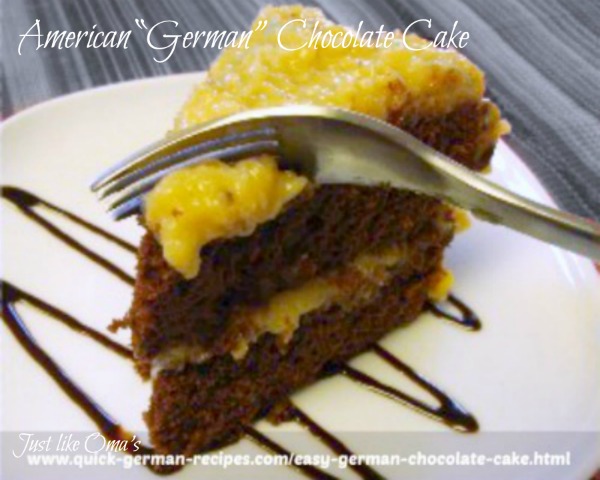 This easy German Chocolate Cake will be among your favorites. If you're thinking, "chocolate, pecans, coconut, delicious!" that's the recipe that's here. But is it really German? NOPE . . . it's not German! Absolutely NOT! Nope, not German at all! Read below the recipe to discover why it's called German and why it's not German!

One of the main differences between this German's Chocolate Cake and a real German Chocolate cake is the texture of the cake itself and the sweetness. I rarely use packaged cake mixes, but this time, it works since the 'attraction' is the frosting.

Easy American 'German' Chocolate Cake
Ingredients:
Cake:
1 package yellow cake mix
4 oz Baker's German Sweet Chocolate, melted
Frosting:
1 cup evaporated milk
1 cup granulated sugar
3 egg yolks
½ cup butter
1 tsp vanilla extract
1⅓ cup coconut
1 cup chopped pecans
Instructions:
Cake:
Preheat oven to 350°F. Grease a 9" X 13" pan.
Prepare cake mix as directed on package, adding melted chocolate before beating.
Pour cake batter into pan and bake 35 minutes or until done.
Cool cake completely before frosting.
Frosting:
Combine evaporated milk, sugar, egg yolks, and butter in medium-sized saucepan.
Cook over medium heat, stirring constantly until mixture thickens.
Remove from heat and let cool to room temperature.
With wooden spoon, beat in vanilla. Stir in coconut and pecans.
Frost cake.
Hints:
Use 2 8" or 9" pans and make a layered cake instead. Put some filling on bottom layer. Add top layer of cake and frost whole cake. That's what's shown above.
Use unsweetened chocolate if you like a not-too sweet cake.
Melt chocolate in microwave.

---
This is a really quick and easy Chocolate Cake because it uses a yellow cake mix. Then, REAL chocolate is added to get that real "German Chocolate' taste. While your cake is baking, make the frosting. That way it can cool and be ready to use once your cake has also cooled. 
The History of German's Chocolate Cake
The recipe posted above is an easy version of the recipe that was published in a Texas newspaper in the 1950's that used chocolate produced by Sam German (his name). It was called "Baker's German's Sweet Chocolate".

The recipe used this brand of chocolate and it became a winner. Everyone has been copying this recipe, German's Chocolate Cake, and making slight variations on it ever since.

Over the years the "s" was dropped from "German's" and it became known simply as German Chocolate Cake. A simple name connected it with the country, nothing else.

Are you looking for a traditional REAL German chocolate cake?
Check out the BEST chocolate recipe - Schokoladentorte. I think you'll agree with me that it's the BEST!
Personally, I didn't realize that what was sold over here in Canada as a German Chocolate Cake wasn't from Germany. I just knew my Mutti never made it.
Why, one could even buy cake mixes for it over here. It was only once I went to Germany to visit that I realized I never ever saw something similar to this.

So, I did some investigation and the above story about Sam German was the result. However, even I enjoy a really well-made chocolate cake.
---
Some REAL German Cakes ...
Leave a comment about this recipe or ask a question?
Pop right over to my private Facebook group, the Kaffeeklatschers. You'll find thousands of German foodies, all eager to help and to talk about all things German, especially these yummy foods. 
I pop in all the time as well, to chat and to answer questions. 
Meet with us around Oma's table, pull up a chair, grab a coffee and a piece of Apfelstrudel, and enjoy the visit.
*  *  *  *  *
Thinking of starting your own Handmade Business?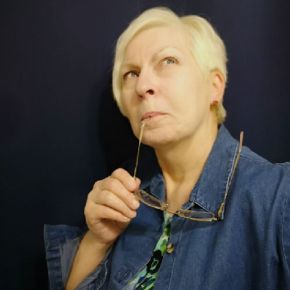 This Oma KNOWS you CAN do it.
How do I know?
Well, if I can do it, anyone can.
I've even figured out how I can help you.
I've teamed up with my own business coach, Renae Christine (yes, do google her!), to bring you this free masterclass. After you watch it, ask me any questions and I'll gladly answer them.
Don't hesitate. I'm not sure how long Renae will keep this free masterclass available.
PS:  Yes, Renae really is as amazing as all the reviews say.
PPS: Yes, the course is for handmade items, but I've used it successfully for my cookbooks. I know others are using her methods for services, direct sales, and even a local ice cream bar & grill that's constantly selling out. You've nothing to lose by taking a look ... and a whole bunch to gain.
*  *  *  *  *
Oma's Cookbooks (downloadable & print)
*  *  *  *  *
Want nutritional information for a recipe?
Copy and paste the ingredient list and the number of servings into Calorie Count. 
It will give you an approximate calculation.

Need help doing conversions
between cups and grams or any such thing?
Use this site to give you all the different conversions for the different types of ingredients. 
---
---
Try this slow cooker roast beef and you'll be amazed at how much this tastes like rouladen WITHOUT the work.

Learn how to cook pork hocks, anytime you want something traditionally German and wonderfully delicious! A hearty meal for any time of the year!
---
Words to the Wise
"A truly wise person uses few words; a person with understanding is even-tempered."
Proverbs 17:27 (NLT)