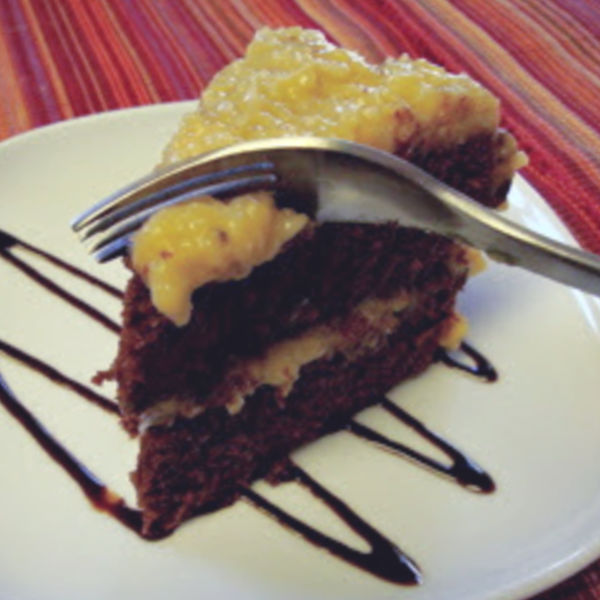 Easy American 'German' Chocolate Cake

This easy German Chocolate Cake may just be among your favorites. If you're thinking, "chocolate, pecans, coconut, delicious!" that's the recipe that's here.
But is it really German? NOPE . . . it's not German! Absolutely NOT! Nope, not German at all!
But is it good? Yep! It's good.
Prep Time


15 minutes


Bake/Cook Time


40 minutes


Total Time

55 minutes

Ingredients:
Cake:
1 package yellow cake mix
4 oz Baker's German Sweet Chocolate, melted
Frosting:
1 cup evaporated milk
1 cup granulated sugar
3 egg yolks
½ cup butter
1 tsp vanilla extract
1⅓ cup coconut
1 cup chopped pecans
Instructions:
Cake:
Preheat oven to 350°F. Grease a 9" X 13" pan.
Prepare cake mix as directed on package, adding melted chocolate before beating.
Pour cake batter into pan and bake 35 minutes or until done.
Cool cake completely before frosting.
Frosting:
Combine evaporated milk, sugar, egg yolks, and butter in medium-sized saucepan.
Cook over medium heat, stirring constantly until mixture thickens.
Remove from heat and let cool to room temperature.
With wooden spoon, beat in vanilla. Stir in coconut and pecans.
Frost cake.
Notes/Hints:

Use 2 8" or 9" pans and make a layered cake instead. Put some filling on bottom layer. Add top layer of cake and frost whole cake. That's what's shown above.
Use unsweetened chocolate if you like a not-too sweet cake.
Melt chocolate in microwave.
*  *  *  *  *

Unless otherwise noted recipe, images and content © Just like Oma | www.quick-german-recipes.com