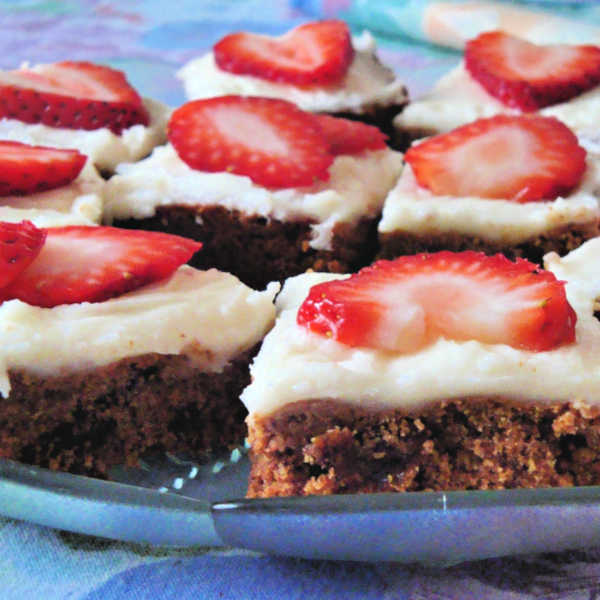 Gerhild's Raisin Squares made Just like Oma

With its spicy aroma, these Rosinenschnitten great at Christmas as well. Covered with a lemon butter icing, I alter it using almond flavoring instead - a mock marzipan flavor - hence, a German twist

Prep Time


20 minutes


Bake Time


30 minutes


Total Time

50 minutes

Servings:

Makes 16 squares
Ingredients:
1 cup raisins
½ cup brown sugar
½ cup water
¼ cup butter
1 teaspoon cinnamon
¼ teaspoon ground cloves
¼ teaspoon allspice
½ teaspoon salt
½ teaspoon baking soda
2 teaspoons water
1 cup flour, all purpose
1 teaspoon baking powder
1½ cups powdered sugar
3 tablespoons butter
1½ tablespoons lemon juice or 1 teaspoon almond extract
Instructions:
Preheat oven to 350°F. Grease 8x8-inch pan.
Put first 8 ingredients into large pot. Bring to boil, lower heat, and simmer gently for about 3 minutes, stirring occasionally. Remove from heat.
Mix baking soda and 2 teaspoons of water in a small bowl. Stir into raisin mixture.
Let raisin mixture cool. I've placed the pot into cold water to speed this up.
Mix together flour and baking powder. Stir into raisin mixture. Mix well.
Spread batter in prepared pan. Bake for 25 to 30 minutes until set.
Let cool in pan on wire rack.
In mixing bowl, beat powdered sugar, butter, and lemon juice (or almond extract) until smooth, adding more juice (or water) until spreading consistency.
Spread over cooled raisin squares.
Notes/Hints:

If you want thinner and more squares (as shown in the picture), then use a 9x9-inch pan. This only takes about 15 to 20 minutes to bake. Cuts into 25 squares.
*  *  *  *  *

Unless otherwise noted recipe, images and content © Just like Oma | www.quick-german-recipes.com