German Pecan Bar Recipe – Oma's Nussecken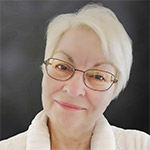 by: Gerhild Fulson  /  Cookbook Author, Blogger, German Oma!

This post may contain affiliate links, which means I'll receive a commission if you purchase through my links, at no extra cost to you. Please read full disclosure for more information.
This yummy pecan bar recipe comes from my German cousin, Ingrid. Once she immigrated to Canada, she found this easy method to try to recreate one of her favorite treats, Nussecken. 
I've experimented with her recipe and the one I'm sharing is what I now make since it's absolutely so good.
Is it the same? Sort of.
Is it delicious? Absolutely!
This is such a tasty and pretty addition to a cookie platter and when chocolate icing is drizzled over, this almost tastes like a scrumptious, chewy, gooey chocolate bar!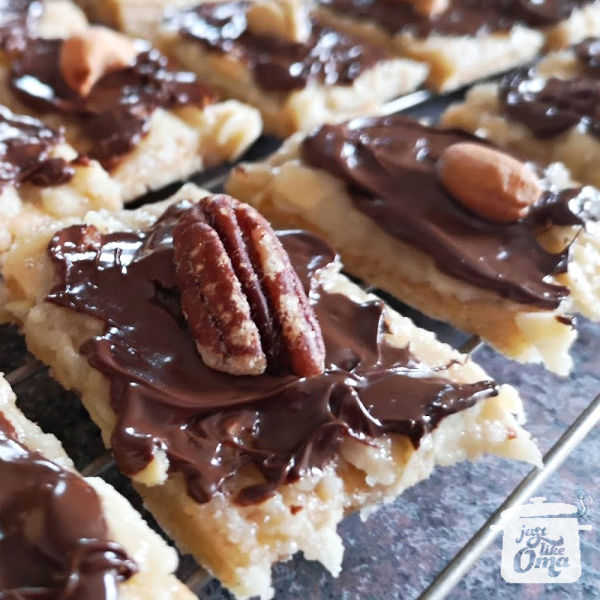 My Mutti also experimented with Nussecken. They were cut into triangles and then we would then dip two of the corners into the melted chocolate chips. I actually have her Nussecken recipe in my Christmas Cookies ecookbook.
Get ready for Christmas! Grab your copy of Oma's collection of her favorites in Christmas Cookies e-Cookbook.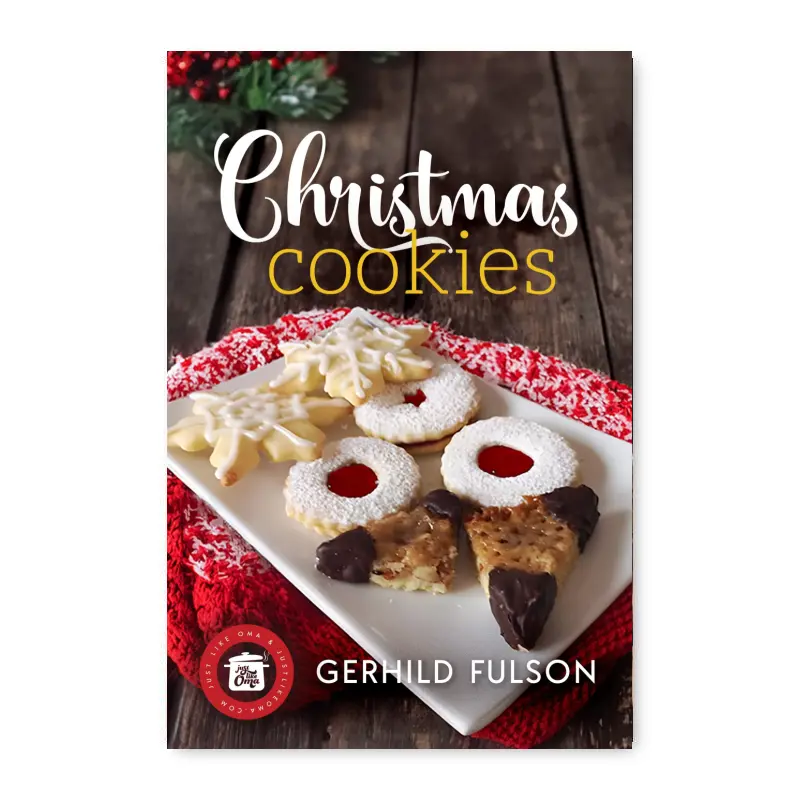 Take a peek at all Oma's eCookbooks. They make sharing your German heritage a delicious adventure!
Using graham crackers makes this easy. With the butter and sugar soaking into the graham crackers, it almost tastes just like a shortbread crust.
So good! In fact, when I ask people what they taste when they first try these, NO ONE has ever said they taste graham wafers. They all say it tastes just like shortbread. So yummy!
And fun! Certainly there's less to go wrong with this recipe. It's so quick and easy. Just make sure to keep the kids away from the butter/sugar mixture. It's HOT and sticky.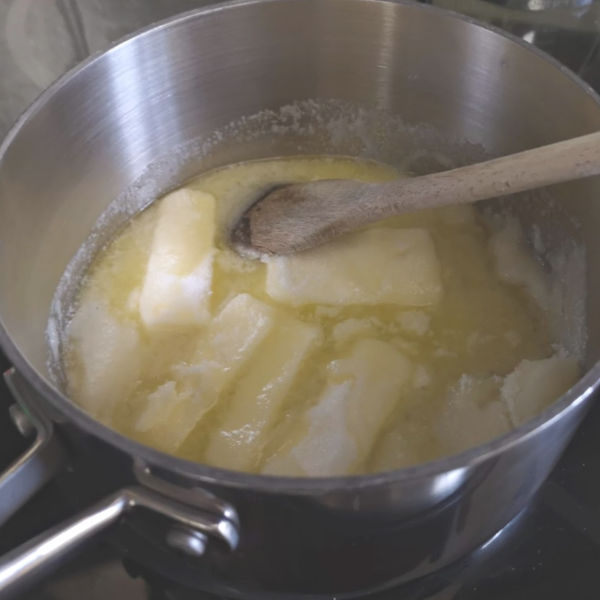 Make sure you keep stirring the simmering mixture, being careful to keep the temperature just at simmering. You don't want this mixture to brown.
For the photos here, I've actually used sliced almonds, since that's what I had on hand. Another option is to use a mix of nuts, especially if you have a favorite.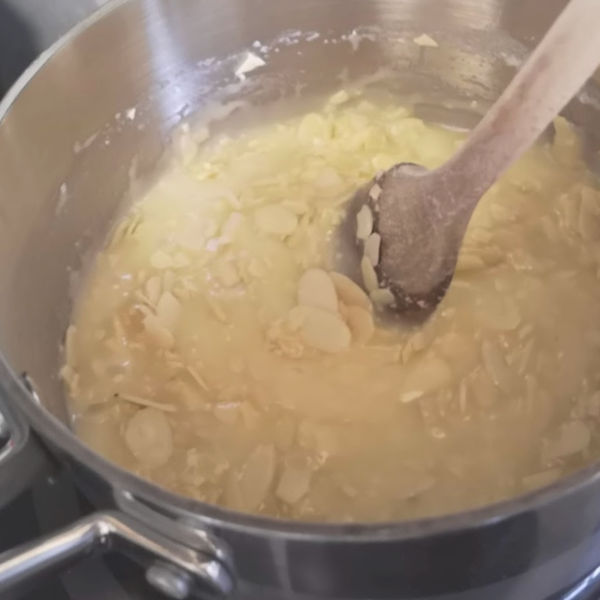 I've usually used pecans for these. Walnuts can be substituted for the pecans, but pecans are usually sweeter. However, if cost is a factor, then either a mixture of walnuts and pecans, or just walnuts would work.
When you're pouring the nut mixture, be careful not to get this onto your hands. It's HOT!

Level out the nut mixture over the graham wafers, resisting the urge to lick this. It's hot!
Then, it's off to the oven. Don't expect it to get golden or browned. It'll have a bit of a color difference, but have more of a 'less-liquid' appearance.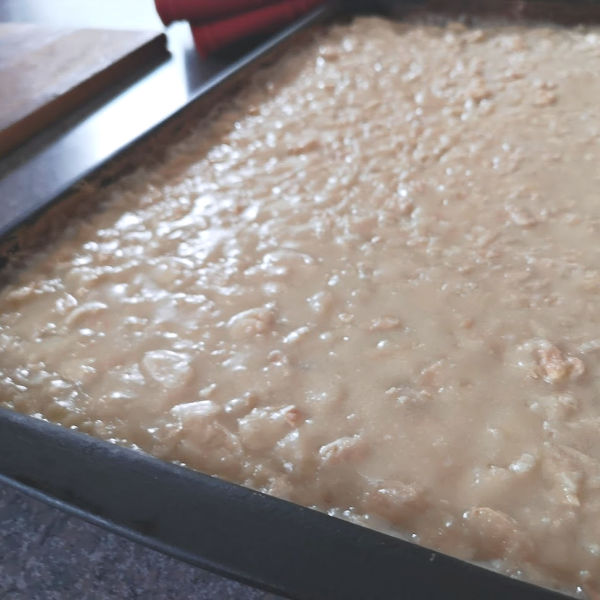 Let it cool about 10 - 15 minutes before cutting with a very sharp knife. Be careful not to draw the knife through the cookies, or you'll disturb the nuts too much. It's more of a stabbing down with the length of the knife, lifting a bit and moving to the next section.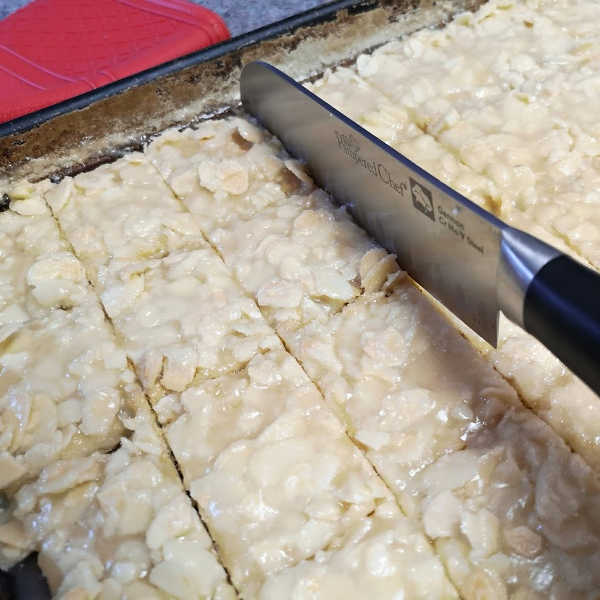 Let the pecan bars (or in this case, almond bars), cool a bit before removing to a wire rack. The lighting, below, makes these look a bit darker than they really are.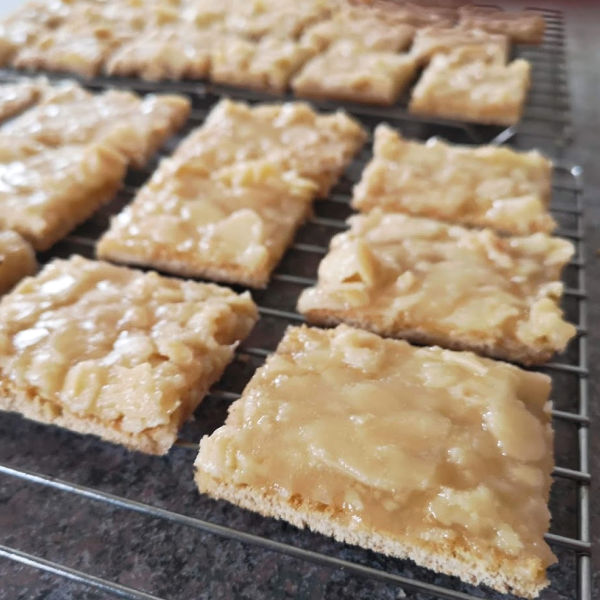 You could just serve them this way, but they are absolutely heavenly when they are either drizzled with chocolate (the darker, the better) or covered with chocolate and topped with salted nuts, as I did here below. Or, just use pecans, as my cousin Ingrid does.
Ready to make this Pecan Bar recipe?
Is the recipe below locked? Here's why. 

German Pecan Bar Recipe – Oma's Nussecken

This yummy pecan bar recipe comes from my German cousin, Ingrid. Once she immigrated to Canada, she found this easy method to try to recreate one of her favorite treats, Nussecken. Cover them with pecans, as Ingrid does. Or, use any variety of nuts (salted are best!) which is what Oma does!
Prep Time


10 minutes


Cook/Bake Time


12 minutes


Total Time

22 minutes

Servings:

Makes 20 - 24 servings
Ingredients:
24 graham crackers
1 cup (227 g) unsalted butter
1 cup (200 g) granulated sugar
1 cup (120 g) pecans, chopped
2 cups (340 g) bittersweet or semi-sweet chocolate chips
24 pecan halves (or other nuts)
Instructions:
Preheat oven to 350°F (180°C). Line a rimmed 10x17-inch baking sheet with parchment paper.
Place the graham crackers on the baking sheet in a single layer.
Carefully bring butter and sugar to boil. Gently simmer for 2 minutes, stirring constantly.
Add chopped pecans to the butter mixture and spread over crackers.
Bake about 10 minutes. Remove from the oven and place on a wire rack to start cooling.
Cut into 24 bars while warm.
Melt chocolate chips in the microwave and spread over the bars. Top each one with one of the pecan halves or other nuts.
Notes/Hints:

If you wish, you can spread the chocolate chips on top of the butter/pecan mixture once the 10-minute bake time is over. As the chips melt, spread the chocolate over the top, returning to the oven briefly if needed to help the chips melt. Then cut into bars while still warm and place one of the pecan halves on each bar.

*  *  *  *  *

Unless otherwise noted recipe, images and content © Just like Oma | www.quick-german-recipes.com

12.07.2022 revision update
Leave a comment about this recipe or ask a question?

Pop right over to my private Facebook group, the Kaffeeklatschers. You'll find thousands of German foodies, all eager to help and to talk about all things German, especially these yummy foods. 
Meet with us around Oma's table, pull up a chair, grab a coffee and a piece of Apfelstrudel, and enjoy the visit.

Cooking just like Oma, making those German meals, is actually quite easy. Let me, Oma Gerhild, help you with my step-by-step methods to re-create those yummy meals you remember from your Oma.

If you're looking for tasty, traditional, and easy German cake recipes (in English) to try, then you've come to the right place! Check out these lecker treats!

Discover the ultimate German schnitzel recipe with Oma's quick and easy method - perfect for any occasion! Taste the authentic flavors of Germany today.
*  *  *  *  *
PIN to SAVE this recipe to your Pinterest board!
And let's be friends on Pinterest!
---
Ingrid's Pecan Bar Recipe (Nussecken) | Just like Oma


By
Oma Gerhild Fulson
Learn how to cook pork hocks, not just for Oktoberfest, but anytime you want something traditionally German and wonderfully delicious! A hearty meal any time of the year!

Ingredients:
graham crackers,
sugar,
butter,
pecans,
For the full recipe, scroll up ...
Words to the Wise
"Discipline your children while there is hope. Otherwise you will ruin their lives."
Proverbs 19:18 (NLT)