Ingrid's Pecan Bar Recipe
➤ by Oma Gerhild Fulson
FTC Disclosure: Making a purchase via a link on the page? I may earn a small commission on the transaction - at no added cost to you. Thanks!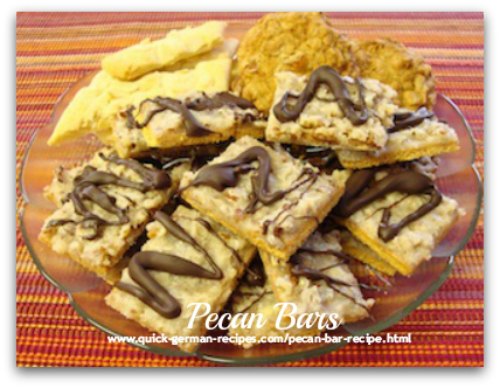 Yum
This yummy pecan bar recipe comes from my German cousin, Ingrid. Once she immigrated to Canada, she found this easy method to try to recreate one of her favorite treats, Nussecken. Is it the same? Absolutely not. Is it delicious. Absolutely! It's one of those quick and easy cookie recipes that the kids can help with by lining the cookie sheet with the graham crackers. This is such a tasty addition to a cookie platter and when chocolate icing is drizzled over, this almost tastes like a scrumptious, chewy, gooey chocolate bar!
My Mutti also experimented with Nussecken. They were cut into triangles and then we would then dip two of the corners into the melted chocolate chips. Using graham crackers makes this easy. And fun! Certainly there's less to go wrong. Just make sure to keep the kids away from the butter/sugar mixture. It's hot and sticky. But the kids can have fun drizzling the chocolate over the finished cookies.
Ingrid's Easy Pecan Bar Recipe
Ingredients:
Graham crackers (about 20 - 24)
1 cup butter
1 cup granulated sugar
1 cup pecans (chopped)
Instructions:
Preheat oven to 350°F.
Line cookie sheet with crackers.
Carefully bring butter and sugar to boil. Gently simmer for 2 minutes.
Add pecans and spread over crackers.
Bake about 10 minutes.
Cut while warm.
Hints

I've always used pecans for these. Walnuts can be substituted for the pecans, but pecans are usually sweeter. However, if cost is a factor, then either a mixture of walnuts and pecans, or just walnuts would work.
Oma says,
Using graham wafers for this is definitely NOT German, but I'm sure you'll love this quick and easy cookie recipe as well.
I know I do.
Some more Bars and Squares
*  *  *  *  *
Want nutritional information for a recipe?
Copy and paste the ingredient list and the number of servings into Calorie Count. 
It will give you an approximate calculation.

*  *  *  *  *
Need help doing conversions between cups and grams or any such thing?
Use this site to give you all the different conversions for the different types of ingredients. 
*  *  *  *  *
---
---
Words to the Wise
"Discipline your children while there is hope. Otherwise you will ruin their lives."
Proverbs 19:18 (NLT)