Gerhild's Mulled Wine Cookies ❤️

➤ by Oma Gerhild Fulson
FTC Disclosure: As an Amazon Associate, I earn from qualifying purchases.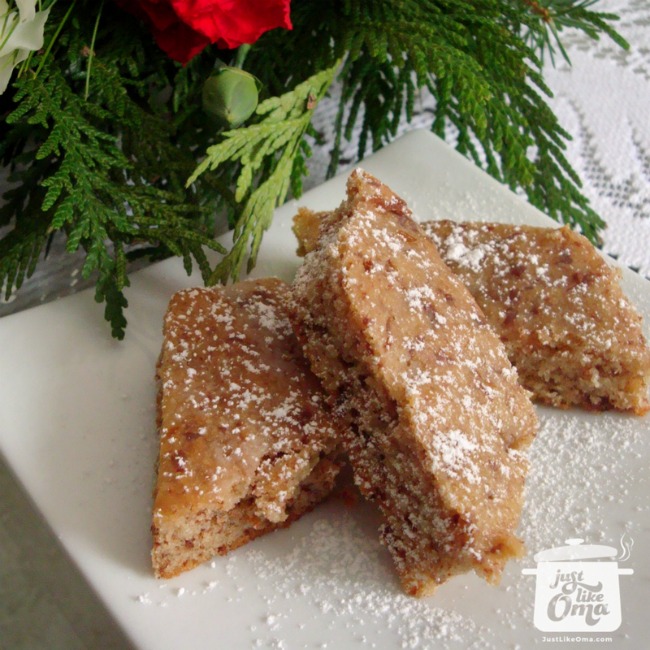 Wine cookies, traditional German Christmas cookies, use mulled wine, aka Glühwein, in the cookie as well as the icing. This recipe was sent in by another Gerhild. Check out Gerhild's Page to read about this unusual group of people and also see the various German recipes that they have submitted. This recipe is a translation of the Glühweinplätzchen recipe sent in by Gerhild Froeschke. She mentioned that she takes recipes and changes them to make them her own. 
This is one of those recipes. Glühwein (mulled wine) is a very traditional German drink, especially during the Christmas celebrations and can be purchased throughout Germany. 
Gerhild's Glühweinplätzchen ~ Mulled Wine Cookies
Ingredients:
1 cup butter or margarine
½ cup granulated sugar
4 eggs
2¼ cups flour, all-purpose
2 tsp baking powder
⅓ lb chocolate, grated
½ cup Glühwein
1 cup icing sugar
2 tbsp Glühwein (for icing)
Instructions:
Preheat oven to 350°F. Grease a rimmed cookie sheet.
Beat butter or margarine together with the sugar until creamy.
Add eggs, on at a time, mixing well.
Add flour, baking powder, chocolate, and Glühwein. Mix everything well.
Spread onto cookie sheet.
Back for 20 minutes or until wooden pick inserted in center comes out clean.
Let cool on wire rack.
For icing, mix together icing sugar and just enough Glühwein until it is the proper spreading consistency. Brush over cooled "cookie".
Let icing set. Cut into bars (or traditional diamond shape) and serve.
Make your own Glühwein
Ingredients:
3 cups of a dry red wine
½ cup water
3 to 4 tbsp granulated sugar
3 cloves
2 cardamom pods
½ lemon, sliced
1 star anise
1 cinnamon stick
Instructions:
Put into pot, bring to simmer, cover, and reduce heat to just below simmering and leave for about 1 hour. 
Strain out the spices. It's ready to use. 
If you want non-alcoholic Glühwein, just let it boil briefly to evaporate the alcohol. The Glühwein gives a really nice flavor to these cookies as well as their icing.


Leave a comment about this recipe or ask a question?
Pop right over to my private Facebook group, the Kaffeeklatschers. You'll find thousands of German foodies, all eager to help and to talk about all things German, especially these yummy foods. 
I pop in all the time as well, to chat and to answer questions. 
Meet with us around Oma's table, pull up a chair, grab a coffee and a piece of Apfelstrudel, and enjoy the visit.
*  *  *  *  *
Want nutritional information for a recipe?
Copy and paste the ingredient list and the number of servings into Calorie Count. 
It will give you an approximate calculation.

Need help doing conversions
between cups and grams or any such thing?
Use this site to give you all the different conversions for the different types of ingredients. 
---
PIN this ...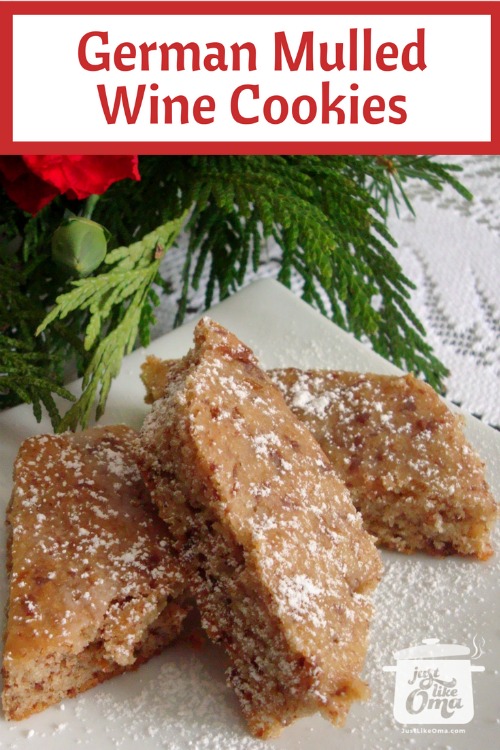 ---
I'm American but lived several years in Germany. I love the German Christmas traditions! For instance celebrating a 1st and 2nd Christmas day and celebrating

These German Christmas Traditions have been around for generations. Some ornamental, some musical and some just simply YUMMY!
---
Words to the Wise
"There is more hope for fools than for people who think they are wise."
Proverbs 26:10 (NLT)