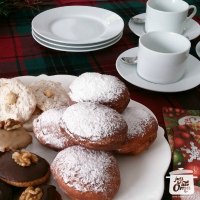 Oma's Jelly Donut Recipe: Berliner Pfannkuchen or Krapfen

This jelly donut recipe is adapted from an old Dr. Oetker cookbook, Baking is Fun, Volume 1. Also known as Berliner Pfannkuchen and Krapfen, among many other names, these soft pillowy donuts are easy and fun to make and taste absolutely delicious!
Servings:

Makes about 14 Berliner Pfannkuchen and about 12 Donut Holes.
Ingredients:
Doughnuts:
3 cups (390 grams) all-purpose flour
2 teaspoons (7 grams) instant yeast
⅓ cup (67 grams) granulated sugar
1 tablespoon (13 grams) vanilla sugar
pinch salt
3 tablespoons (45 milliliter) rum or milk
1 tbsp (6 grams) lemon zest
4 egg yolks
6 tablespoons (84 grams) butter, melted and cooled
1 cup (240 milliliter) milk, lukewarm
about 1 cup (240 milliliter) jam or marmalade
vegetable oil for frying
Topping:
½ cup (63 grams) powdered sugar, sifted
2 tablespoons (26 grams) vanilla sugar
Instructions:
Mix flour and yeast in a large mixing bowl (or the bowl of your stand mixer, if using).
Add sugars, salt, rum, lemon zest, egg yolks, and melted butter. Slowly start mixing into the flour mixture (use dough hook) and gradually add milk. Continue to mix (knead if by hand) until the dough is soft and elastic. I use the dough hook at a medium speed for about 5 minutes. 
Cover with a clean kitchen towel and let the dough rise in a warm place until doubled in size (about 1 hour).
Deflate by punching the risen dough. Roll dough out to ¼-inch thickness. Using a floured cookie cutter or glass (about 3-inch diameter), cut out 28 circles. Put a bit of jam or marmalade into the center of half the circles.
Brush the edges of the circles with water and place a plain donut over the jam ones. Press the edges together to seal well. Put the donuts onto a well-floured surface and cover. Let rise until double in size, about 30 minutes.
Gently knead any remaining scraps of dough, roll out, and cut 'donut holes' (I can usually get about 12). Let rise as well.
Heat oil in fryer (or deep pan) to 360°F to 375°F (182°C to 190°C).
Fry donuts, a few at a time, in the hot oil for about 2 to 3 minutes per side, until golden brown.
Remove the fried donuts with a slotted spoon and place them on paper towels to drain excess oil, then transfer to a wire rack to cool a bit.
Mix the powdered sugar and vanilla sugar and, with a sieve, sprinkle over the donuts.
The doughnut holes will usually fry in about 1 to 2 minutes per side.
Notes/Hints:
If you're using a deep pot or pan, be sure to use enough oil so the donuts float and don't touch the bottom of the pan.
Different filling ideas: apricot jam, raspberry jam, strawberry jam, black currant jam, cherry jam, plum jam, or peach jam.
Can also be filled with vanilla pastry cream, vanilla pudding, chocolate pudding, or chocolate hazelnut spread.
As an alternative to rolling and cutting out the dough, you can separate the dough into smaller balls of dough and fry them. Then once they're cool enough to handle, you can use a pastry bag to fill them with jam.
Store leftovers at room temperature in an airtight container.
*  *  *  *  *

Unless otherwise noted recipe, images and content © Just like Oma | www.quick-german-recipes.com

* 05.13.2022 revision update