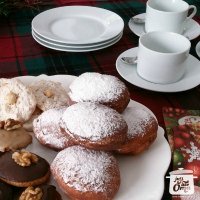 Jelly Donut Recipe: Berliner Pfannkuchen or Krapfen

Here's my German jelly donut recipe* to make Berliner Pfannkuchen ~ that traditional treat for New Year's and throughout the year! This one's a rather easy version to make, especially if you have a deep fryer, although just having a deep pot and thermometer will work well. 

Servings:

Makes about 14 Berliner Pfannkuchen and about 12 Donut Holes.
Ingredients:
Doughnuts:
3 cups all-purpose flour
1 package or 2 tsp active dry yeast
⅓ cup granulated sugar
1 tbsp vanilla sugar
pinch salt
3 tbsp rum or milk
1 tbsp lemon zest
4 egg yolks
6 tbsp butter, melted and cooled
1 cup milk, lukewarm
about 1 cup jam or marmalade
oil for frying
Topping:
½ cup powdered sugar, sifted
2 tbsp vanilla sugar
Instructions:
Mix flour and yeast in a large mixing bowl (of stand mixer, if using).
Add sugars, salt, rum, lemon zest, egg yolks, and melted butter. Slowly start mixing into the flour (use dough hook) and gradually add milk. Continue to mix (knead if by hand) until the dough is soft and elastic. I use the dough hook at a medium speed for about 5 minutes. 
Cover and let rise until doubled in size (about 1 hour).
Deflate by punching the dough. Roll out to ¼" thickness. Using a floured circular cutter or glass (about 3" diameter), cut out 28 circles. Put a bit of jam or marmalade into the center of half the circles.
Brush the edges of the circles with water and place a plain donut over the jam ones. Press the edges together to seal well. Put the donuts onto a well-floured surface and cover. Let rise until double in size, about 30 minutes.
Gently knead any remaining dough and cut out 'donut holes' (I can usually get about 12). Let rise as well.
Heat fat in fryer (or deep pot) to 350°F.
Fry donuts, a few at a time, about 2 - 3 minutes per side, until golden brown. Drain on paper toweling.
Mix the powdered sugar and vanilla sugar and, with a sieve, sprinkle over the donuts.
The donut holes will usually fry in about 1 - 2 minutes per side.
*  *  *  *  *

Unless otherwise noted recipe, images and content © Just like Oma | www.quick-german-recipes.com