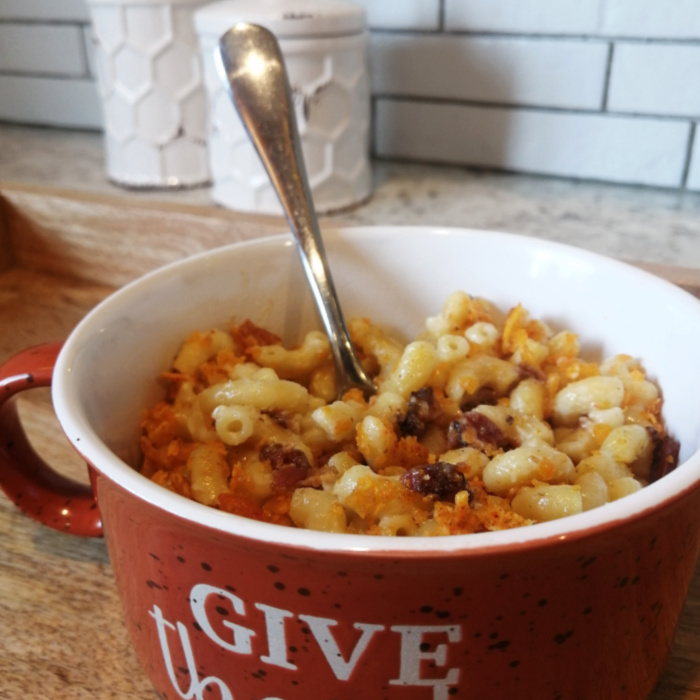 Homemade Three Cheese Macaroni and Cheese Recipe
My homemade Gouda mac and cheese is made with one of my all-time favorite cheeses, Gouda! I also included old sharp white cheddar, and Camembert. But you really can add whatever you want!
Prep Time


15 minutes


Cook Time


 30 minutes


Total Time

45 minutes

Servings:

Makes 10 servings
Ingredients:
1 900g package of elbow macaroni pasta
1 teaspoon salt
2 1/2 cups milk
1/4 cup unsalted butter
3 tablespoons all-purpose flour
1/2 cup grated Gouda cheese
1/2 cup grated old white cheddar (sharp, or not)
1/4 cup grated Camembert cheese
1/2 cup cooked bacon bits
1 cup Doritos chips
2 teaspoons paprika
Instructions:
Preheat oven to 350F. Then start by cooking elbow macaroni pasta by package directions in a large pot of salted water. 
Drain pasta and set aside in 13x9 casserole dish.
In a large saucepan, melt butter over medium-low heat. Slowly add in flour while whisking. Pour in milk, whisking until the sauce is a smooth mixture.
Bring to medium heat, and with a wooden spoon, gradually stir in cheeses until melted.
Pour evenly over the cooked macaroni noodles and stir to coat all pasta evenly.
Sprinkle bacon bits over top and stir to incorporate throughout.
Crush 1 cup Doritos in a Ziploc baggy. These will resemble bread crumbs, but with a cheesy kick.
Sprinkle Doritos breadcrumbs over the whole top of the pasta to create a top crust. Sprinkle top with paprika.
Bake for 30 minutes, and enjoy!
Notes/Hints:

I used cooked store bought bacon bits. If you prefer them fresh, simply fry bacon and cut into small bite-sized pieces, throw them in, and voilà!
Using elbow macaroni is of course traditional, but I too love good spiral pasta. Use whatever kind you'd like! The taste will still be remarkable.
I used a 10-inch casserole dish and a smaller casserole dish as well because of how much mac and cheese the package made. I needed two dishes! It makes for a big batch. That just means it lasted us all week! Yum. However, I do suggest a 13x9 dish, or bigger if possible. 
Fry Dorito crumbs in butter before sprinkling over the pasta to add a nice crunch to your topping.
*  *  *  *  *

Unless otherwise noted recipe, images and content © Just like Oma | www.quick-german-recipes.com