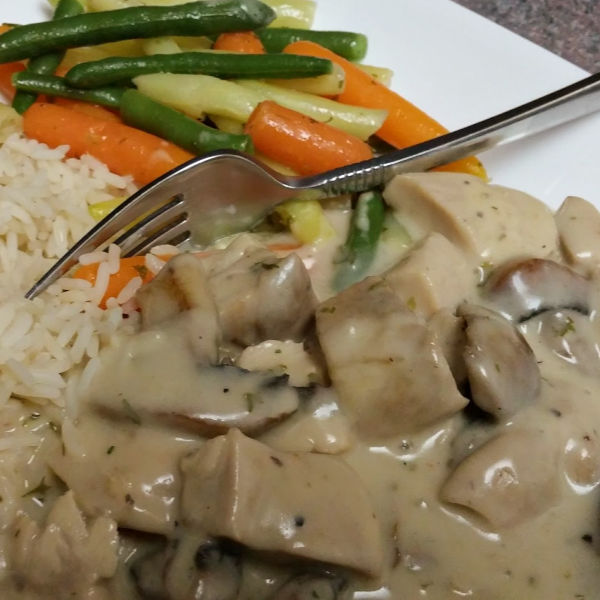 Traditional German Chicken Fricassee Recipe – Oma's Hühnerfrikassee
Make this chicken fricassee recipe, aka Hühnerfrikassee, and you'll think you're back in Oma's kitchen.
It's one of those convenient one-pot meals you can throw together quickly using whatever you may have laying around. Perfect for an easy dinner any night of the week.
Prep Time


10 minutes


Cook Time


30 minutes


Total Time

40 minutes

Servings:

Makes 4 servings
Ingredients:
1 tablespoon olive oil
3 tablespoons butter, divided
8 ounce fresh white or cremini mushrooms, sliced
1½ pounds boneless skinless chicken thighs, cubed
4 tablespoons all-purpose flour
2 cups chicken broth, hot 
1 cup frozen peas (optional)
½ cup heavy cream, or 10%
salt, pepper
fresh parsley to garnish
Instructions:
In a large saucepan or dutch oven, heat oil and 1 tablespoon butter over medium heat. Add mushrooms and sauté for several minutes until golden brown. Remove mushrooms with a slotted spoon and set aside. 
Add remaining butter and lightly cook chicken without browning it. Sprinkle with flour and stir to mix. Add hot broth and continue stirring; increase heat and bring to a boil. Return mushrooms to saucepan and stir. Cover, reduce to medium-low heat and simmer for about 15 - 20 minutes. If the sauce gets too thick, add a bit extra water.
Add peas (if using) and simmer for 2 to 3 minutes. Add cream. Season. Sprinkle with parsley to garnish.
Notes/Hints:

Add 1 teaspoon capers to the finished sauce.
Add frozen asparagus about 10 minutes before sauce is finished.
Season with 1 tablespoon lemon juice.
You can substitute the the boneless skinless thighs for boneless skinless chicken breasts.
If you prefer a creamy white wine sauce, replace ½ cup chicken broth with ½ cup dry white wine such as Sauvignon Blanc, Riesling, or Pinot Grigio.
Use paprika and/or nutmeg to season.
I usually make my "steamed" rice to serve with this.
SUPER QUICK FRICASSEE: use leftover cooked chicken and follow the above recipe, only the cooking time is reduced to about 5 minutes for the chicken to heat through and the flour to cook.

*  *  *  *  *

Unless otherwise noted recipe, images and content © Just like Oma | www.quick-german-recipes.com