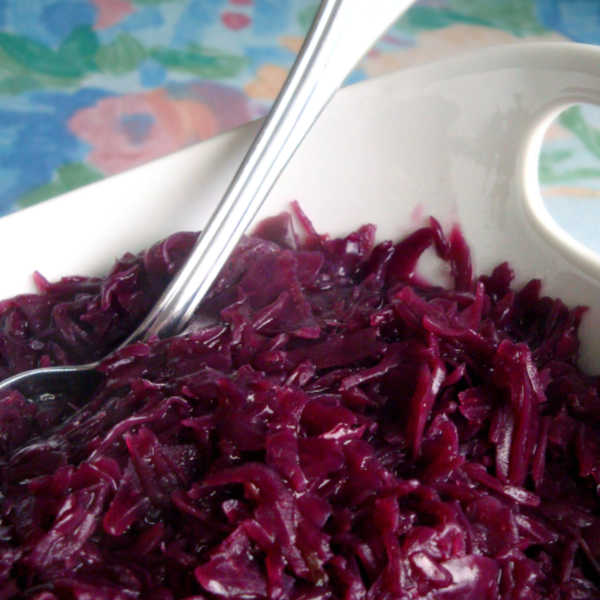 Oma's Authentic German Red Cabbage Recipe with Apples 

There's nothing quite like this delicious recipe for red cabbage. German red cabbage is the perfect side dish to just about any German meal. The apples in this recipe give it that wonderful sweet-and-sour flavor.
Prep Time


10 minutes


Cook Time


60 minutes


Total Time

70 minutes

Servings:

Makes 6 - 8 servings
Ingredients:
1 medium head red cabbage, shredded
2 - 3 tablespoons bacon fat, butter, or olive oil
1 large onion, diced
3 apples, peeled and cored, shredded or diced
½ cup red wine (optional)
3 tablespoons apple cider vinegar
1 teaspoon salt
2 teaspoons white or brown sugar
½ teaspoon ground nutmeg
¼ teaspoon ground cloves
¼ teaspoon freshly ground black pepper
2 tablespoons lemon juice
2 tablespoons corn starch
Instructions:
In a large pot or large dutch oven, heat bacon fat over medium heat and lightly sauté the onion.
Add shredded cabbage and apples. Continue to sauté for several minutes.
Add 1 cup water, red wine (if using), cider vinegar, sugar, salt, nutmeg, cloves, and pepper. Stir.
Bring to a simmer and cover. Simmer for about 30 to 60 minutes or until the cabbage is tender, adding more water if needed.
Add lemon juice. Taste and season with more salt, cloves, pepper, sugar, and vinegar as needed.
Mix about 2 tablespoons cornstarch with cold water and slowly stir in just enough to thicken red cabbage liquid.
Notes/Hints:

For an extra quick red cabbage recipe, use canned or jarred red cabbage. Add shredded or grated apples. Simmer until apples are cooked, about 10 minutes. Season and thicken with corn starch as above.
Want another version for red cabbage without the apples? Then check out my other German Red Cabbage recipe. There are easy instructions there how to cook cabbage as well as prepare it.
The traditional recipe for red cabbage calls for cooking the cabbage until it's almost mush. If you prefer, you can slice the cabbage instead of shredding and cook it only about ½ hour instead if you prefer a more textured cabbage dish. Delicious as well.
Feel free to experiment with a different mix of spices and herbs (as mentioned above), as well as other vinegars, such as: white vinegar, balsamic vinegar, and white or red wine vinegar.
Leftovers taste even better the next day. Leftover red cabbage will last a few days in an airtight container in your fridge. Extras also freeze well.
*  *  *  *  *

Unless otherwise noted recipe, images and content © Just like Oma | www.quick-german-recipes.com

04.27.2022 revision update