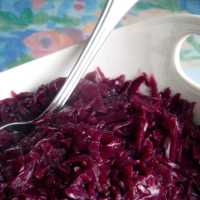 Oma's German Red Cabbage Recipe with Apples 

Check out this German red cabbage recipe, aka Rotkohl, Blaukohl, or Blaukraut, that uses apples to enhance the flavor. Easy to make, yet tastes best reheated, so make it ahead of time if you can. 
Red cabbage recipes are really a staple for German cooking. They go particularly well with hearty meats such as beef, pork, game, turkey -- well, just about everything! Or make it without apples.
Prep Time


10 minutes


Cook Time


60 minutes


Total Time

70 minutes

Servings:

Makes 6 - 8 servings
Ingredients:
1 medium head red cabbage, shredded
2 - 3 tbsp butter, oil, or lard
1 large onion, diced
3 apples, peeled, cored, shredded or diced
½ cup red wine (optional)
3 tbsp cider vinegar
1 tsp salt
2 tsp sugar
½ tsp nutmeg, ground
¼ tsp cloves, ground
¼ tsp pepper, freshly ground
2 tbsp lemon juice
2 tbsp cornstarch
Instructions:
In large pot, heat butter, oil, lard, or combination. Lightly saute onion.
Add red cabbage and apples. Continue to saute for several minutes.
Add 1 cup water, optional red wine, cider vinegar, sugar, salt, nutmeg, cloves, and pepper. Stir.
Bring to simmer, cover. Simmer about 30 - 60 minutes or until cabbage is tender.
Add lemon juice. Taste and season with more salt, cloves, pepper, sugar, and vinegar as needed.
Mix about 2 tbsp cornstarch with cold water and slowly stir in just enough to thicken red cabbage liquid. Serve.
Notes/Hints:

For an extra quick red cabbage recipe, use canned or jarred red cabbage. Add shredded or grated apples. Simmer until apples are cooked, about 10 minutes. Season and thicken with corn starch as above.
The traditional "recipe for red cabbage" is cooked till almost the "mush" stage. If you prefer, you can slice the cabbage instead of shredding and cook it only about ½ hour instead if you prefer a more "textured" cabbage dish. Delicious as well.
Serve this as a side dish to rouladen. So traditional!
*  *  *  *  *

Unless otherwise noted recipe, images and content © Just like Oma | www.quick-german-recipes.com