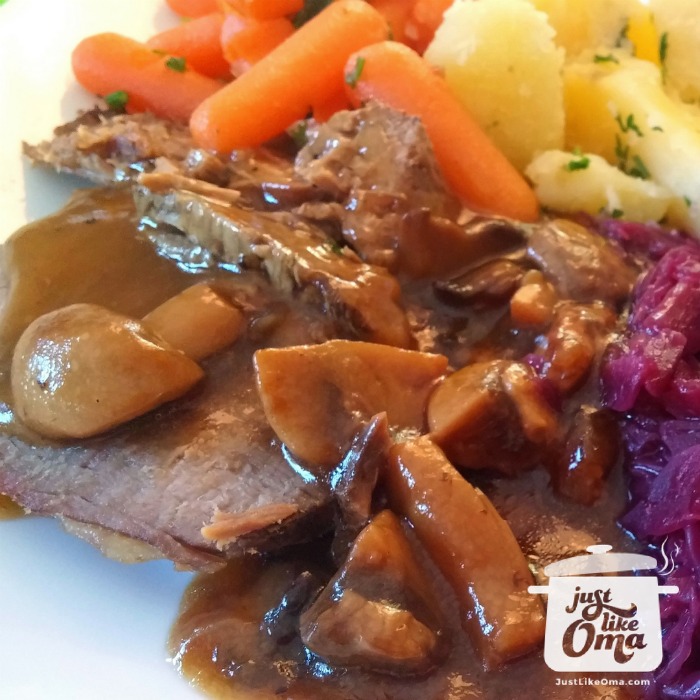 Slow Cooker Roast Beef tastes like Rouladen: Oma's Crock-Pot Recipe

Make this slow cooker roast beef and be amazed how much this tastes like rouladen WITHOUT the work. Same wonderful gravy, tender meat, and perfect for family and guests.
Prep Time


10 minutes


Slow Cook Time


6 - 10 hours


Total Time

Depends on Slow Cooker setting.

Servings:

Makes 6 - 8 servings
Ingredients:
1 tablespoon cornstarch
1 onion, cut into chunks
4 garlic dill pickles, cut into chunks
3 - 4 pounds bottom round beef roast, trimmed of excess fat
1 teaspoon salt
½ teaspoon pepper
 4 - 6 slices lean bacon
1 - 2 tablespoons cornstarch to thicken gravy
salt and pepper
Instructions:
Mix together 1 tablespoon cornstarch with 2 tablespoons water and pour into slow cooker.
Add onion, dill pickles, and 2 slices of bacon to slow cooker and put roast on top with fat side down.
Sprinkle with salt and pepper. Cover roast with remaining bacon slices.
Cover slow cooker and cook roast for 6 hours on high or 10 hours on low (may vary depending on your cooker)
Remove meat and tent with foil to rest while you make the gravy.
Strain cooking liquid through sieve into a saucepan and bring to simmer.
To thicken gravy, combine 2 to 3 tablespoons cornstarch in a little cold water. Stir into cooking liquid until slightly thickened.
Season gravy to taste with salt and freshly ground pepper.
Notes/Hints:

Add whatever ingredients you normally use in your Rouladen. If you don't like pickles, omit them. If you normally add carrots, etc., add them. If you normally use mustard, add a bit to taste. I love adding mushrooms to the gravy. Yum!
If you have time, you can brown the roast before putting it in the slow cooker. This will amp up the flavor of both the meat and the gravy.
Use other cuts of beef or try pork roasts as well. I've had them all turn out delicious.
See What to Serve with Rouladen for side dishes that complement your rouladen-tasting roast beef.
*  *  *  *  *

Unless otherwise noted recipe, images and content © Just like Oma | www.quick-german-recipes.com

10.21.2021 revision update