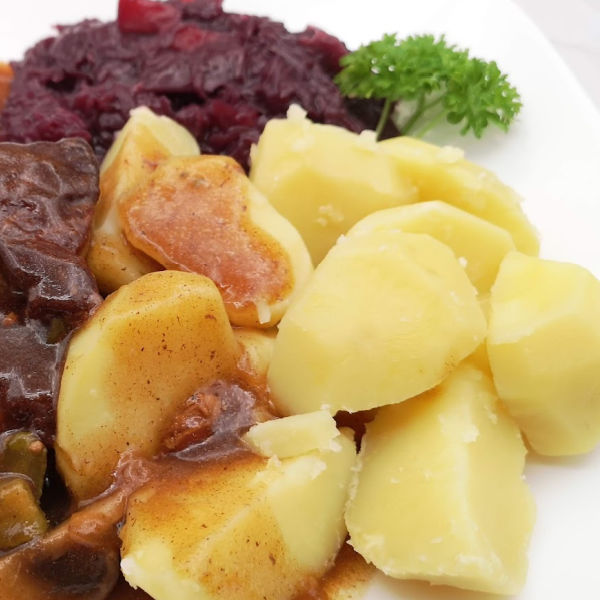 How to Boil Potatoes – Oma's Salzkartoffeln

Here's how to boil potatoes, one of the most traditional of all German side dishes known as Salzkartoffeln which translates as "salt potato." Peeled and quartered, potatoes are cooked in salted water. 

Prep Time


5 minutes


Cook Time


20 minutes


Total Time

25 minutes

Servings:

Makes 4 servings
Ingredients:
Use one medium potato per person.
salt (optional)
Instructions:
Use one medium potato per person.
Wash well, remove sprouts and blemishes, and then peel. Use potato peeler or small paring knife.
Immediately put peeled potatoes into bowl of water to prevent discoloring.
When ready to cook, cut into quarters and place into pot. Cover with water.
Add salt. (optional, about 1 teaspoon per quart)
Bring to boil. Reduce heat, cover, and continue boiling gently until tender, approx. 20 minutes. Test by poking the potato with a sharp paring knife. If it slides easily all the way to the center, the potatoes are done.
Drain by holding lid on pot with potholders and lifting lid a bit from the edge. You can also gently pour into large colander to drain water.
Return the drained potatoes in the pot over the heat to steam dry the potatoes. This only takes a  minute or two, gently shaking the pot so the potatoes don't stick. 
Serve immediately.
Notes/Hints:

Save cooking water to use in soups or gravies. You can also add it when baking bread.
To make the drained potatoes more 'mealy', put a folded towel over pot (remove the lid first) for 5 minutes. Shake pot gently. Remove the towel which will have absorbed excess steam.
If you really need to keep them hot for a little while, after draining the potatoes, but a folded terrycloth towel over the pot. Put the lid on over the towel and let the pot sit in a warm area. This should keep the potatoes hot and dry for about 15 - 20 minutes.
*  *  *  *  *

Unless otherwise noted recipe, images and content © Just like Oma | www.quick-german-recipes.com