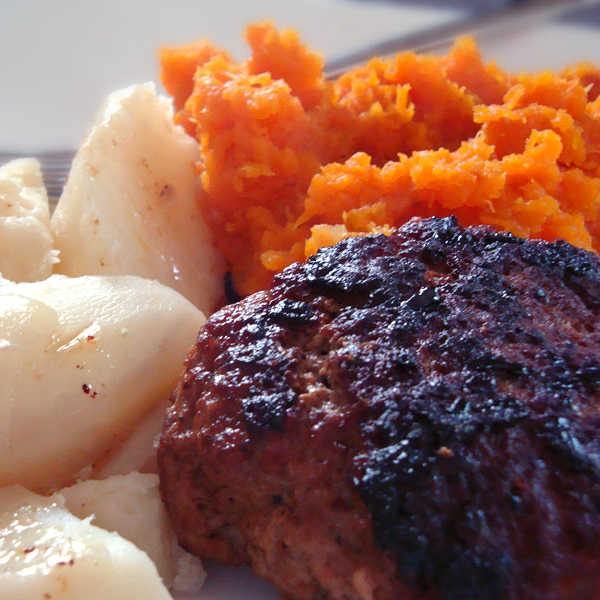 Best Hamburger Recipe – Oma's Buletten (Frikadellen)

Not only are these hamburgers easy, but these taste like real German hamburgers, especially when made with the Kaiser roll instead of bread crumbs.

Depending on which part of Germany you're from, these are either called Buletten or Frikadellen. Usually, they are fried, however, they can be done on the BBQ, grilled, or broiled.
Prep Time


5 minutes


Cook Time


15 minutes


Total Time

20 minutes

Servings:

Makes 3 - 4 servings
Ingredients:
1 stale Kaiser roll or ¼ cup breadcrumbs

1 pound lean ground beef
1 large egg
½ small onion, chopped (optional) 
¾ teaspoon salt
¼ teaspoon pepper
1 tablespoon oil and 1 tablespoon butter
Instructions:
Slice the Kaiser roll, and soak it in some warm milk or water for about 10 minutes. Drain it, squeeze out the liquid, and crumble the roll into a large bowl. (If using breadcrumbs, add them to the bowl instead.)
Add the remaining ingredients, except the oil/butter, and mix gently. 
Shape into patties (3 or 4 depending on size wanted)
Heat the oil and butter in a skillet and brown the patties on both side. Cover and continue to fry on medium heat for about 15 minutes, turning occasionally. 
Notes/Hints:

Add ¼ cup ketchup, BBQ sauce, or mustard to meat mixture

Add ½ cup cubed cheese (cheddar) to the meat mixture
Try different seasonings to find your favorite. I like using "Montreal Steak Spice." (I know .... it's not German!)
Personally, I prefer using lean ground beef. If you wish, you can use a regular grind and/or a mixture of beef, pork, or veal.

You can easily double and triple the recipe.
These can also be grilled on a BBQ for about 6 minutes per side or until done.
*  *  *  *  *

Unless otherwise noted recipe, images and content © Just like Oma | www.quick-german-recipes.com