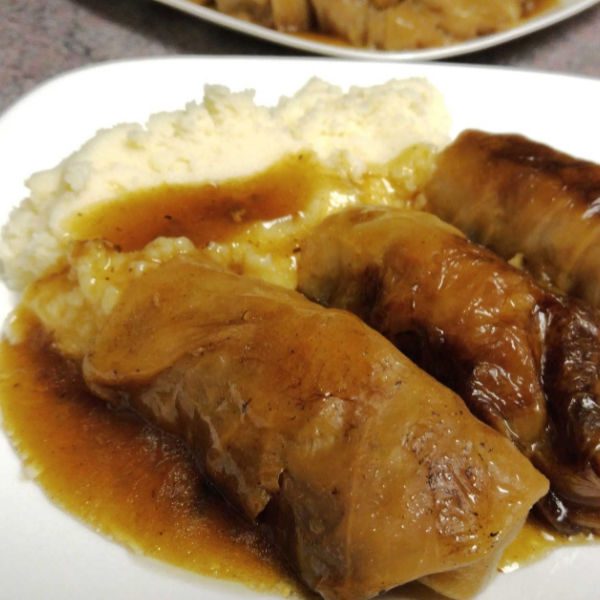 Oma's Kohlrouladen - German Cabbage Rolls Recipe
This cabbage rolls recipe is SO German. Stuffed with meat and served with a brown gravy, this really is a family favorite. (The unused inner cabbage often becomes a braised side dish.)
These Kohlrouladen are the ones I grew up with. Meat, and just, meat fills these. No rice, no tomato sauce to dilute the great meat and cabbage flavors!
Prep Time


30 minutes


Cook Time


90 minutes


Total Time

2 hours

Servings:

Makes 6 servings
Ingredients:
1 medium to large head green (white) cabbage (about 3 pounds)
1 pound ground lean beef
1 pound ground pork
2 large eggs
1 small onion, finely chopped
½ cup bread crumbs
1 teaspoon salt
1 teaspoon Montreal steak spice (optional ... see hints below!)
½ teaspoon pepper
about 2 tablespoons butter and 2 tablespoons olive oil
about 2 cups beef broth
about 1 - 2 tablespoons cornstarch
Instructions:
Prepare cabbage head by removing the stalk. Cook head in a large pot of boiling, salted water for about 10 minutes to separate leaves. Remove leaves and set aside to cool.
Once the leaves have cooled, turn each leaf over so that the thick vein, or hard rib, is on top. Trim hard rib with a sharp small kitchen knife.
Pat leaves with a paper kitchen towel to remove any excess water.
Mix ground beef, ground pork, eggs, onion, breadcrumbs, salt, steak spice, and pepper together in a large bowl.
Place meat mixture, about 1 heaping tablespoon, on the bottom end of each cabbage leaf. Roll up tightly, tucking in sides. Fasten the stuffed cabbage rolls with a wooden toothpick. (Or use baker's twine.)
In a large saucepan, heat butter and oil over high heat. In batches, carefully brown cabbage rolls on all sides. When all have been browned, return all cabbage rolls to pan and add beef broth so that the liquid almost covers the rolls.
Simmer gently for about 1 hour.
Carefully remove cabbage rolls onto a platter, removing the toothpicks. Keep rolls warm while you make the gravy/sauce.
Mix corn starch with a bit of cold water. Add as much as needed to the liquid in the saucepan until it is the desired consistency. Season with salt and pepper if needed.
Serve cabbage rolls with potatoes (boiled or mashed) and a green or cucumber salad on the side. Pour sauce over cabbage rolls and potatoes.
Notes/Hints:

As a delicious option, I like adding Montreal Steak Spice for just a bit added kick ... a totally non-German addition. 
Use additional seasonings as preferred, such as nutmeg, Maggi, caraway seeds, paprika, thyme ... :)
Instead of beef broth, dissolve a beef cube in about 2 cups of water.
Save any extra cabbage for another cabbage recipe, such as this yummy braised cabbage side dish that can be served alongside, if you wish. 
*  *  *  *  *

Unless otherwise noted recipe, images and content © Just like Oma | www.quick-german-recipes.com