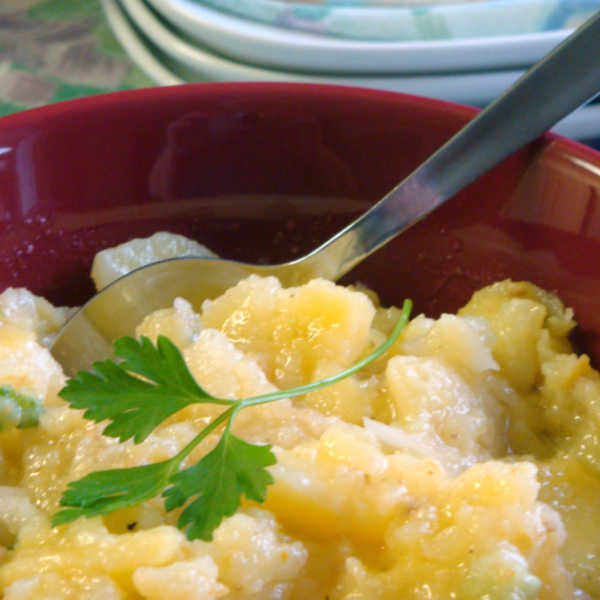 Southern German Potato Salad 
This warm German potato salad is among the easy German recipes sent in by one of our readers, Roswitha (Rose) Seemann.  Her family comes from the southern part of Germany, near the French/Swiss border, and that's reflected in this recipe.
In southern Germany, the warm potato salad recipes like this one abound. In northern Germany, cold potato salads with mayo abound.

Prep Time


20 minutes


Cook Time


25 minutes


Total Time

45 minutes

Servings:

Makes 4 - 6 servings
Ingredients:
6 medium potatoes
12 slices bacon
1½ cups chopped onions
⅔ cup plus 2 tbsp cider vinegar
1½ tbsp brown sugar
1½ tsp salt
¼ tsp pepper
Instructions:
Wash and cut into halves the potatoes.
Cook for about 20 minutes or until potatoes are tender. Drain liquid from potatoes and dry by shaking pot over low heat. Peel and cut into ¼ inch slices.
Meanwhile, dice and pan-broil bacon, reserving the bacon drippings.
Put 6 tbsp of the bacon drippings in a large saucepan. Add onions and cook until they are transparent, stirring occasionally.
Stir in cider vinegar, brown sugar, salt, and pepper.
Heat mixture to boiling over low heat. Add diced cooked bacon and stir. Pour over the warm potato slices and mix lightly to coat evenly.
Cover and set aside for about 10 - 15 minutes for the potatoes to absorb the vinegar dressing before serving.
Makes a great accompaniment for German sausages or smoked pork chops.
Notes/Hints:

*  *  *  *  *

Unless otherwise noted recipe, images and content © Just like Oma | www.quick-german-recipes.com