Oma's Bienenstich Recipe (Bee Sting Cake) ❤️

➤ by Oma Gerhild Fulson
FTC Disclosure: As an Amazon Associate, I earn from qualifying purchases.
This Bienenstich recipe is my quick version of my Mutti's traditional German Bee Sting Cake with its sweet, chewy, and nutty topping and creamy filling. 
Mutti's Bienenstich was oh-so-good!
For some reason, though, it didn't find it's way into my oven. So, I decided to create a recipe that was quick and easy.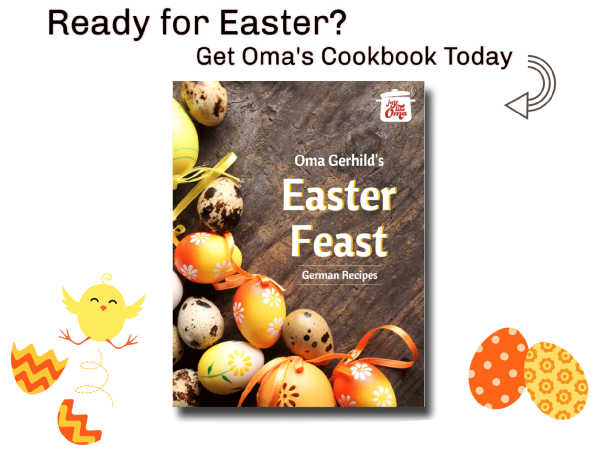 And, although yeast baking is easy, it is a bit time consuming. I needed something easy AND quick AND made without yeast.
You see, a couple of years ago, I'd been asked to post a "Bee Sting Cake" recipe in my Kaffeeklatscher group on Facebook and realized how much I missed having the cake my Mutti used to make.
I combined several recipes. I did some alterations, and, voila, I made my son, Mike, a Bienenstich birthday cake. WITHOUT YEAST!
Now, this may not be the traditional German recipe, but it is wunderbar lecker! It certainly satisfies our need for German deliciousness!
The traditional Bienenstich ...
Usually Bienenstich is made on a baking sheet, so the resulting cake is quite large. That's great for large parties since yeast dough is fairly inexpensive.
However, it really does need to be eaten the same day it's made because the yeast dough dries out fairly quickly.
The usual filling for this Bee Sting cake is either rich vanilla custard, whipped cream or buttercream.
If you're wanting to see how to make a traditional yeast version, take a look at this one, and you'll understand what I mean, as far as the time it takes, and extra work.
What makes these cakes so wunderbar? They bring back such wonderful memories of my Mutti's kitchen. So, of course, I had to write my own German cake e-cookbook in English to share with my grandchildren. 
Sharing traditional German cakes, made using easily available ingredients, ... that's such a delicious way to pass on our heritage.
Oma's non-traditional Bienenstich
Tasting like the traditional one, but without the yeast, this one is a quicker version. Tastes so good, and doesn't dry out as quickly as the yeast one.
The only tricky part of this recipe is the timing.
You make the cake layer, bake it, and during the baking time you make the topping, which takes a bit of time.
The topping is put on the cake just as the cake is finished baking and then the whole thing is placed under the broiler to finish browning the top.
To make it all go smoother, have the topping ingredients already pre-measured and ready to go so that the topping is ready when the cake is ready.

Start with the cake ...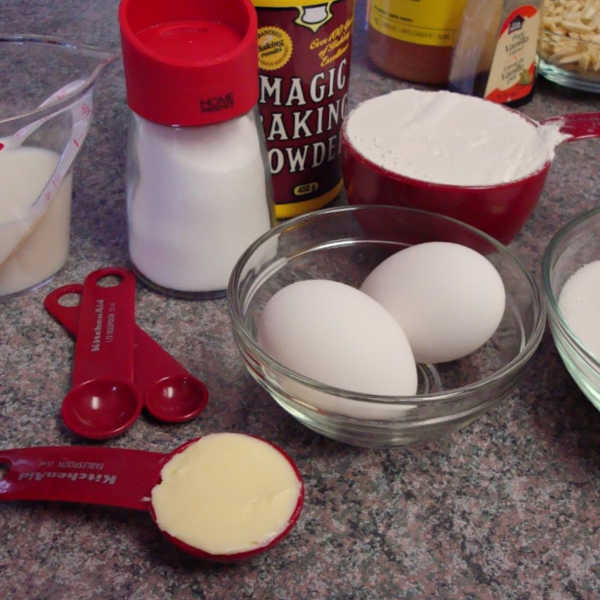 Get all the ingredients together for the cake ...
... and get the ingredients ready and measured for the topping as well. You'll be making the topping while the cake is baking and you don't want to find out that you're missing something,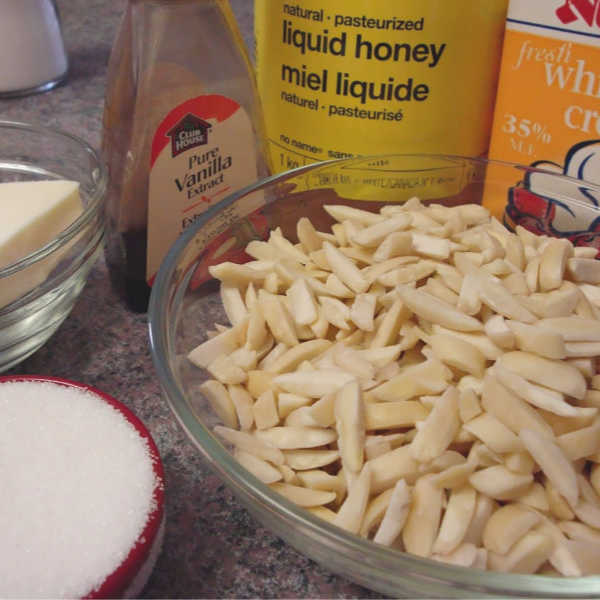 After you make the batter for the cake, put it into a spring-form pan, and bake.
Immediately, start making the topping. You want the topping to be ready the moment the cake is finished in the oven.
As you're making the topping, keep your eyes on the cake. You want the cake to be just nicely lightly golden and firm to the touch.
As soon as the cake is ready, spoon the warm topping over the top. Meanwhile, turn the broiler on.
If the topping gets too thick, just before you go to put it onto the cake, add a bit of honey or cream and heat slightly.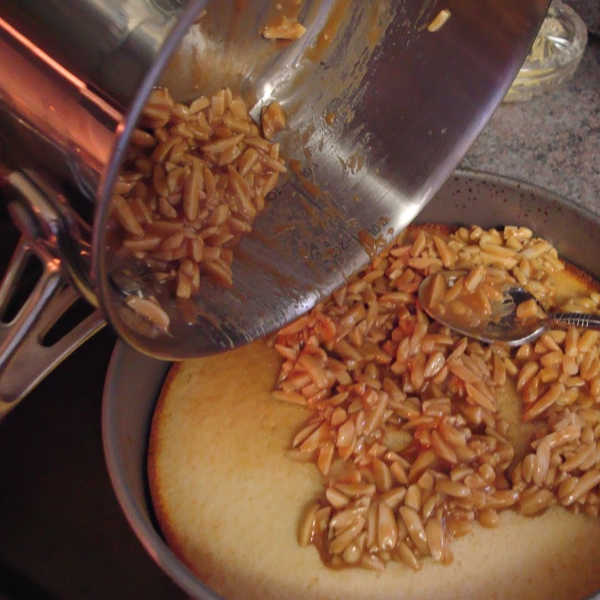 Place the cake under the broiler.
Be careful because the top can burn quickly. This will only take a few minutes to get golden on top.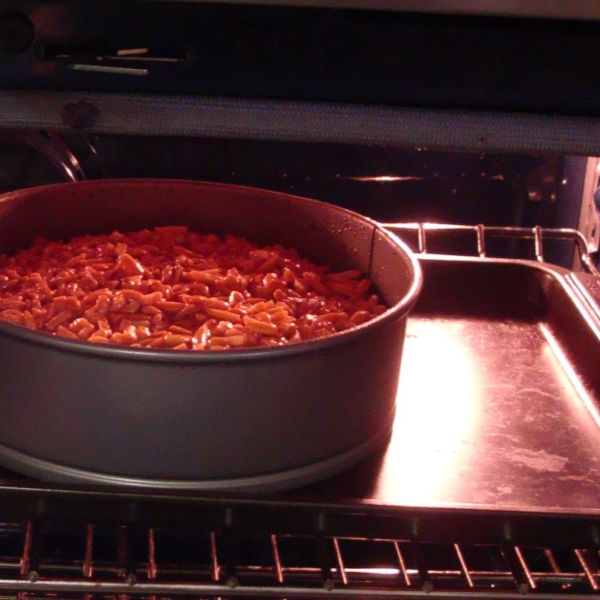 Carefully run a knife around the top edge while it is still warm to loosen the sticky topping from the edge of the pan.
Let the cake cool completely. Remove the outer ring and them carefully lift the cake off the bottom of the springform.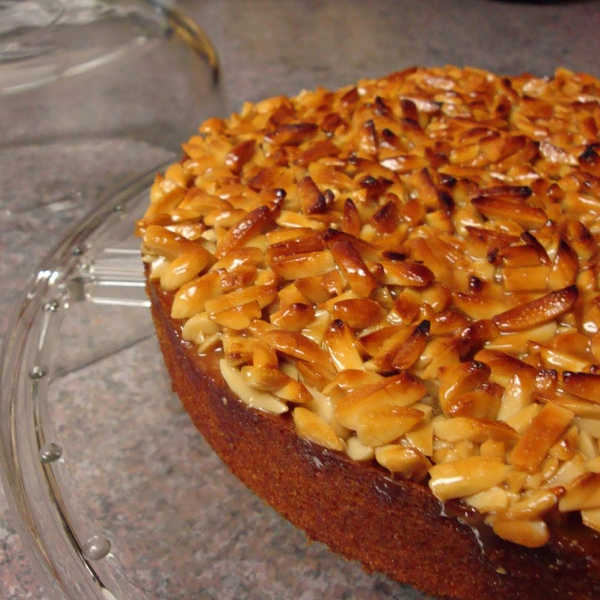 Once the cake is cold, cut it into two layers.
If you wish, to make cutting the finished cake easier, you may want to cut the top layer into 10 to 12 wedges.
In the cake pictured above, I didn't cut it into wedges, but left it whole.
Make the cream filling.
Place a cake ring, such as the Zenker one here, around the bottom layer. Spoon the filling over the cake. 
Here's an easy way to 'build' a torte.
Use an adjustable cake ring!
I use this Zenker "Patisserie" that I brought back from Germany. 
It's non-stick stainless steel, and being made by Zenker, that means quality. 
---
Place the top layer over the cream and press down slightly.
If you've cut the top into wedges, just assemble them on top. This will actually make cutting the finished cake easier, eliminating any possibility of the cream being squished out during cutting through the nutty top layer.
Remove the outer ring and refrigerate the cake until ready to serve. Enjoy!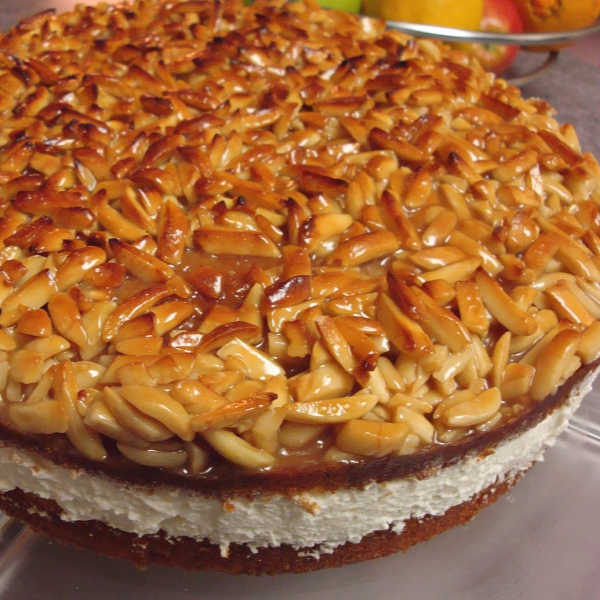 ---
Ready to make Oma's Bienenstich?
Oma's Bienenstich Recipe ~ Bee Sting Cake
Cake Layer Ingredients:
2 eggs
¾ cup granulated sugar
1 cup flour, all-purpose
1 tsp baking powder
pinch salt
½ cup milk
1 tbsp butter
Topping Ingredients:
¼ cup butter
¼ cup granulated sugar
1½ tbsp honey
1 tbsp whipping cream
1 cup almond, slivered
½ tsp vanilla extract
Filling Ingredients:
2 cups whipping cream
2 tbsp granulated sugar
2 tbsp instant vanilla pudding powder
Cake Layer Instructions:
Preheat oven to 350 °F.

Into large mixing bowl, mix eggs and sugar until thick and creamy.
Stir flour, baking powder, and salt together and stir into egg mixture.
Heat milk and butter to just about boiling (I microwaved for about 30 seconds), stir, and mix into batter.
Pour into greased 9-inch springform pan. Bake for about 20 - 30 minutes until firm to touch and wooden toothpick inserted into center comes out clean.
Meanwhile, make the topping!
Topping Instructions:
In a small pan, melt butter over low heat. Add sugar, honey, and whipping cream, stirring continually.
Bring to boil, and boil gently for 5 minutes, stirring continually.
Stir in almonds and vanilla.
Set aside to cool slightly and carefully spread topping on cake immediately as it comes out of the oven.
Set oven to broil
Broil cake for a few minutes until the top is nicely browned being careful it doesn't burn!
Let cake cool on a wire rack. Remove outer ring from spring-form carefully.
Filling Instructions:
Whip cream, sugar, and instant vanilla pudding powder until stiff.
Cut cake in half when cold.
Spread filling on bottom layer.
Place top layer on top of filling. To make it easier to serve, cut this top layer first into wedges and then place on top of filling.

Keep refrigerated until ready to serve.
Makes 12 servings
HINTS:
If the topping gets too thick before spreading on cake, add an extra tablespoon of honey and/or cream and reheat.
Place the outer ring of the spring-form pan back around the bottom layer in order to neatly put the filling on the cake. Place the top layer into the pan. Let sit in fridge until needed. Then remove the outer ring. Nice and neat!
Bienenstich with the "chewy" topping can be difficult to cut through neatly without the cream filling squeezing out. It really is best if you cut the cake into 2 layers, cut the top layer into serving size wedges before you place them neatly on top of the filling. Makes for neater serving.

Want nutritional information? Copy and paste the above ingredient list and the number of servings into Calorie Count for an approximate calculation.
Need help doing conversions between cups and grams, etc.? Use this site to give you all the different conversions for the different types of ingredients.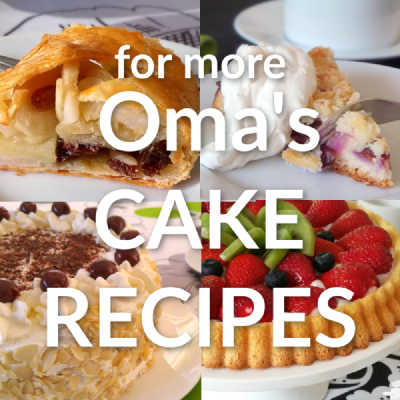 Leave a comment about this recipe or ask a question?
Pop right over to my private Facebook group, the Kaffeeklatschers. You'll find thousands of German foodies, all eager to help and to talk about all things German, especially these yummy foods. 
I pop in all the time as well, to chat and to answer questions. 
Meet with us around Oma's table, pull up a chair, grab a coffee and a piece of Apfelstrudel, and enjoy the visit.
*  *  *  *  *
Want nutritional information for a recipe?
Copy and paste the ingredient list and the number of servings into Calorie Count. 
It will give you an approximate calculation.

Need help doing conversions
between cups and grams or any such thing?
Use this site to give you all the different conversions for the different types of ingredients. 
---
Pin the following post to quickly find your Bienenstich recipe when you're pulling out your springform pan and the rest of your ingredients...


---
Heidi's Raspberry Torte recipe is SO very easy ... and pretty ... and super delicious. Use a variety of berries to change it ... or just raspberries. Perfect for your summer BBQ!

This sourdough whole grain no knead bread recipe is so delicious and so healthy. Learn this basic method and then alter it to suit your needs. Healthy never tasted this good!
---
---
Oma's Bienenstich Recipe (Bee Sting Cake) ❤️


By
Oma Gerhild Fulson
My Bienenstich recipe is an easy version of the traditional "German Bee Sting Cake". Sweet, chewy, nutty top and creamy filling. Yummy!

Ingredients:
whipping cream,
flour,
eggs,
almonds,
honey,
For the full recipe, scroll up ...
Words to the Wise
"Wisdom will multiply your days and add years to your life."
Proverbs 9:11 (NLT)