Rose's Linzertorte ❤️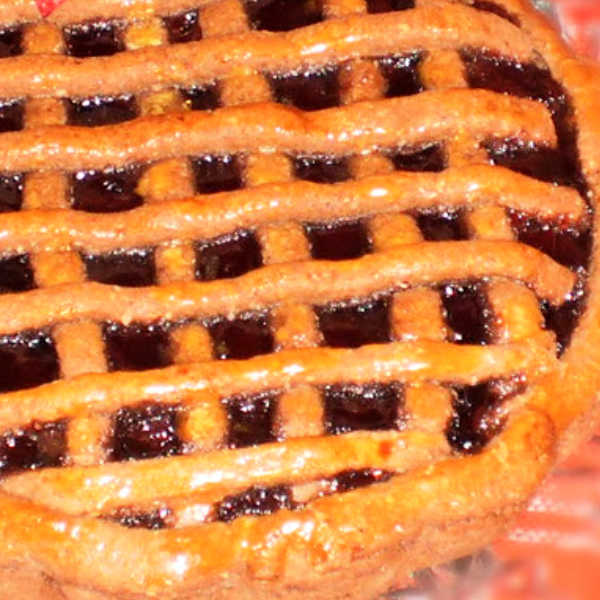 Rose's Linzertorte is one that's been handed down for generations. 
Roswitha Seeman, one of our readers, shared this with me and I asked her if I could share it with you! This is one of the great traditional German cake recipes that's usually made at Christmas.
However, it's too good just to save it for the holidays.
 As you can see, this isn't a quick German recipe.
But, sometimes, traditional just wins out when one really wants the real thing! (Check below to see if it's actually German!)

German? Nope. Austrian? Yes!
Now, some may say ... "This isn't German, it's Austrian," ... and you'd be right. The original cake comes from the city of Linz, Austria. 
Now it's a holiday classic not only in Austria, but also Hungary, Switzerland, and Germany. 
This torte, also known by some as a Raspberry Tart recipe, can be made 'non-traditional' by using other jams.
Cherry jam would be absolutely delicious! And I've got some Blackberry jam just waiting to be used as well! 
I'm so glad to have gotten to know Rose -- even if it's just online! She blessed me this year with her very own cookbook that she has written. And, YES, this Linzertorte is in it.  Want another one of her great recipes? Check out her Hot Potato Salad.
Rose's Linzertorte ❤️
Ingredients:
3½ cups sifted flour
½ lb (1 cup) ground nuts, preferably almond/hazelnut or walnut
3 tsp baking powder
1½ tsp imitation rum
1 tsp baking soda
2 - 3 drops almond extract
1½ tsp salt
2 tbsp whiskey or brandy
2 tbsp cinnamon
1 tsp vanilla
3½ tbsp cocoa
½ tsp cloves
½ lb (1 cup) margarine
½ cup milk
1½ cups brown sugar
2 tbsp lemon juice
2 eggs, well beaten
1 jar seedless raspberry jam 
Instructions:
Sift 2 cups flour with salt, baking powder, soda, cinnamon, cloves, and cocoa. Mix well.
Reserve 1½ cups flour and set aside (for those who like different consistency in the dough).
Soften margarine and add sugar gradually, mixing well until smooth.
Beat in eggs with ground nuts.
Add rum, almond extract, whiskey, vanilla, and lemon juice, blending well together.
Add spiced dry ingredients alternately with milk.
On a wooden board, sprinkle lightly with flour and pour spiced mixture onto floured board. Add as much of the reserved flour in small amounts, kneading well, until dough is pliable to work with. 
Set in clean bowl, cover, and refrigerate overnight.
Preheat oven to 350°F.
Roll ½ of dough into a rectangle (¼-inch thick) to fit a greased 13" x 8" x 2" pan and place in pan.
Spread evenly with jam.
Roll out remaining dough. Either cut into strips and create the traditional lattice top or use cookie cutters to cut shapes to put on top of jam.
Brush dough with egg yolk and bake for 40 - 45 minutes or until golden.
Cool and serve.
To store, wrap and keep in cool dry place or freeze.
Hints:
Smuckers jam is best if you have diabetes
Yes, it really is 2 tbsp of cinnamon. I checked with Roswitha and that's what she uses!

Want nutritional information? Copy and paste the above ingredient list and the number of servings into Calorie Count for an approximate calculation.
Need help doing conversions between cups and grams, etc.? Use this site to give you all the different conversions for the different types of ingredients. 
---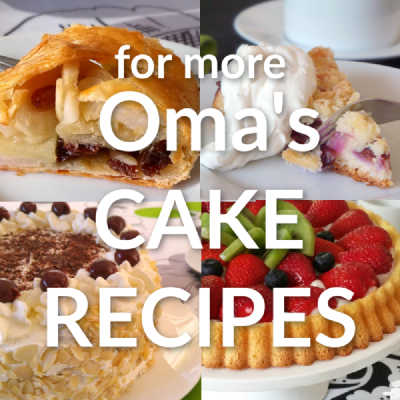 Leave a comment about this recipe or ask a question?
Pop right over to my private Facebook group, the Kaffeeklatschers. You'll find thousands of German foodies, all eager to help and to talk about all things German, especially these yummy foods. 
I pop in all the time as well, to chat and to answer questions. 
Meet with us around Oma's table, pull up a chair, grab a coffee and a piece of Apfelstrudel, and enjoy the visit.
*  *  *  *  *
Want nutritional information for a recipe?
Copy and paste the ingredient list and the number of servings into Calorie Count. 
It will give you an approximate calculation.

Need help doing conversions
between cups and grams or any such thing?
Use this site to give you all the different conversions for the different types of ingredients. 
---
PIN this ...
---
This German sourdough whole grain no knead bread recipe is so delicious and so healthy. Learn this basic method and then alter it to suit your needs. Healthy never tasted this good!

Want a Rhubarb Cake recipe that tastes just like Oma's? Not too sweet, but wunderbar? Try my Rhubarb Streusel Cake that's super quick and easy to make.
---
Words to the Wise
"We can make our own plans, but the Lord gives the right answer."
Proverbs 16:1 (NLT)