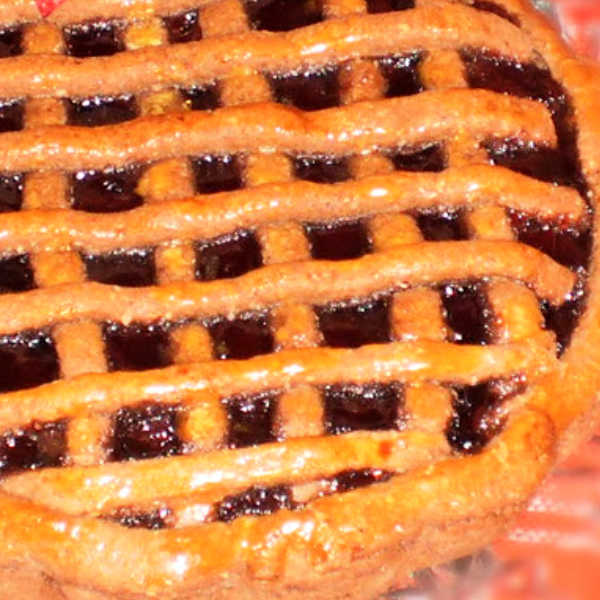 Rose's Linzertorte

Rose's Linzertorte is one that's been handed down for generations. 
Roswitha Seeman, one of our readers, shared this with me and I asked her if I could share it with you! This is one of the great traditional German cake recipes that's usually made at Christmas.
Prep Time


30 minutes


Bake Time


45 minutes


Total Time

75 minutes + wait time

Ingredients:
3½ cups sifted flour
½ pound (1 cup) ground nuts, preferably almond/hazelnut or walnut
3 teaspoons baking powder
1½ teaspoons imitation rum
1 teaspoon baking soda
2 - 3 drops almond extract
1½ teaspoons salt
2 tablespoons whiskey or brandy
2 tablespoons cinnamon
1 teaspoons vanilla
3½ tablespoons cocoa
½ teaspoons cloves
½ pound (1 cup) margarine
½ cup milk
1½ cups brown sugar
2 tablespoons lemon juice
2 large eggs, well beaten
1 jar seedless raspberry jam
Instructions:
Sift 2 cups flour with salt, baking powder, soda, cinnamon, cloves, and cocoa. Mix well.
Reserve 1½ cups flour and set aside (for those who like different consistency in the dough).
Soften margarine and add sugar gradually, mixing well until smooth.
Beat in eggs with ground nuts.
Add rum, almond extract, whiskey, vanilla, and lemon juice, blending well together.
Add spiced dry ingredients alternately with milk.
On a wooden board, sprinkle lightly with flour and pour spiced mixture onto floured board. Add as much of the reserved flour in small amounts, kneading well, until dough is pliable to work with. 
Set in clean bowl, cover, and refrigerate overnight.
Preheat oven to 350°F.
Roll ½ of dough into a rectangle (¼-inch thick) to fit a greased 13x8x2-inch pan and place in pan.
Spread evenly with jam.
Roll out remaining dough. Either cut into strips and create the traditional lattice top or use cookie cutters to cut shapes to put on top of jam.
Brush dough with egg yolk and bake for 40 to 45 minutes or until golden.
Cool and serve.
To store, wrap and keep in cool dry place or freeze.
Notes/Hints:

Smuckers jam is best if you have diabetes
Yes, it really is 2 tablespoons of cinnamon. I checked with Roswitha and that's what she uses!
*  *  *  *  *

Unless otherwise noted recipe, images and content © Just like Oma | www.quick-german-recipes.com