Heide's Bienenstich Recipe – German Bee Sting Cake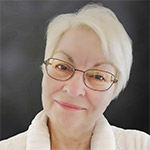 by: Gerhild Fulson  /  Cookbook Author, Blogger, German Oma!

This post may contain affiliate links, which means I'll receive a commission if you purchase through my links, at no extra cost to you. Please read full disclosure for more information.
Here's a traditional Bienenstich made with a yeast dough and filled with an unusual Caramel Custard Cream ... So Wunderbar!
Sent in by one of our Facebook fans, Christopher Matthes, who shared this photo of the one his wife, Heide, made for him.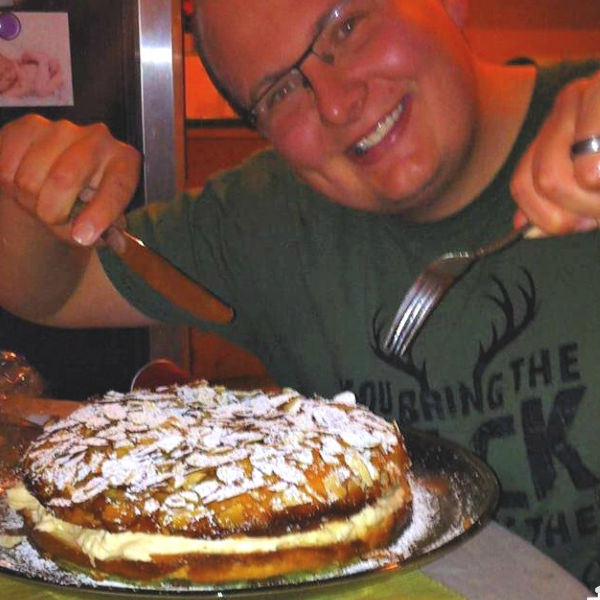 This one uses a Brioche dough ... perhaps not a usual German yeast dough, but this sounds so wonderfully buttery and light. This is also definitely not a quick recipe, but with a bit of planning, it shouldn't be that difficult to make.
I'm writing it below, just the way Chris sent it to me!
Brad made this as well ...
Another of our Facebook fans, Brad, sent in his photo of Bienenstich after following Heide's recipe. He also included several notes, that I'll include near the bottom.
I suggest you really do read them BEFORE you start baking.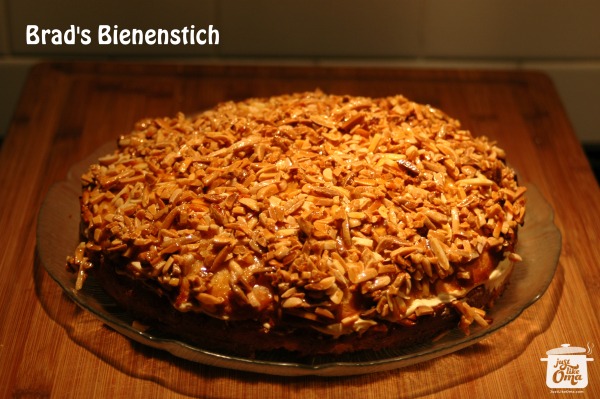 Thanks, Chris, for sending in this recipe. It's definitely on my to-do list. Perhaps I'll make it with my granddaughter when she comes over in a couple of weeks.
She's always wanting to make something different!

---
Brad also wrote ...
Grab your copy of Oma's favorites in her Special Occasion German Cakes & Tortes e-Cookbook.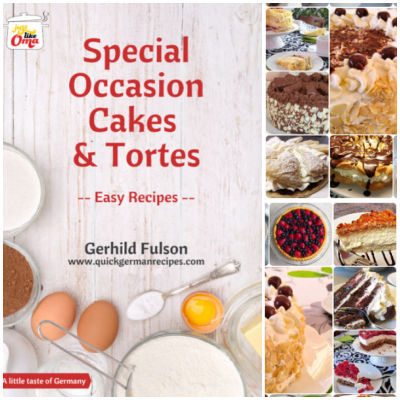 Take a peek at all Oma's eCookbooks. They make sharing your German heritage a delicious adventure!
First attempt, Great. Increase caramel recipe for greater volume between layers.  

I toasted almonds separate, mixed in bowl with honey then applied.  
As mentioned in earlier message, caution where and how you add milk/cornstarch mixture to hot caramel. "frothing"  I used a heavy-bottomed pan, worked great. Fortunately moved pan to center of our 48" range griddle which helped me recover fluids after "volcanic frothing".  

---
The Bienenstich I usually make ...
The Bienenstich that I normally make is a quick one, that doesn't use yeast. Now, this may not be traditional, but it is wunderbar lecker! It certainly satisfies our need for German deliciousness!
Take a look at mine here and then decide which one of these delicious Bee Sting Cakes you are going to make! 

Above is the Bienenstich I normally make, but Chris' sure sounds delightful. I love the idea of making a Caramel Custard Cream. Why not give it a try?

---
Ready to make Heide's Bienenstich?
Is the recipe below locked? Here's why.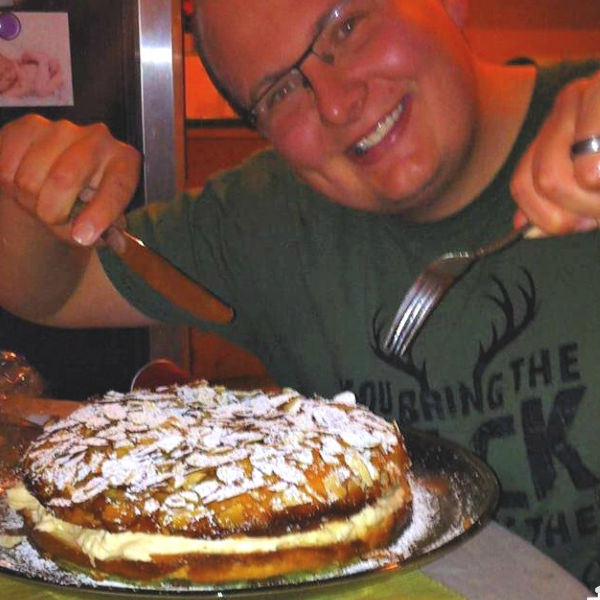 Heide's Bienenstich Recipe – German Bee Sting Cake
Here's Heide's traditional Bienenstich made with a brioche yeast dough and filled with an unusual Caramel Custard Cream ... Wunderbar!
This was sent in by one of our Facebook fans, Christopher Matthes, who shared this photo of the one his wife, Heide, made for him. 
Prep Time


90 minutes


Bake Time


35 minutes


Total Time

125 min + rising time

Servings:

Makes 8 - 10 servings
Ingredients:
Brioche Dough:
¼ cup whole milk
⅓ cup + 1 tablespoon honey, divided
1½ teaspoons active dry yeast
2 large eggs, lightly beaten
¾ cup all-purpose flour
2 tablespoons granulated sugar
½ teaspoon salt
1 cup + 2 tablespoons bread flour, divided
½ cup unsalted butter, at room temperature
2 tablespoons sliced almonds
Caramel Custard Cream:
1 large egg
2 tablespoons cornstarch
1⅓ cups whole milk, divided
⅓ cup granulated sugar
2 tablespoons water
½ tablespoon unsalted butter
1 teaspoon vanilla extract
pinch of salt
½ cup heavy cream
Instructions:
*Paddle attachment for mixer is best, otherwise stir by hand
Making the Dough:
Small sauce pan add: Milk and 1 tablespoon honey
Heat to 110°F
Pour mix into electric mixing bowl and sprinkle over yeast
Let stand approximately 10 minutes, until yeast is creamy
Paddle attachment – low speed gradually 
add: eggs, all-purpose flour, sugar, salt, add all but 2 tablespoons of bread flour
Mix till dough is smooth and elastic (medium speed). Should be very soft.
Transfer to work surface and knead by hand to ensure butter is completely incorporated into dough.
Shape dough into a ball and transfer to medium bowl with buttered sides.
Cover with plastic and set in warm place (1½ - 2 hours), until doubled in size.
Punch dough down to deflate, knead a few times
Return dough to bowl, cover, refrigerate at least 4 hours (up to 12 hours)
Dough should double in volume, if not, let dough stand at room temperature till it does.
Butter bottom and sides of a 9-inch springform pan
Shape dough into a ball, smooth side up, flatten ball gently with palm till dough covers bottom of pan
Cover pan and let dough rise until its puffed (approximately 1 hour)
Pre-heat oven 350°F
In a small sauce pan, heat up ⅓ cup honey till warm, brush over top of dough, sprinkle with almonds
Bake 30-35 minutes, till a lovely golden brown and toothpick comes out clean
Cool cake in pan, set on wire rack approximately 15 minutes. 
Remove cake from pan and cool completely on rack.
Making the Custard:
In a small bowl, whisk egg and cornstarch, gradually add ⅓ cup milk till smooth, set aside.
Place remaining 1 cup milk in small microwave cup – microwave on high till scalding (1½ - 3 minutes)
In a small, heavy-bottomed sauce pan combine: sugar and water
On medium heat, stir constantly till sugar dissolves
Increase heat to high and cook without stirring and occasionally brushing down sides of pan with wet pastry brush, till syrup caramelizes and turns golden amber color
Remove pan from heat and add hot milk (mix will bubble up)
Return pan to low heat and cook, stir constantly till any harden caramel dissolves and mix is smooth.
Whisk ¼ cup hot caramel mix into egg and cornstarch mix
Place all mixture in saucepan, cook over medium heat, whisk constantly, till boil
Boil and whisk constantly for 1 minute
Remove pan from heat, scrape bottom of pan with spatula and whisk till smooth
Whisk in butter till melted
Quickly strain custard through fine mesh sieve into medium bowl
Whisk in vanilla extract and salt
Set bowl with caramel mix in a large bowl filled with ⅓ of the way filled with ice water (don't let water get into mixture)
Stir custard mix frequently till slightly chilled (approximately 15 minutes)
Cover surface of custard with plastic wrap and refrigerate till ready to assemble 
Homemade Whipped Cream:
Place metal mixing bowl along with whisk attachment into freezer for 15 minutes prior to making whipped cream
Beat ½ cup heavy whipping cream at high speed till medium peaks form
Cake Assembly:
Use a long serrated knife to cut cake into 2 layers
Caramel custard, beat vigorously with rubber spatula till smooth
Gently fold whipped cream into caramel custard
Spread caramel cream over bottom layer of cake (thick layer)
Top with other cake layer
Sprinkle top of cake with powdered sugar
Brad's NOTES regarding this recipe:

Frothing is a correct note but caution should be to pour mixture in slowly or allow enough time for caramel to cool before adding Cornstarch/milk mixture avoiding a volcanic reaction. When adding Milk/Cornstarch mix to Caramel, place pan aside away from heat as in recipe, where you can clean-up if needed.  Wish I had had that on video.
Pour remaining milk/cornstarch mixture in "slowly" to minimize "frothing".
Increase recipe for Caramel filling.  9-inch cake, mine was on the thin side with ⅜-inch thick. Cake is on the dry side needs more filling ½-inch or more.
I toasted almonds on a pan separately, then mixed honey-coating the almonds.  Carefully spreading on top after cake finished.  Leave cake form on while applying Honey/almond topping. 
As all oven temps vary, watch your cake so it does not get over cooked. Mine could have come out 3 - 4 minutes earlier than the recommended time in the recipe.
*  *  *  *  *

Unless otherwise noted recipe, images and content © Just like Oma | www.quick-german-recipes.com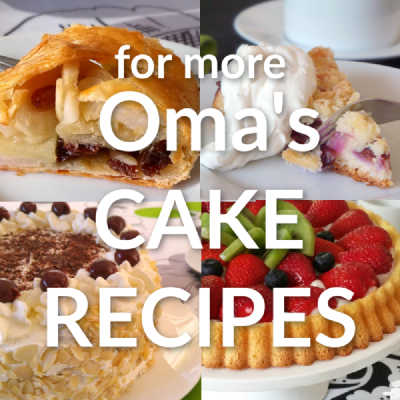 ---
Leave a comment about this recipe or ask a question?

Pop right over to my private Facebook group, the Kaffeeklatschers. You'll find thousands of German foodies, all eager to help and to talk about all things German, especially these yummy foods. 
Meet with us around Oma's table, pull up a chair, grab a coffee and a piece of Apfelstrudel, and enjoy the visit.

Cooking just like Oma, making those German meals, is actually quite easy. Let me, Oma Gerhild, help you with my step-by-step methods to re-create those yummy meals you remember from your Oma.

If you're looking for tasty, traditional, and easy German cake recipes (in English) to try, then you've come to the right place! Check out these lecker treats!

Discover the ultimate German schnitzel recipe with Oma's quick and easy method - perfect for any occasion! Taste the authentic flavors of Germany today.
*  *  *  *  *
PIN to SAVE this recipe to your Pinterest board!
And let's be friends on Pinterest!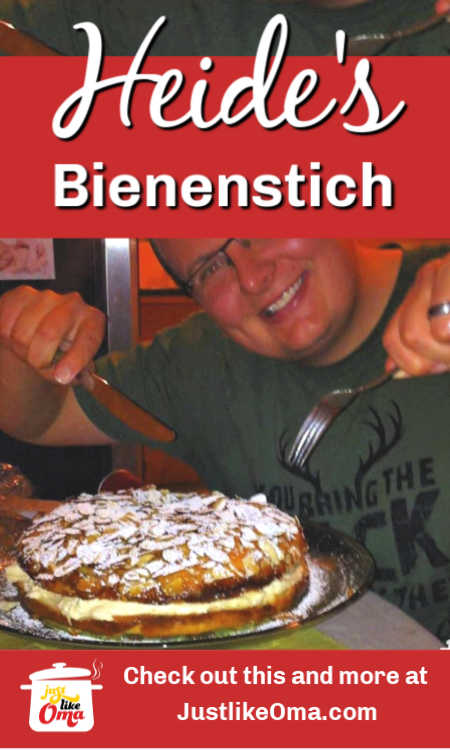 ---
Heide's Bienenstich (Bee Sting Cake)
By
Oma Gerhild Fulson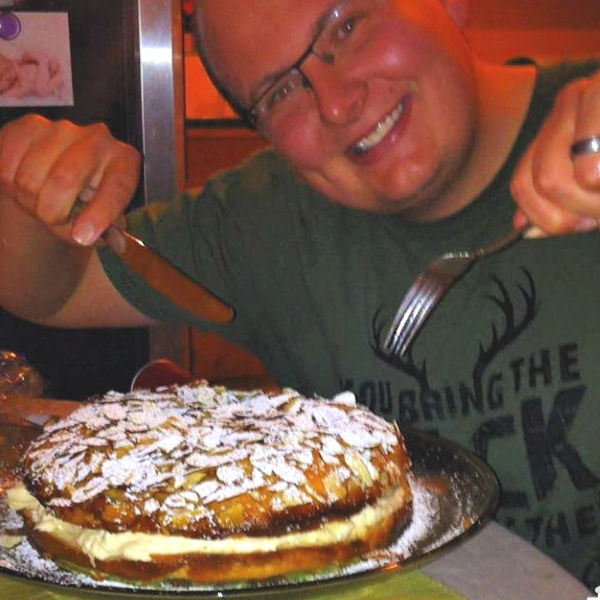 Here's a traditional Bienenstich made with a yeast dough and filled with an unusual Caramel Custard Cream ... So Wunderbar!
Ingredients:
milk,
honey,
yeast,
eggs,
flour,
sugar,
honey,
butter cream,
almonds,
salt,
cornstarch,
milk,
heavy cream,
For the full recipe, scroll up ...
Words to the Wise
"Wisdom will multiply your days and add years to your life."
Proverbs 9:11 (NLT)