Easy German Buttercream Cake – Oma's Buttercremetorte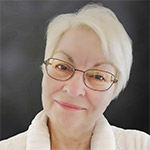 by: Gerhild Fulson  /  Cookbook Author, Blogger, German Oma!

This post may contain affiliate links, which means I'll receive a commission if you purchase through my links, at no extra cost to you. Please read full disclosure for more information.
Make this German Buttercream Cake, aka Buttercremetorte, that tastes just like Oma's. So delectable and perfect for afternoon coffee and special occasions. Best part? It's EASY!

Karin Baker inspired me after she posted it in my Facebook group. After all, when she claimed it to be easy, I just HAD to try it. 
What you see above, is my first attempt at following her recipe. Looks pretty good, doesn't it. :-) Hubby loves it. and wants me to make it more often.
Karin's Pineapple Buttercreme Cake

Below is Karin's Ananas-Buttercreme-Torte. She added a layer of pineapple to make a very refreshing version. As well, she used an old method of making an outer coating for the buttercream. Oats. Yes, oats. 
Pan-toast some large flake oats in a bit of butter. The result? Nutty tasting and a perfect alternative substitute for sliced almonds.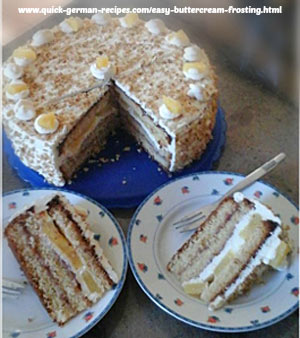 I'm glad that Karin gave me permission to show you hers. I've altered her recipe slightly, making it more like my Mutti used to make it.
Mine looks quite a bit different. Having omitted the pineapple, mine really became a Vanilla-Buttercreme-Torte. Instead of using the oatmeal to toast, I used sliced almonds instead.
The result? A wunderbar recipe I'll be making frequently. I can almost taste this already ... using chocolate pudding ... adding other fruits ... adding flavorings, ... adding lemon zest ... etc. So many variations are possible. It certainly is one you can be creative with.
I'll just need to get onto that treadmill a bit more often, that's for sure.

Grab your copy of Oma's favorites in her Special Occasion German Cakes & Tortes e-Cookbook.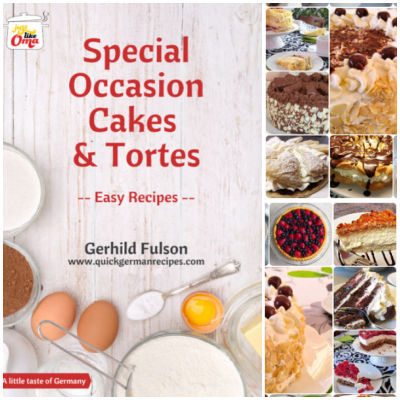 Take a peek at all Oma's eCookbooks. They make sharing your German heritage a delicious adventure!
Important tip with serving a buttercream torte

For the best possible taste, do serve this German buttercream cake at room temperature. It needs to be stored in the fridge to keep, but letting it warm for an hour or so to come to room temperature will bring out the wonderful flavors.
It tastes great right from the fridge (hubby attests to that), but for the very best flavor, take it out a bit earlier. :-)

How to fix a 'broken' buttercream
There's only one slightly tricky part when making the buttercream frosting. The butter and the pudding MUST be the same temperature, ideally around 72°F to 75°F.
If one is much warmer or colder than the other, the buttercream could 'break'. That means that it looks like cottage cheese!
IF THE BUTTERCREAM MIXTURE FEELS COLD:
Slowly heat the bowl in a warm water bath. 
As soon as just the outside edge of the buttercream is slightly melted, remove from water bath, start beating again at low speed and then high speed for about 5 minutes.
IF THE BUTTERCREAM MIXTURE FEELS WARM:
Put it in the fridge until just the outside edges of the buttercream begin to harden (this may take 5 to 10 minutes). 
Then, start beating again at low speed and then high speed for about 5 minutes.
Ready to make this German Buttercream Cake?
Is the recipe below locked? Here's why. 

Easy German Buttercream Cake - Buttercremetorte made Just Like Oma

Buttercream is such a decadent frosting and can easily transform a simple cake into something extravagant. Plus, you can get as creative as you wish: you can change the pudding to chocolate, add some sliced pineapple, or use a different jam filling. There are oodles of delicious possibilities!

Prep Time


60 min


Bake Time


40 min


Total Time

1 hr 40 min

Ingredients:
FOR THE CAKE:
4 large eggs

1⅓ cup (267 grams) granulated sugar
¾ cup (180 milliliters) neutral oil, such as canola
¾ cup (180 milliliters) milk
2½ cup (325 grams) all-purpose flour
3 teaspoons (12 grams) baking powder
about 1 cup (240 milliliters) jam
1 cup (100 grams) sliced almonds (for decorating)
FOR THE BUTTERCREAM FROSTING:
1½ cups (341 grams) unsalted butter, room temperature
2 3-ounce packages of JELL-O Cook and Serve Vanilla Pudding
4 cups (960 milliliters) whole milk
1 tsp (5 milliliters) vanilla extract (optional)
Instructions:
FOR THE CAKE:
Preheat oven to 350°F (180°C). Grease a 10-inch springform pan and set aside.

Mix the eggs, sugar, oil, milk, flour, and baking poweder together thoroughly in a bowl and pour into the prepared pan.
Bake for 40 to 50 minutes or until a wooden pick inserted in the center comes out clean.
Remove from oven and cool on a wire rack for 10 minutes. Remove the outer ring and let cool completely.
Cut cake into 3 layers.
FOR THE BUTTERCREAM FROSTING:
Prepare the pudding with the milk according to package instructions. Let cool to room temperature.

Whip the butter for about 10 minutes, until fluffy.
Before continuing, make sure that the butter and the pudding are at the same temperature. If the pudding is too hot, it will melt the butter. If it's too cold, it will harden the butter.
Add the pudding to the butter, spoon by spoon, mixing at low speed. Add in vanilla or liquor, if using.
TO ASSEMBLE:
Put the bottom cake layer on a serving plate.

Heat the jam in the microwave for a few seconds to make it easier to spread. Brush jam over bottom layer.
Place a cake layer on top. Spread a third of the buttercream over layer. Place the last layer of cake on top.
Put about 4 tablespoons of buttercream into a small plastic bag for decorating (or use a decorating kit) and set aside.
Spread the rest of the buttercream frosting on the sides and top of the cake.
Snip a corner of the buttercream-filled bag to make a hole, whatever size you want, for piping. Squeeze the bag to pipe decorative swirls and other creative designs.
Press the sliced almonds onto the sides of the cake. Store in the fridge, but serve at room temperature.
Notes/Hints:

Instead of vanilla extract, add up to 2 tablespoons of rum or other liquor.
Instead of vanilla pudding, use chocolate or other pudding flavors. Lemon pudding would be awesome with extra lemon zest in the cake and pudding.
Add sliced pineapple on top of the buttercream filling between the layers.
Instead of sliced almonds, roast one cup of rolled oats in a bit of butter to brown slightly. Let cool and sprinkle over the cake.
*  *  *  *  *

Unless otherwise noted recipe, images and content © Just like Oma | www.quick-german-recipes.com

10.31.2023 revision update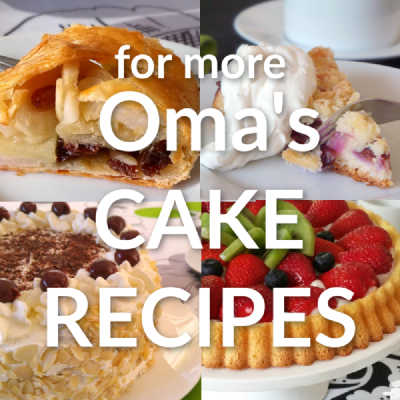 Leave a comment about this recipe or ask a question?

Pop right over to my private Facebook group, the Kaffeeklatschers. You'll find thousands of German foodies, all eager to help and to talk about all things German, especially these yummy foods. 
Meet with us around Oma's table, pull up a chair, grab a coffee and a piece of Apfelstrudel, and enjoy the visit.

Cooking just like Oma, making those German meals, is actually quite easy. Let me, Oma Gerhild, help you with my step-by-step methods to re-create those yummy meals you remember from your Oma.

If you're looking for tasty, traditional, and easy German cake recipes (in English) to try, then you've come to the right place! Check out these lecker treats!

Discover the ultimate German schnitzel recipe with Oma's quick and easy method - perfect for any occasion! Taste the authentic flavors of Germany today.
*  *  *  *  *
PIN to SAVE this recipe to your Pinterest board!
And let's be friends on Pinterest!

Words to the Wise
"It is a sin to belittle one's neighbor; blessed are those who help the poor."
Proverbs 14:21 (NLT)