Pineapple Buttercream Torte❤️

with Easy Buttercream Frosting
➤ by Oma Gerhild Fulson
FTC Disclosure: As an Amazon Associate, I earn from qualifying purchases.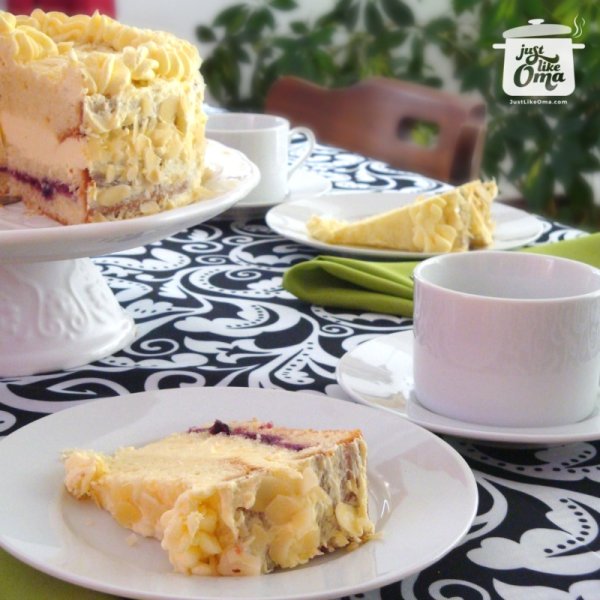 Make this easy buttercream frosting to use for some many traditional German cakes such as this Pineapple Buttercream Torte. This easy cake recipe comes from Karin Baker. She posted this on my Facebook page and I just had to make it. I had no idea how to make buttercream, but Karin's easy frosting recipe is one I'll use over and over.
What you see above, is my first attempt at following Karin's recipe. Looks pretty good, doesn't it. :-) Hubby loves it. Hubby wants me to make it more often.
There are many variations ... first, I'll pass on her Pineapple Cake Recipe below.

In the cake above, I forgot to add the pineapple (oops), because I was in such a hurry to serve this. So, mine's a Vanilla Buttercream Torte! LOL

Karin's Pineapple Buttercreme Cake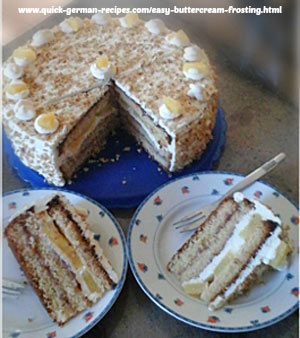 Here's the yummy photo Karin posted onto my Facebook page. I just had to make it. I just had to post it onto this website. Thankfully, Karin gave me permission to do so!
Mine, above, sure looks different. Not quite as pretty, but it was my first attempt. Having forgotten the pineapple, mine really became a Vanilla Buttercream Torte.
Not having oatmeal to toast, I used sliced almonds instead.
The result? A wunderbar recipe I'll be making frequently. I can almost taste this already ... using chocolate pudding ... adding other fruits ... adding flavorings, ... adding lemon zest ... etc.
Will need to get onto that treadmill just a bit more often, that's for sure.

Important Tip with serving a Buttercream Torte

For the best possible taste, do serve this torte at room temperature. It needs to be stored in the fridge to keep, but letting it warm for several hours to room temperature will bring out the wonderful flavors.
It tastes great right from the fridge (hubby attests to that), but for the very best flavor, take it out earlier. :-)

Karin's Buttercream Torte with Easy Buttercream Frosting❤️
Ingredients:
Cake:

4 eggs
1⅓ cup granulated sugar
¾ cup oil
¾ cup milk or juice (Karin uses apple juice)
2½ cup all-purpose flour
3 tsp baking powder
Easy Buttercream Frosting:
3 sticks butter (¾ lb or 1½ cups) use unsalted, room temperature

1 package vanilla pudding (the kind you cook) along with 3 cups milk
about 1 cup jelly
6 - 7 slices pineapple
1 cup oatmeal (for topping)


Instructions:
Cake:

Preheat oven to 350° F.
Grease a 10-inch springform* pan.
Mix all ingredients together in a bowl.
Pour into springform pan.
Bake for 40 - 50 minutes or until golden brown.
Remove from oven, let sit on wire rack about 10 minutes. Remove sides of pan. Let cool completely. 

Cut cake into 3 layers to fill.
Easy Buttercream Frosting:
Cook the pudding according to package instructions.
Let cool completely.
Beat the butter and then add the cooled pudding, spoon by spoon.
Assembly:
Put bottom layer of cake on cake plate.
Brush jelly over bottom layer. (I've used black currant jam in photo above. Heat a bit in the microwave to make it easier to spread.)
Place next cake layer on top. Spread a bit of buttercream over layer.
Place 6 - 7 pineapple slices on top (This is what I forgot to do!)
Place top layer of cake on top.
Put about 4 tbsp of buttercream into a small Ziploc bag for decorating (or use a decorating kit). Spread the rest of the buttercream frosting on the sides and top of the cake.
Roast the oatmeal with a bit of butter to brown slightly. Let cool and sprinkle over the cake. (I didn't have any oatmeal, so I used sliced almonds instead.)

Pipe buttercream dots on top and decorate with additional pineapple. 
Store in fridge. Serve at room temperature!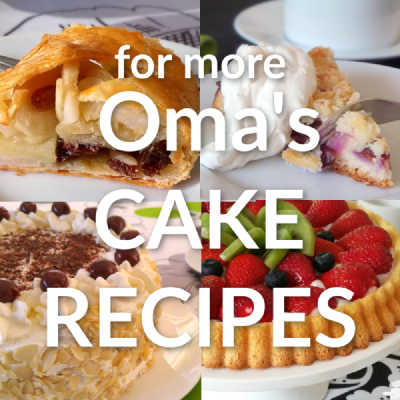 Leave a comment about this recipe or ask a question?
Pop right over to my private Facebook group, the Kaffeeklatschers. You'll find thousands of German foodies, all eager to help and to talk about all things German, especially these yummy foods. 
I pop in all the time as well, to chat and to answer questions. 
Meet with us around Oma's table, pull up a chair, grab a coffee and a piece of Apfelstrudel, and enjoy the visit.
*  *  *  *  *
Want nutritional information for a recipe?
Copy and paste the ingredient list and the number of servings into Calorie Count. 
It will give you an approximate calculation.

Need help doing conversions
between cups and grams or any such thing?
Use this site to give you all the different conversions for the different types of ingredients. 
---
PIN this ... for easy access to this wonderful recipe, when in need of a simple dessert

---
Jagerschnitzel: Rich creamy bacon & mushroom gravy over crispy breaded pork schnitzel (cutlets). HEAVENLY! A traditional German meal that's PERFECT anytime.

My Bienenstich recipe is a quick version of the traditional "German Bee Sting Cake". Sweet, chewy, nutty top with a creamy filling. Yummy!
---
Words to the Wise
"It is a sin to belittle one's neighbor; blessed are those who help the poor."
Proverbs 14:21 (NLT)
---
❤️ Pineapple Torte with Easy Buttercream Frosting made Just like Oma


By
Oma Gerhild Fulson
Make this easy buttercream frosting to use for some many traditional German cakes such as this Pineapple Buttercream Torte.

Ingredients:
eggs,
sugar,
vanilla pudding,
butter,
For the full recipe, scroll up ...