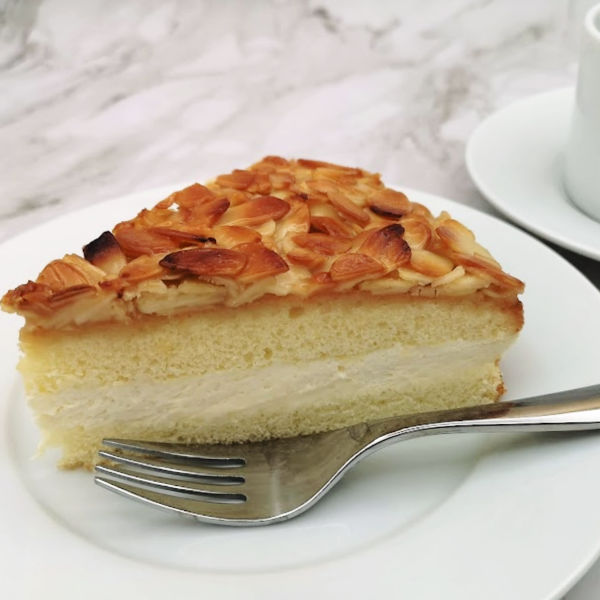 Oma's Bienenstich Recipe – German Bee Sting Cake

This Bienenstich recipe is my quick version of my Mutti's traditional German Bee Sting Cake with its sweet, chewy, and nutty topping and creamy filling. Mutti's Bienenstich was oh-so-good!
For some reason, though, it didn't find its way into my oven. So, I decided to create a recipe that was quick and easy.
Prep Time


40 minutes


Bake Time


25 minutes


Total Time

65 minutes

Servings:

This will make 12 servings.

Ingredients:
Cake Layer:
2 large eggs
¾ cup (150 grams) granulated sugar
1 cup (130 grams) all-purpose flour
1 teaspoon (4 grams) baking powder
pinch salt
½ cup (120 milliliter) milk
1 tablespoon (14 grams) unsalted butter
Topping:
¼ cup (57 grams) unsalted butter
¼ cup (50 grams) granulated sugar
1½ tablespoons (32 grams) honey
1 tablespoon (15 milliliter) heavy (whipping) cream
1 cup (110 grams) slivered or sliced almonds
½ teaspoon (3 milliliter) vanilla extract
Filling:
2 cups (480 milliliter) heavy (whipping) cream
2 tablespoons (28 grams) instant vanilla pudding powder
2 tablespoons (16 grams) powdered sugar
Instructions:
Cake Layer:
Preheat oven to 350°F (180°C).
Measure the topping ingredients and set them aside. That way they'll be ready to make the topping while the cake is baking. 

Into large mixing bowl, mix eggs and sugar until thick and creamy.
Stir flour, baking powder and salt together and stir into egg mixture.
Heat milk and butter to just about boiling (I microwaved for about 30 seconds), stir and mix into batter.
Pour into greased 9-inch springform pan. Bake for about 20 - 30 minutes until firm to touch and wooden toothpick inserted into center comes out clean.
While the cake is baking, make the topping!

Topping:
In a small pan, melt butter over low heat. Add sugar, honey and heavy cream, stirring continually.
Bring to a simmer and simmer gently for 5 minutes, stirring continually.
Stir in almonds and vanilla.
Carefully spread topping on cake immediately as it comes out of the oven. NOTE, if the topping has gotten too firm, add a bit more honey or cream and reheat before spreading.
Set oven to broil.
Broil cake for a few minutes until the top is nicely browned being careful it doesn't burn!
Let cake cool on a wire rack. Remove outer ring from spring-form carefully.
Filling:
Whip cream, sugar and instant vanilla pudding powder until stiff.
Cut the cold cake into 2 layers.
Spread filling on bottom layer.
Place top layer on top of filling. To make it easier to serve, cut this top layer first into wedges and then place on top of filling.
Keep refrigerated until ready to serve.
Notes/Hints:

If the topping gets too thick before spreading on cake, add an extra tablespoon of honey and/or cream and reheat.
Place the outer ring of the spring-form pan back around the bottom layer in order to neatly put the filling on the cake. Place the top layer into the pan. Let sit in fridge until needed. Then remove the outer ring. Nice and neat!
Bienenstich with the "chewy" topping can be difficult to cut through neatly without the cream filling squeezing out. It really is best if you cut the cake into 2 layers, cut the top layer into serving size wedges before you place them neatly on top of the filling. Makes for neater serving.
If you prefer a less sweet filling, reduce the amount of powdered sugar.
Another way to cut the cake (if you don't precut the wedges) is to use an electric knife. This tip is thanks to our Facebook fan, Candy B.
If you love Bienenstich, you'll also love my Blitz Torte!
You can bake this in the Kalorik MAXX Air Fryer Oven by using the oven mode in Bake 2 position for the baking part. I then put it onto air fry mode and upped the temp to 450°F to brown the topping for a few minutes.
*  *  *  *  *

Unless otherwise noted recipe, images and content © Just like Oma | www.quick-german-recipes.com

11.07.2021 revision update