Oma's Cookbooks ~ Kochbücher (in English)
➤ As an Amazon Associate, I earn from qualifying purchases.
Many German recipes use ingredients only available in Germany. Since I live in Canada, having access to these isn't always easy. So, I experimented with my Mutti's recipes and made them with locally available ingredients.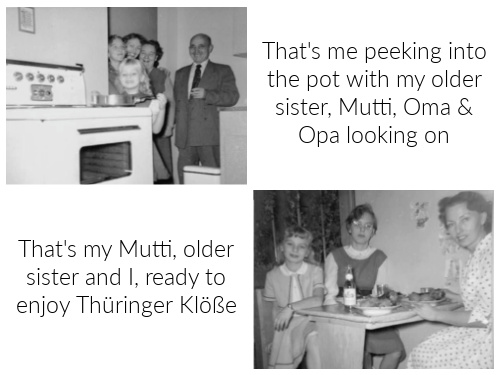 These cookbooks, written in English, are the result. Choose from my e-cookbooks that are immediately downloadable PDFs & start cooking and baking easy German foods right away. 
Or get my newest paperback cookbook, German Meals at Oma's, and you'll be cooking just like me, Oma, in no time at all! (Prices are in USD.) 
What a yummy way to pass on our German culture: eat like a German!
You'll find oodles of recipes in my eCookbooks that will trigger memories of meals at Oma's ... both from the northern part of Germany and the southern part.
All downloadable digital items are for personal, non-commercial use only. They may not be transferred, shared, forwarded, resold, distributed or posted by electronic means or as free downloads.
All images and content are copyrighted by Just like Oma and Gerhild Fulson. 
Looking for a PAPERBACK COOKBOOK?

➤ As an Amazon Associate, I earn from qualifying purchases.
You'll find Oma's newest paperback German cookbook (in English), German Meals at Oma's, right here. A Kindle version is also available. Filled with recipes from every German state, it will take you on a tour throughout Germany. Grab this paperback one to complete your collection of Oma Gerhild's books.