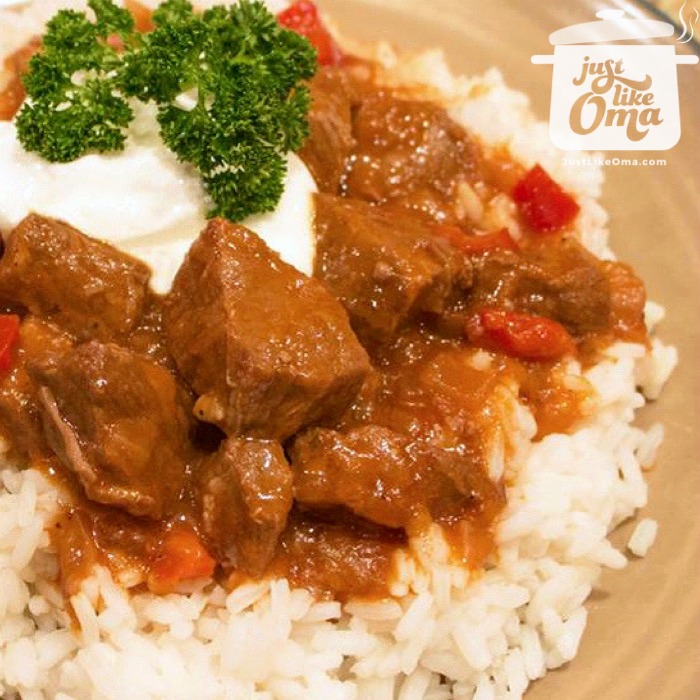 Traditional German Goulash (Slow Cooker) – Anna's Gulasch Rezept

Anna's German goulash is her mother's recipe that she's altered for use in the slow cooker. I LOVE using the slow cooker! And, I just love Anna Hanssen's recipe for it! Thanks so much for sending it in so we can all enjoy it. 

Prep Time


20 minutes


Slow Cook Time


5 - 9 hours

Total Time

5.3 - 9.3 hours
Servings:

Makes 6 servings
Ingredients:
2 tablespoons oil
2 onions, chopped
2 medium red bell peppers, chopped
4 cloves garlic, minced
3 pounds boneless beef chuck, cut into 1-inch cubes
¼ cup all-purpose flour
1 teaspoon dried marjoram 
1 teaspoon caraway seeds 
1 tablespoon sweet paprika
½ cup white wine
4 tablespoons tomato paste
1 cup beef broth
1½ cups water
salt and pepper 
2 tablespoons chopped fresh parsley
sour cream
Instructions:
In a large skillet, heat oil over medium heat. 
Sauté onions and bell peppers until vegetables are done. Add garlic and cook for 30 seconds. 
Transfer veggies to a 6-quart slow cooker. 
Next, in same pan, brown meat with flour and some salt and pepper.
Add meat to vegetables in slow cooker. Season with marjoram, caraway, and paprika. 
Deglaze pan with wine, scrape up browned bits. Add tomato paste, cook for one minute. Now add beef broth and water; let it simmer for a few minutes. Season sauce with salt and pepper then add to beef mixture in the slow cooker. 
Cover and cook on low for about 8 to 9 hours or on high for about 4 to 5 hours, until beef is tender.  
If sauce is not thick enough after cooking time is up, mix some cornstarch with cold water, add to slow cooker and cook for an additional 30 minutes to thicken the sauce. Stir in parsley. 
Serve over cooked egg noodles, rice, or potatoes garnished with a dollop of sour cream. 
*  *  *  *  *

Unless otherwise noted recipe, images and content © Just like Oma | www.quick-german-recipes.com