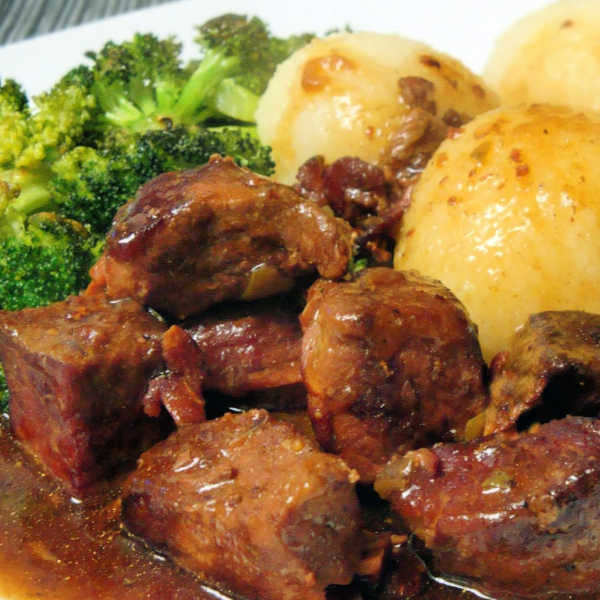 Oma's Beef Flatladen aka Flat Rouladen

Flatladen, you've never heard of it, right? Of course not! That's my son's name for rouladen that are flat! It tastes just like rouladen without all the work and expense.
It's sort of like a wonderful beef stew that tastes like rouladen with that amazing gravy. You can also do this, but keeping it as a roast.

Prep Time


30 minutes


Cook Time


1.5 hours


Total Time

2 hours

Servings:

Makes 6 servings
Ingredients:
2 - 3 pounds bottom round, chuck, etc. 
6 slices lean bacon

1 onion, cut into chunks

4 garlic dill pickles, sliced

3 tablespoons butter
salt, pepper, cornstarch
Instructions:
Cut the meat into pieces, about 2 to 3 inches square and about ¾ inch thick. 

Heat 2 tablespoons butter in large skillet. Brown meat well on all sides. Do not crowd, but do in several batches. Add extra butter if needed.

Once meat is browned, add bacon and onion and brown briefly. Slowly add some hot water and gently stir to loosen browned bits at bottom of pan.

Return meat to skillet and any meat juices. Add pickle slices and enough water to almost cover meat. Bring to simmer and cover.

Simmer for 1 to 2 hours (depends on how tender the cut of beef is). Remove bacon (it will be soft and unpleasant to eat).

To thicken gravy, combine 2 to 3 tablespoons cornstarch in a little cold water. Stir into cooking liquid until slightly thickened.
Season gravy to taste with salt and freshly ground pepper.
Notes/Hints:

Fry bacon in butter first, remove, and then brown meat. You can use the crisp bacon to add to mashed potatoes or a salad.

The size of your meat pieces can be larger or smaller. I do try to stay at about ¾ to 1 inch thick. 
If you want this to be just meat and gravy, remove cooked meat, strain gravy to remove onions and pickles. Thicken gravy. We like the onion and pickle pieces in our gravy, so I leave them in.

Since we love mushrooms, I add quartered mushrooms for last ½ hour of cooking time.

You can turn this into the best beef stew by just adding cut-up potatoes, carrots, and celery to the simmering meat after the first hour. Delicious!

Want to use a slow cooker? Follow all the steps, but once you're at step #4, put into slow cooker and set to LOW. It'll take about 6 – 8 hours. Turn to HI right toward the end when you stir in the cornstarch mixture to thicken the sauce.

This recipe usually makes lots of delicious gravy. Freeze it for later use, or add it to other recipes as needed.
If you want to serve a roast beef that tastes like rouladen, then follow this easy slow cooker recipe.
Take a look at What to Serve with Rouladen. Those sides would work perfectly with Flatladen!
*  *  *  *  *

Unless otherwise noted recipe, images and content © Just like Oma | www.quick-german-recipes.com

05.06.2022 revision update