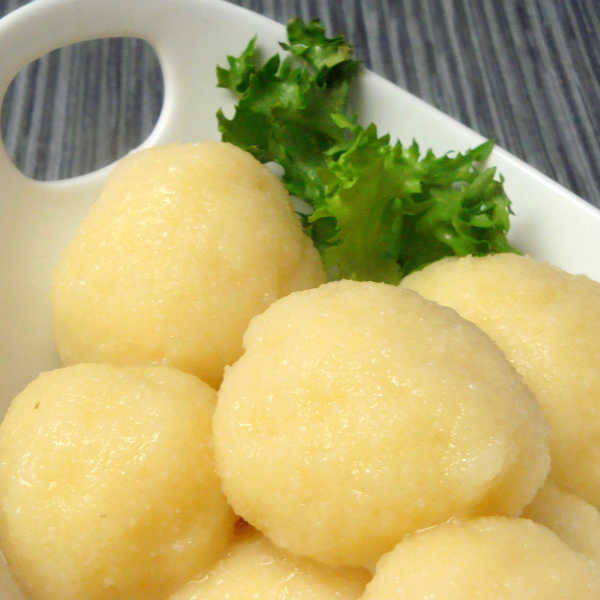 Oma's Kartoffelklöße – German Potato Dumplings

These delicious potato dumplings, aka Kartoffelklöße or Kartoffelknödel, invoke great memories of my Mutti's Sunday dinners. These classic dumplings are the perfect side dish that go well with most meat dishes, especially sauerbraten and gravy.
I found this recipe in my Mutti's own handwritten cookbook.
Prep Time


30 minutes


Cook Time


25 minutes


Total Time

55 minutes

Servings:

This will make 4 servings.

Ingredients:
about 2¼ pounds (1.14 kilograms) starchy potatoes, cooked in their skins
4 slices day-old bread
2 tablespoons (28 grams) butter
about 1⅓ cups (203 grams) potato starch or cornstarch
2 large eggs
1 teaspoon (6 grams) salt
Instructions:
In a large pot of boiling water, cook the potatoes (in their skins) until fork tender the day before or early in the day. Cool slightly and peel. Rice the potatoes (or mash if you don't have a ricer). Let them become totally cold, cover, and refrigerate several hours or overnight.
Make croutons by cutting bread into small cubes.
Melt butter in a frying pan over medium heat. Add the bread cubes and fry, stirring frequently, until golden brown on all sides. Remove from heat and set aside to cool.
Mix into riced potatoes 1 cup potato starch, eggs, and salt to make a smooth dough that holds together when formed into dumplings. If the mixture is too moist, add a bit more starch.
Form 12 to 14 dumplings, about the size of a tennis ball, adding a few croutons to the middle of each dumpling. Use floured or wet hands, if needed.
Drop gently into a wide pot of salted, simmering water. Simmer gently, uncovered, about 15 to 20 minutes.
Remove the cooked dumplings with a slotted spoon and serve immediately.
Notes/Hints:

Test cook one dumpling to make sure it stays together, before you cook the rest. If it doesn't, you'll need to add a bit extra flour or liquid, depending on how sticky or dry your potato dough is.
This popular side dish is also amazing with creamy mushroom sauce, mushroom gravy, or onion gravy.
There are different German potato dumpling recipes. Try Mutti's Thüringer Klösse ... these delicious dumplings are made with raw potatoes and SO good!
Another German dumplings recipe: German Bread Dumplings.
*  *  *  *  *

Unless otherwise noted recipe, images and content © Just like Oma | www.quick-german-recipes.com

12.07.2021 revision update