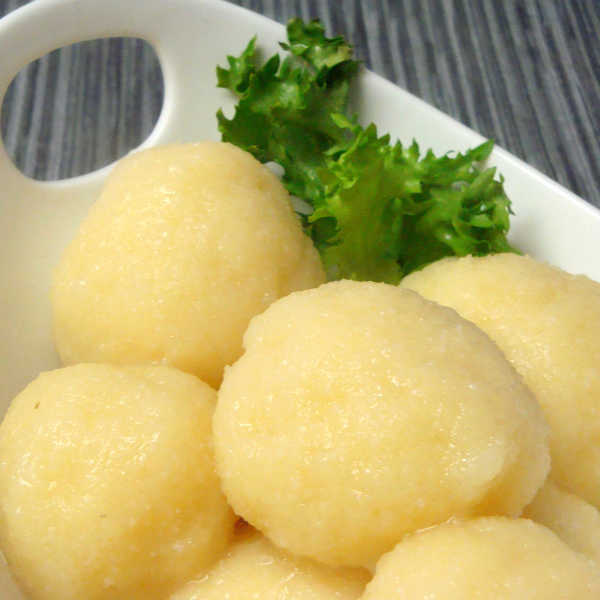 Mutti's German Potato Dumplings

German Potato Dumplings, aka Kartoffelklöße or Kartoffelknödel, invoke great memories of my Mutti's Sunday dinners. Her recipe uses cooked potatoes to create a traditional dumpling that goes well with almost any meat, especially sauerbraten, and gravy.
I found this recipe, the one I've added below, in my Mutti's own handwritten cookbook.
Prep Time


30 minutes


Cook Time


25 minutes


Total Time

55 minutes

Servings:

This will serve 4 servings.

Ingredients:
about 2¼ lb starchy potatoes, cooked in their skins
4 slices day old bread
2 tbsp butter
about 1⅓ cups cornstarch
2 eggs
1 tsp salt
Instructions:
Cook the potatoes in their skins the day before or early in the day. Cool slightly and peel. Rice the potatoes (or mash if you don't have a ricer). Let them become totally cold, cover, and refrigerate several hours or overnight.
Make croutons by cutting bread into cubes.
Melt the butter in a saucepan over medium heat. Add the bread cubes and fry, stirring frequently, until nicely browned on all sides. Remove from heat and set aside to cool.
Mix into potatoes, 1 cup cornstarch, eggs and salt to make a dough that holds together when formed into dumplings. If the mixture is too moist, add a bit more cornstarch.
Form 12 - 14  dumplings, approximately 2 inches in diameter, adding a few croutons to the middle of each dumpling. 
Drop gently into pot of boiling, salted water. Simmer gently, uncovered, about 15 - 20 minutes.
Remove with slotted spoon and serve immediately.
Notes/Hints:

Test cook one dumpling to make sure it stays together, before you cook the rest. If it doesn't, you'll need to add a bit extra flour or liquid, depending on how sticky or dry your 'dough' is.
Try my Thüringer Klösse ... they're made with raw potatoes and SO good!
*  *  *  *  *

Unless otherwise noted recipe, images and content © Just like Oma | www.quick-german-recipes.com