Nana's Potato Soup with Dumplings ❤️

Nana's Potato Soup with Dumplings, aka Kartoffelsuppe mit Klösschen, was sent in by one of our readers, Nana from Witchita, KS, USA. Do read the notes added by Nana at the end of the recipe. She's even included dairy and gluten-free options!
She's trying to locate the origin of this soup. Perhaps you recognize it?
If you have an original or traditional German recipes, do send it in as well. We'd love to share it with our fellow readers!

---
What makes these soups so wunderbar? They bring back such wonderful memories of my Mutti's kitchen. So, of course, I had to write my own soup e-cookbook to share with my grandchildren. I know you'll LOVE it, too!
There are 84 full-color pages filled with step-by-step instructions and hints. Take a quick peek ...
Sharing these soup recipes from my Mutti and Oma to my own young grandchildren ... that's such a delicious way to pass on our German heritage :)
---
Additional comments from Nana:
Noodle-type Dumplings 
Yes this potato soup with dumplings recipe sounds nearly like German noodle type; I added this recipe as nobody had heard about this noodle-dumpling at all in many big German, Polish and other European country luncheons I went to. 
For sure, not with the milk/potato soup that I was raised on. Mom never gave it a name either. Many people told me to share this recipe everywhere I went. Perhaps someone will recognize an area in Europe it could be from. Maybe German-Bavaria area? 

Plus, I just made the dumpling-noodles with a homemade chicken vegetable soup adding brown rice flour for the dumplings as we now are gluten free (wheat, rye, barley,etc we avoid). Added the egg to center, and water to mix slowly then dribble in the soup. The soup and noodle-dumplings turned out about the same as with the white wheat flour kind.

Plus, I also have used yams and sweet potatoes, for dumplings which turned out very nice and moist instead of using white potatoes; these were using a recipe from this website for cooked potato dumplings, with my twist to it. These dumplings were great and similar to gnocchi type dumplings.

Then I tried the recipe that had rolled the potatoes dumplings and fried them in butter. This dumpling was really, really good.

Good compliment main meat to serve along with the dumplings, would be oven-baked lamb. Daughter gave me a recipe, putting in Cafe liquor and package of onion soup mix and leg of lamb course; putting oven at low temp about 275 F degrees, then, baked for 1 to 2 hours in covered casserole dish. It came out so tender fell right off bone, very quick and easy to do.
---
Dairy or/& Gluten free ideas
Just put together, and used goat's milk for the milk part (if you are on a dairy/ casein free diet & don't use cow's milk).
You can also put into the dumplings to flour mix a pinch of salt if you like the dumplings saltier.

For gluten or wheat free, try brown rice four that should work OK.
Nana's Potato Soup Dumplings/Noodles❤️
Soup base

Boil several potatoes cut in pieces in salted water in a pot till tender.
add about 1 cup milk to the water and potatoes.
add about 1 tsp butter or margarine (keeps the milk from scumming up.)
Noodle base

In a cup or small bowl put in about 1 cup flour, make a well in the center of flour add egg (not beaten)
Go to sink and add slowly about 1 Tbsp of tap water to egg portion, while stirring with a fork & "gathering" only bits of the flour to make doughy while stirring; then, add another 1 Tbsp of water from faucet middle & stir again to mix to doughy state; then, keep adding 1 Tbsp water at a time till all the flour is incorporated into the mixture. 
The Dough mixture should be a sticky & slightly runny so it dribbles off fork side. Note: do add water very, very slowly to finally incorporate all flour takes a few minutes. If adding the water to fast you will have a gob and it does not come out right. 
Now add the dumpling/noodle mixture to the very slightly boiling potato & milk soup. Keep adding noodle dough till gone, stir only once to make sure noodles are not sticking to the bottom of the pan. 
Cooking at a simmer for about 3 - 5 minutes depending on amounts of water/milk and ingredients used. 

Optional choices of other ingredients are chopped carrots, onions, celery to potatoes that you cook together. Add more if want salt & pepper to taste, or before eating you also can add celery salt which is great also if you enjoy it; but, go sparingly with it

Want nutritional information? Copy and paste the above ingredient list and the number of servings into Calorie Count for an approximate calculation.
Need help doing conversions between cups and grams, etc.? Use this site to give you all the different conversions for the different types of ingredients.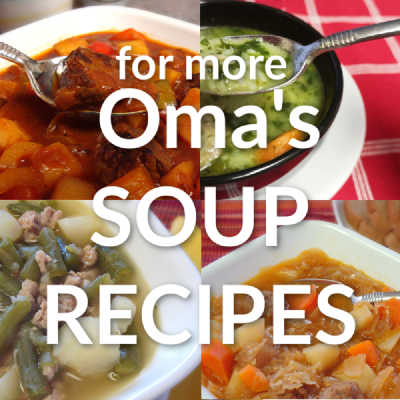 Leave a comment about this recipe or ask a question?
Pop right over to my private Facebook group, the Kaffeeklatschers. You'll find thousands of German foodies, all eager to help and to talk about all things German, especially these yummy foods. 
I pop in all the time as well, to chat and to answer questions. 
Meet with us around Oma's table, pull up a chair, grab a coffee and a piece of Apfelstrudel, and enjoy the visit.
*  *  *  *  *
Want nutritional information for a recipe?
Copy and paste the ingredient list and the number of servings into Calorie Count. 
It will give you an approximate calculation.

Need help doing conversions
between cups and grams or any such thing?
Use this site to give you all the different conversions for the different types of ingredients. 
---
---
Looking for a German blueberry cake that's so easy to make and so delicious? Look no further. It's here!

This easy recipe for sauerkraut is a staple in our German menu. Delicious with almost anything! This sauerkraut recipe can also be made VEGAN!
---
Words to the Wise
"A person who is full refuses honey, but even bitter food tastes sweet to the hungry."
Proverbs 27:7 (NLT)