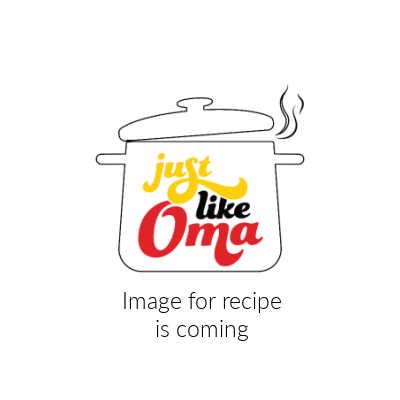 German Potato Soup with Dumplings: Nana's Kartoffelsuppe mit Klößchen

Nana's Potato Soup with Dumplings, aka Kartoffelsuppe mit Klösschen, was sent in by one of our readers, Nana from Witchita, KS, USA.

Soup base
Boil several potatoes cut in cubes in just enough salted water to cover them in a pot until tender, about 10 minutes.
Add 1 cup of milk to the water and potatoes.
Add 1 teaspoon butter.
Cover and keep warm.
Dumpling base
In a cup or small bowl, put in about 1 cup flour. Make a well in the center of the flour and add an egg (not beaten)
Slowly add about 1 tablespoon of water to egg, while stirring with a fork & "gathering" only bits of the flour to make a dough while stirring. Then, add another 1 tablespoon of water & stir again, incorporating more of the flour to mix to a doughy state. Then, keep adding 1 tbsp water at a time until all the flour is incorporated into the mixture. Note: Add water very, very slowly to finally incorporate all the flour. It takes a few minutes. If adding the water too fast, you will have a gob, and it does not come out right. 
The dough mixture should be sticky & slightly runny, so it dribbles off the fork. 
Now add the dumpling mixture by small spoonfuls to the very slightly boiling potato & milk soup. Keep adding noodle dough until gone, stir only once to make sure the dumplings are not sticking to the bottom of the pan. 
Cook at a simmer for about 3 to 5 minutes, until the dumplings are cooked through. 
Season the soup with salt and pepper if needed.
Optional choices...

Other ingredients are chopped carrots, onions, celery to potatoes that you cook together. Add more if want salt & pepper to taste, or before eating you also can add celery salt which is great also if you enjoy it; but, go sparingly with it
*  *  *  *  *

Unless otherwise noted recipe, images and content © Just like Oma | www.quick-german-recipes.com

06.11.2023 revision update