Oma's German Noodles Recipes
German noodles, aka Nudeln, make kid-friendly dinners, especially the German version of "Mac and Cheese" called Käsespätzle. This was among the quick, easy pasta recipes my Mutti would make. Packaged spätzle noodles (THE traditional German noodles) were not available when we lived in northern Ontario.
When Mutti wanted something quick, she would use regular noodles in our German Mac and Cheese.

---
Traditional German Noodles Recipes
---
Potatoes and dumplings are the most popular starches served throughout most of Germany. However, in southern Germany (is it because they're closer to Italy?) noodles and pasta are very common, especially the famous Spätzle.
*
When cooking spaghetti, cook some extra for another dinner. Use the extra in a Baked Spaghetti dish. This is an easy vegetarian meal, but it also tastes great with some leftover meat added. Smoked German sausage would be a wonderful addition!
If you love noodles, chances are you also love Italian pasta. If so, check out my friend Matt's Italian pasta recipes website, which is packed with tasty and simple-to-prepare dishes direct from his mamma-in-law's kitchen. 
Want to learn how to make noodles? They is an interesting recipe for "Schupfnudeln" meaning "finger noodles" that uses potatoes in the dough.
Delicious! I first encountered these very different noodles at a high-class restaurant overlooking the vineyards in the Erlenbach area. They were served with wild deer and mushrooms. Ahhhh . . . German food!
Oma says,
I used to think we were eating 'Italian' when Mutti cooked noodles, thinking that noodles and pasta were the same thing. The basic difference is that noodles contain eggs. 
It wasn't till I travelled to Germany that I realized how popular noodles are, especially in the southern part of the country. There, the main starch used with meals is some type of noodle.
And, that's what Mutti did as well. When we came home for lunch on schooldays, we often had some sort of noodle dish. Mutti would add just a bit of meat left over from dinner the night before, put a can or two of veggies in. Finished.
---
Looking for German ingredients and more? Take a look ...
---
---
*  *  *  *  *
Want nutritional information for a recipe? Copy and paste the ingredient list and the number of servings into Calorie Count. It will give you an approximate calculation.

---
---
Get your FREE poster ... Herbs & Spices in the German Kitchen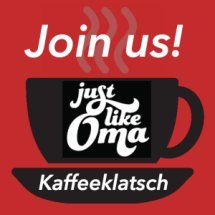 by Subscribing to my FREE Newsletter ...

Just like Oma ~  Kaffeeklatsch*
*Kaffeeklatsch: /ˈkafeːˌklatsh / (noun) an informal gathering for coffee and chatting
Experience Germany: food, people, country, & RECIPES!

---
---
Words to the Wise
"The path of the virtuous leads away from evil; whoever follows that path is safe."
Proverbs 16:17 (NLT)