Quick German Recipes
German recipes aren't normally put into the category of being quick and easy to make. That, however, is about the change!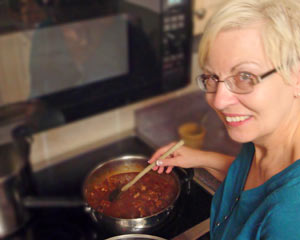 Now you can WOW your family and friends with tantalizing and delicious German food. Food that is both easy AND quick to make AND delicious AND so traditionally German!
That's me, Oma, on the right. And, only you'll know my secrets to preparing these dishes to resemble the old "tried and true" traditional methods with more modern ones.
For example, rouladen are one of the most traditional of all German meat dishes. They are time consuming to make, as well as expensive. I've created an alternative: flatladen. It tastes like just rouladen, as well as having the MOST delicious gravy. Only, it's a lot less work (and cheaper!)
Perhaps you're looking to make a German Black Forest cake? You can choose to make the traditional way from scratch made scratch. But, if you're in a hurry, there's an easy version made from a mix and a can!
Traditional German food in an up-to-date and easy way - that's what you'll find here. Ready to start? 
Black Forest Cake

Here's a non-traditional quick version of the traditional Black Forest cake. Using a chocolate cake mix, cherry pie filling, and...(more)

Rouladen

The every popular rouladen! Here's that traditional German dish, easy enough that my granddaughter made them...(more)
Pork Hocks

Perfect for Oktoberfest! Perfect anytime! It's a hearty meal that's cooked on the stove and then finished off in the oven for that...(more)

Cheese Spätzle

Here's a fabulously delicious version of German 'Mac and Cheese' using easy homemade Spätzle noodles...(more)
Go ahead! Get out your pots and pans. Pull out your ingredients. Print off some recipes, and get ready to start cooking and enjoying easy, delicious German foods today!
I've added 100's of my recipes here, and am adding more and more. Do check out my recipe index or, if you know what you're looking for, type it in the search bar in the top corner of this page. 
"Guten Appetit"
---
Want nutritional information for a recipe? Copy and paste the ingredient list and the number of servings into Calorie Count. It will give you an approximate calculation.
---
Download FREE "Herbs & Spices in the German Kitchen" NOW
by Subscribing to my FREE monthly Newsletter
Quick Fix Recipes - Just like Oma's
Experience Germany: food, people, country, & RECIPES!
---
---
Remember to BOOKMARK this page, so you can find your way back!