Oma's Chicken Rice Soup Recipe
➤ by Oma Gerhild Fulson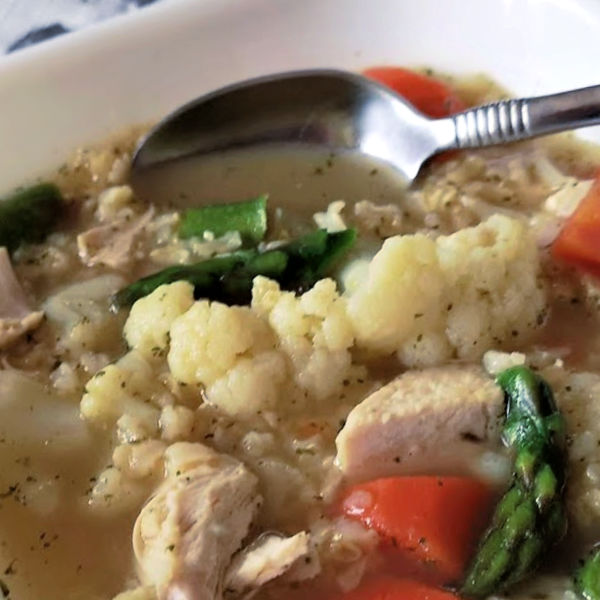 My homemade chicken rice soup recipe, aka Hühner-Reissuppe, is one you're sure to make often.
Why? 'Cause it's so easy and so good. Make a huge batch when you've got a crowd to feed. Just add some fresh bread and you've a feast.
Personally, I love to make a huge pot whenever I make this soup. Thankfully my hubby loves leftovers, so this way I have lunch for several days! 
I'll even add extra stuff, like a can or two of diced tomatoes that turns this into a chicken rice vegetable soup! In the photo above, I threw in a bag of frozen spinach for this potful. So yummy!

Grab your copy of Oma's favorite soups collection in Quick Fix German Soups e-Cookbook. You'll LOVE it!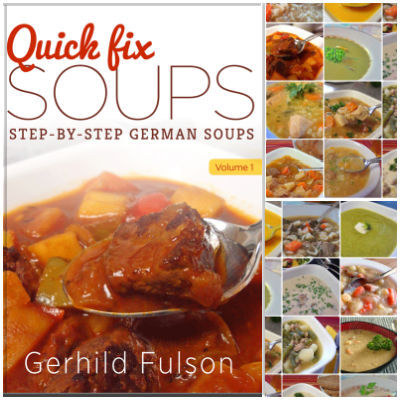 Take a peek at all Oma's eCookbooks. They make sharing your German heritage a delicious adventure!
---
A bit of this and a bit of that ...
I usually use chicken legs with backs attached ... the most economical cuts available in my area. Use whatever you wish. 
If you prefer, you can make a chicken stock first, strain the soup, and then continue.
Season with curry powder.
Add any other veggies you like. Spinach, kale, cauliflower ... all taste great.
If you prefer to use white rice, the soup will cook a lot faster. In that case, just add the rice after about 40 minutes. Remove chicken as soon as it's cooked, and continue as above. White rice cooks in about 20 minutes, brown rice in about 45 minutes. Personally, I prefer brown rice because it's healthier.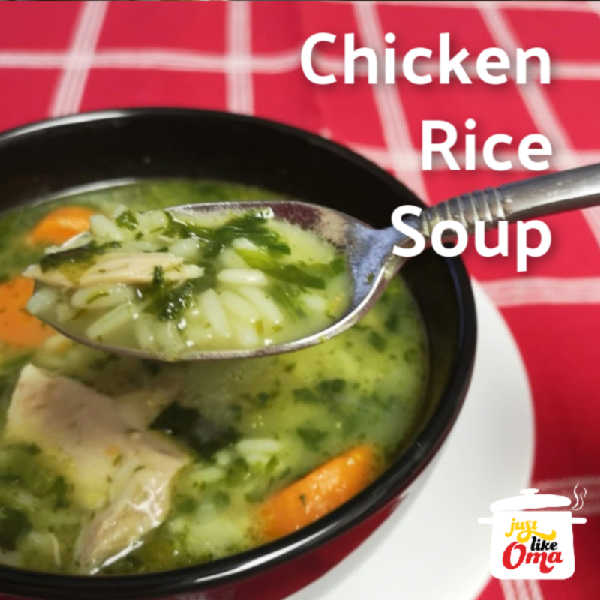 ---
I let the soup shown below cook just a bit longer so that the rice would swell more.
The result? A more stew-like consistency. More filling. More like a meal than a soup. So so good!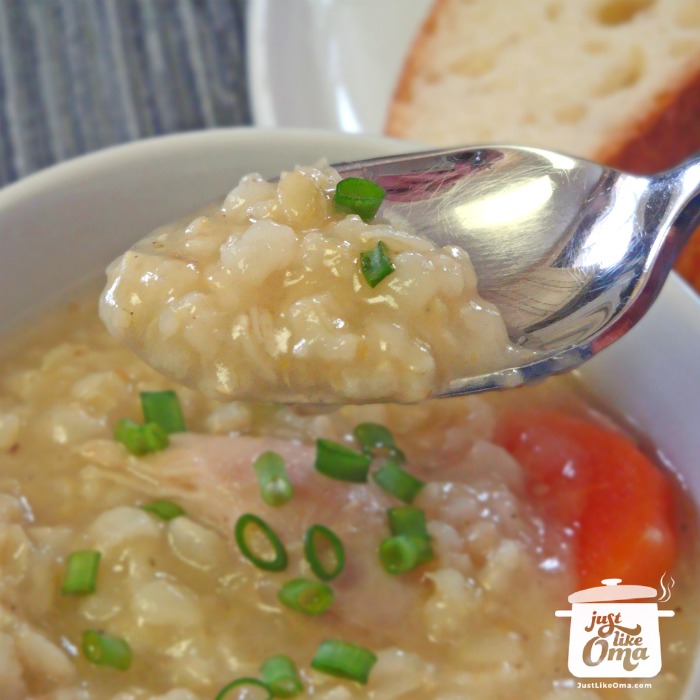 Learn this easy way to how to make chicken soup and you'll make this often! When I make this soup, I usually just use what I have in the fridge.
Sometimes it's extra carrots, extra celery, perhaps some parsnips, perhaps some cauliflower. The amounts aren't exact nor do they need to be.
I love to buy chicken when it's on sale, freeze it, and then have it available to make homemade chicken soup whenever I need something quick to make.
Oma says,
This is one of those easy recipes using chicken.
The flavors in this soup have a German twist using Maggi and Vegeta. It's my way of continuing on with our culture and passing this one to my grandkids. 
Ready to make some Chicken Rice Soup?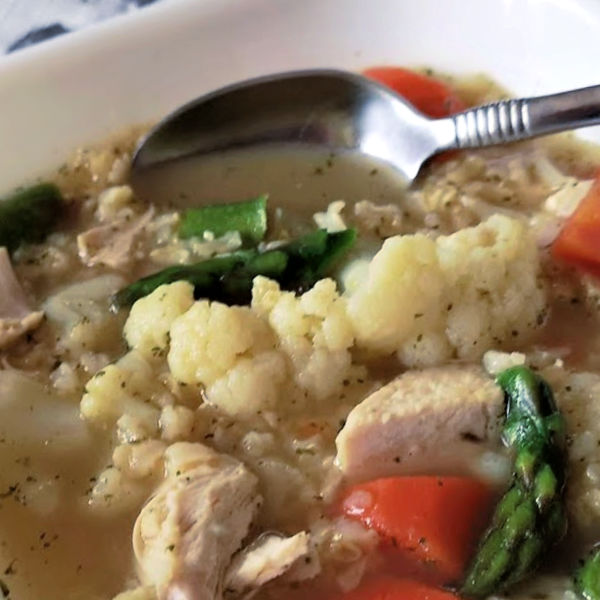 Oma's Homemade Chicken Rice Soup Recipe

My homemade chicken rice soup recipe, aka Hühner-Reissuppe, is one you're sure to make often. Why? 'Cause it's so easy and so good.
Make a huge batch when you've got a crowd to feed. Just add some fresh bread and you've a feast.
Prep Time


10 minutes


Cook Time


75 minutes


Total Time

85 minutes

Ingredients:
2 - 2½ lb chicken pieces
12 cups water
2 tbsp Vegeta (optional)
2 bay leaves
1 onion, coarsely chopped
3 - 4 stalks celery, coarsely chopped
2 - 4 carrots, coarsely chopped
2 cups brown rice
Maggi (optional)
salt, pepper
Instructions:
Remove visible fat from chicken. Put into large soup pot and cover with water.
Add Vegeta, bay leaves, and onion.
If you are not using Vegeta, add about 2 tsp salt.
Bring to boil. Reduce heat, cover, and simmer for about 30 minutes. 
Add celery, carrots, and rice.
Bring to simmer, cover, and continue to simmer for about 30 minutes or until the chicken is cooked. Carefully remove the chicken pieces (to prevent them from falling apart and losing the bones in the soup).
Continue cooking the soup until the rice is tender, about another 15 minutes. In the meantime, remove the meat from the chicken bones. Return the meat to the soup.
Season the soup with salt, pepper, and Maggi.
Notes/Hints:

If you want to use white rice, your cooking time will only be about 20 minutes once you add it instead of the brown rice.
If you don't have Vegeta, just season well with the spices you normally like in your chicken soup.
Add curry powder and/or a bay leaf or two.
*  *  *  *  *

Unless otherwise noted recipe, images and content © Just like Oma | www.quick-german-recipes.com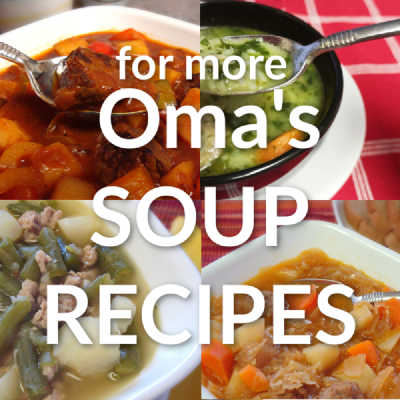 Leave a comment about this recipe or ask a question?

Pop right over to my private Facebook group, the Kaffeeklatschers. You'll find thousands of German foodies, all eager to help and to talk about all things German, especially these yummy foods. 
Meet with us around Oma's table, pull up a chair, grab a coffee and a piece of Apfelstrudel, and enjoy the visit.

Oma's Cream Roll recipe, Biskuitrolle, is the German version of a Swiss roll or jelly roll. Filled with whipped cream and studded with berries, this is an easy-to-make treat anytime of the year.

Make this pan roasted carrot recipe when you're wanting quick and easy carrots just like this German Oma makes them. Similar to oven roasted, just quicker. YUM!

Cooking green beans, German-style, makes a wonderful side dish for almost any meal. Cooking the grüne Bohnen till just tender with a creamy white sauce is so traditional and so lecker!
*  *  *  *  *
PIN this ...
---
Chicken Rice Soup made Just like Oma
By
Oma Gerhild Fulson
My homemade chicken rice soup recipe is one you're sure to make often. Why? 'Cause it's so easy and so good. Make a huge batch that'll feed a crowd. Or, just so you can enjoy leftovers.
Ingredients:
chicken,
Vegeta,
spices,
onion,
celery,
carrots,
brown rice,
Maggi,
For the full recipe, scroll up ...
Words to the Wise
"The fear of the LORD is the foundation of true knowledge, but fools despise wisdom and discipline."
Proverbs 1:7 (NLT)