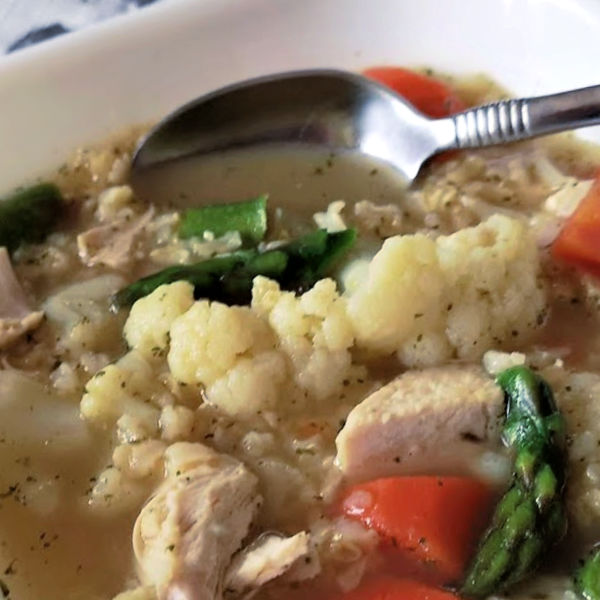 Oma's Homemade Chicken Rice Soup Recipe

My homemade chicken rice soup recipe, aka Hühner-Reissuppe, is one you're sure to make often. Why? 'Cause it's so easy and so good.
Make a huge batch when you've got a crowd to feed. Just add some fresh bread and you've a feast.
Prep Time


10 minutes


Cook Time


75 minutes


Total Time

85 minutes

Ingredients:
2 - 2½ pounds chicken pieces
12 cups water
2 tablespoons Vegeta (optional)
2 bay leaves
1 onion, coarsely chopped
3 - 4 stalks celery, coarsely chopped
2 - 4 carrots, coarsely chopped
2 cups brown rice
Maggi (optional)
salt, pepper
Instructions:
Remove visible fat from chicken. Put into large soup pot and cover with water.
Add Vegeta, bay leaves, and onion.
If you are not using Vegeta, add about 2 teaspoons salt.
Bring to boil. Reduce heat, cover, and simmer for about 30 minutes. 
Add celery, carrots, and rice.
Bring to simmer, cover, and continue to simmer for about 30 minutes or until the chicken is cooked. Carefully remove the chicken pieces (to prevent them from falling apart and losing the bones in the soup).
Continue cooking the soup until the rice is tender, about another 15 minutes. In the meantime, remove the meat from the chicken bones. Return the meat to the soup.
Season the soup with salt, pepper, and Maggi.
Notes/Hints:

If you want to use white rice, your cooking time will only be about 20 minutes once you add it instead of the brown rice.
If you don't have Vegeta, just season well with the spices you normally like in your chicken soup.
Add curry powder and/or a bay leaf or two.
*  *  *  *  *

Unless otherwise noted recipe, images and content © Just like Oma | www.quick-german-recipes.com