Oma's Turkey Rice Soup Recipe ❤️

➤ by Oma Gerhild Fulson
FTC Disclosure: As an Amazon Associate I earn from qualifying purchases.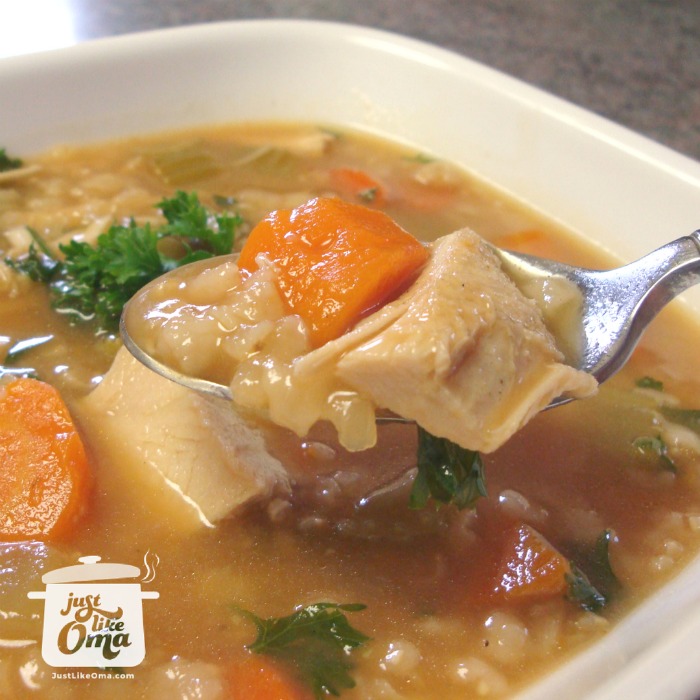 Making this turkey rice soup recipe, aka Puten-Reis Suppe, is so easy and economical when you have a turkey carcass. It's a homemade soup will satisfy even those who think they've had enough turkey after the holiday bird has been demolished. You can make this soup thick or broth-y.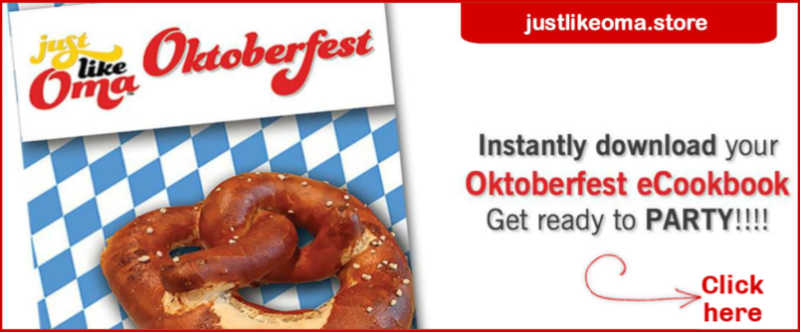 Add whatever vegetables you have in the fridge. Have some extra turkey gravy? Add it as well. Turkey Rice Soup ... any which way you like!

---
I have to admit that when I make soups, even following my own recipes, I usually double, triple, or even quadruple the recipe!
Why?
Because we love soups! And, because they're so wunderbar, hubby LOVES leftovers.
So, I need and use a HUGE stock pot for this. It's easily the most used pot in my kitchen.
In fact, with it's high sides, I often use it when I'm browning meat in order to minimize the splattering all over my stove. Multi-purpose. Perfect for me! Just think how many rouladen or cabbage rolls you can braise in here!
---
Like the soup shown here? You'll love looking at and making more of Oma's soups. All so quick and easy!
What makes these soups so wunderbar? They bring back such wonderful memories of my Mutti's kitchen. So, of course, I had to write my own soup e-cookbook to share with my grandchildren. I know you'll LOVE it, too!
There are 84 full-color pages filled with step-by-step instructions and hints. Take a quick peek ...
Sharing these soup recipes from my Mutti and Oma to my own young grandchildren ... that's such a delicious way to pass on our German heritage :)
How to deal with that turkey carcass:
(Don't toss that carcass. Make dinner instead!)
Need a quick way to clean up after that turkey dinner? Especially after a party, I don't like dealing with the leftover turkey carcass. That's where the slow cooker comes in. I can set it and forget it. Here's what to do:
Quickly remove large pieces of turkey meat into plastic bags and refrigerate.
Put carcass into slow cooker.
Cover with water.
Add about 1 tsp salt and some pepper.
If time, add onion, carrots, and celery.
Cover and put on "low".
Leave at least 12 hours, or overnight, and use broth as below.
 I once left the turkey carcass in the slow cooker for 48 hours. The bones fell apart! The broth was the richest tasting broth ever and made the BEST turkey rice soup recipe! Wunderbar!
Leftover turkey soup? Add a can of diced tomatoes when reheating and re-season. A completely "new" soup that doesn't taste like leftovers.
How to cook Barley ...
I'm frequently asked how to use barley in cooking. Below, I find this a simple way to include barley in soups. It cooks quicker than rice, but provides the starch component that makes this soup so filling. 
Nothing fancy is used. Open bag, measure, and add. Simmer. Enjoy!
Oma's Turkey Rice Soup Recipe (or Barley) ❤️

Ingredients:
1 turkey carcass
1 onion, coarsely chopped
3 - 4 carrots, peeled and cut in chunks
2 - 3 stalks celery, cut in chunks
1 cup long grain rice, regular or brown or ⅔ cup pearl barley
salt, pepper, Vegeta, Maggi
2 cups chopped assorted vegetables - see hints below
fresh parsley for garnish
Instructions:

Place turkey carcass (include skin, pan drippings, everything) into large soup pot. Cover with water.
Add onion, carrots, and celery. Add 1 tbsp Vegeta. If not available, add 1 tsp salt and some freshly ground pepper.
Bring to boil. Cover and simmer at least 1 hour. (See below for using a slow cooker instead.)
Strain into another large pot or bowl, using a sieve to catch all those little bones and stuff.
Skim off any fat (use basting bulb or put ice cubes into broth and quickly remove congealed fat)
Measure broth and put in large soup pot. For every 8 cups of broth, add 1 cup of long grain rice or ⅔ cup pearl barley. Adjust according to your quantities. If you don't have enough broth, add water. You can always add chicken bouillon to make up for the difference.
Add any assorted vegetables (see below) if desired.
Bring back to boil, reduce heat and simmer about ½ hour.
While soup is cooking, remove any meat from bones and add to soup.
Season with salt, pepper, and Maggi. Sprinkle with chopped parsley.
Serves 6.
Hints:
Cut into chunks and add about 2 cups assorted vegetables such as: carrots, celery, onions, mushrooms, broccoli, cauliflower, etc.
Add 1 - 2 tbsp dried parsley to soup.
If you like a broth-y soup, add only about ¾ cup rice. OR, you can thin the finished soup with extra chicken broth.
This soup will thicken once it cools. You will need to be careful when reheating - stir constantly and/or add extra broth or water. You can also add a can of diced tomatoes as shown above, to the leftover soup. It will thin the soup and give another "turkey rice soup recipe" that's different from the original recipe for turkey soup.
If you have leftover turkey meat, you can add it to the soup as well.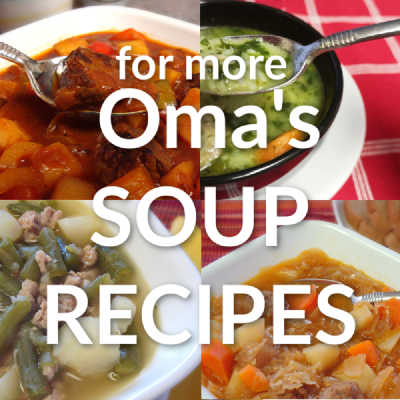 Leave a comment about this recipe or ask a question?
Pop right over to my private Facebook group, the Kaffeeklatschers. You'll find thousands of German foodies, all eager to help and to talk about all things German, especially these yummy foods. 
I pop in all the time as well, to chat and to answer questions. 
Meet with us around Oma's table, pull up a chair, grab a coffee and a piece of Apfelstrudel, and enjoy the visit.
*  *  *  *  *
Want nutritional information for a recipe?
Copy and paste the ingredient list and the number of servings into Calorie Count. 
It will give you an approximate calculation.

Need help doing conversions
between cups and grams or any such thing?
Use this site to give you all the different conversions for the different types of ingredients. 
---
PIN this ...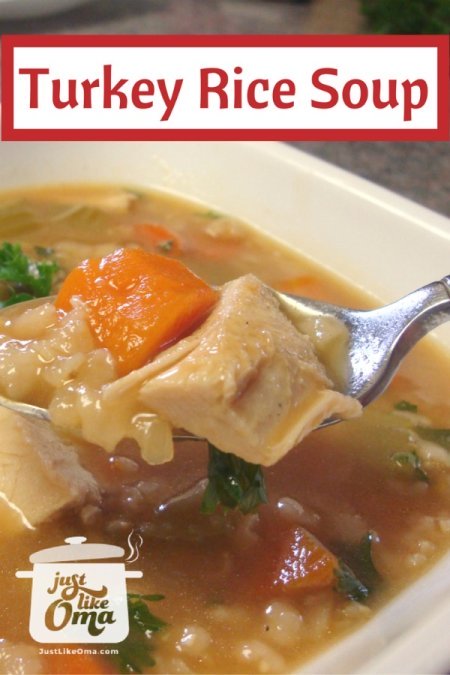 ---
Schwenkbraten recipe that has been a delish hit an alle familien & freunde... Total Approx. Time: Prep: 15 min. + Marinating 8 hrs min. + Grill: 15 min.

My Oma made this cake every Christmas. She iced it with a white frosting that ran down the sides. She decorated it with little silver balls (candy). It
---
Words to the Wise
"Stay away from fools, for you won't find knowledge on their lips."
Proverbs 14:7 (NLT)
---
Oma's Turkey Rice Soup


By
Oma Gerhild Fulson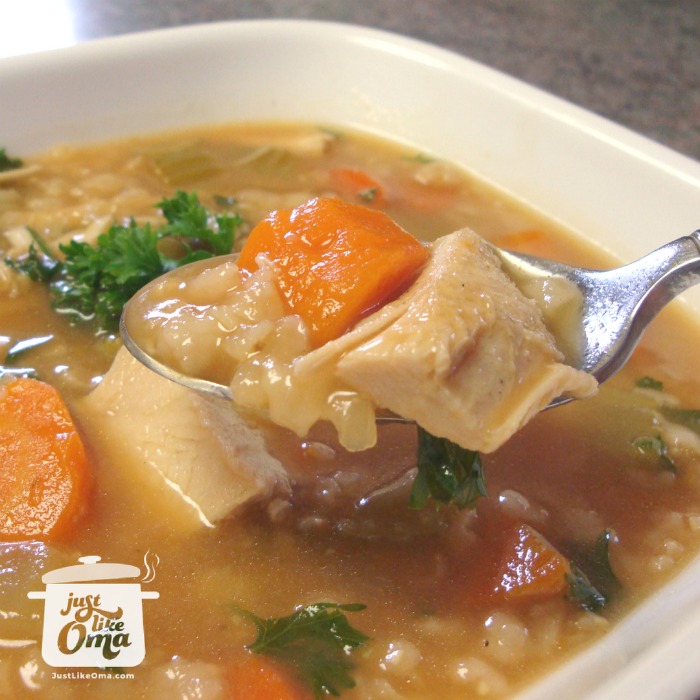 Making this turkey rice soup recipe is so easy and economical when you have a turkey carcass left over from your holiday dinner. Don't toss that carcass, make soup instead!


Prep Time: 15 minutes

Cook time: 90 minutes

Yield:
6 servings

Ingredients:
1 turkey carcass,
1 onion,
4 carrots,
1 cup rice,
3 stalks celery,
For the full recipe, scroll up ...