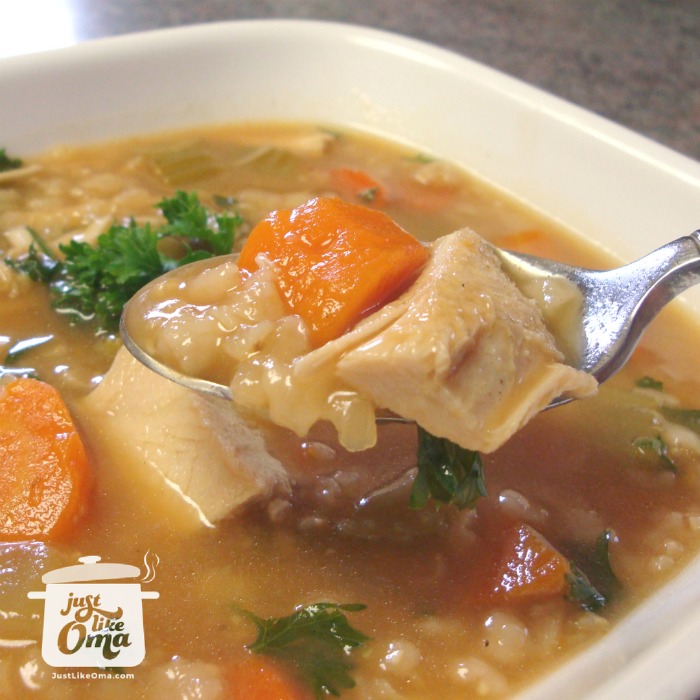 Oma's Turkey Rice Soup Recipe (or Barley)

Making this turkey rice soup recipe, aka Puten-Reis Suppe, is so easy and economical when you have a turkey carcass.
It's a homemade soup will satisfy even those who think they've had enough turkey after the holiday bird has been demolished. You can make this soup thick or broth-y. 
Prep Time


30 minutes


Cook Time


90 minutes


Total Time

120 minutes

Servings:

Makes 6 servings
Ingredients:
1 turkey carcass
1 onion, coarsely chopped
3 - 4 carrots, peeled and cut in chunks
2 - 3 stalks celery, cut in chunks
1 cup long grain rice, regular or brown or ⅔ cup pearl barley
salt, pepper, Vegeta, Maggi
2 cups chopped assorted vegetables - see hints below
fresh parsley for garnish
Instructions:
Place turkey carcass (include skin, pan drippings, everything) into large soup pot. Cover with water.
Add onion, carrots, and celery. Add 1 tablespoon Vegeta. If not available, add 1 teaspoon salt and some freshly ground pepper.
Bring to boil. Cover and simmer at least 1 hour. (See below for using a slow cooker instead.)
Strain into another large pot or bowl, using a sieve to catch all those little bones and stuff.
Skim off any fat (use basting bulb or put ice cubes into broth and quickly remove congealed fat)
Measure broth and put in large soup pot. For every 8 cups of broth, add 1 cup of long grain rice or ⅔ cup pearl barley. Adjust according to your quantities. If you don't have enough broth, add water. You can always add chicken bouillon to make up for the difference.
Add any assorted vegetables (see below) if desired.
Bring back to boil, reduce heat and simmer about ½ hour.
While soup is cooking, remove any meat from bones and add to soup.
Season with salt, pepper, and Maggi. Sprinkle with chopped parsley.
Notes/Hints:

Cut into chunks and add about 2 cups assorted vegetables such as: carrots, celery, onions, mushrooms, broccoli, cauliflower, etc.
Add 1 to 2 tablespoons dried parsley to soup.
If you like a broth-y soup, add only about ¾ cup rice. OR, you can thin the finished soup with extra chicken broth.
This soup will thicken once it cools. You will need to be careful when reheating - stir constantly and/or add extra broth or water. You can also add a can of diced tomatoes as shown above, to the leftover soup. It will thin the soup and give another "turkey rice soup recipe" that's different from the original recipe for turkey soup.
If you have leftover turkey meat, you can add it to the soup as well.
*  *  *  *  *

Unless otherwise noted recipe, images and content © Just like Oma | www.quick-german-recipes.com