German Meals at Oma's ~ Paperback & Kindle
Re-create Oma Gerhild's favorite authentic German recipes right in your own kitchen!
Whip up traditional German meals just like Oma used to make!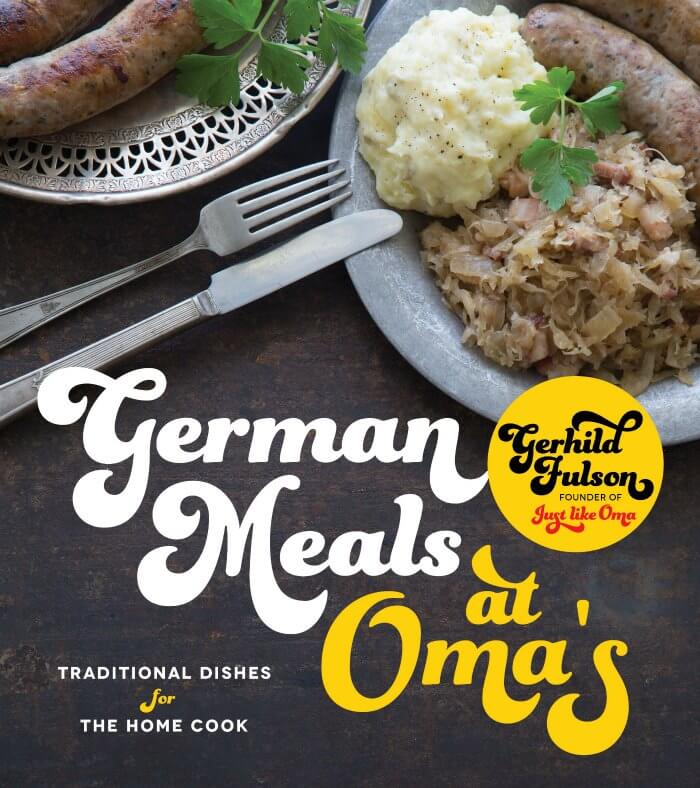 I was born in Germany and learned how to make many delicious and traditional German meals by my Mutti's side. After years of perfecting the recipes, I have created this incredible collection that covers well-known dishes from Berlin to Hamburg―and everywhere in between.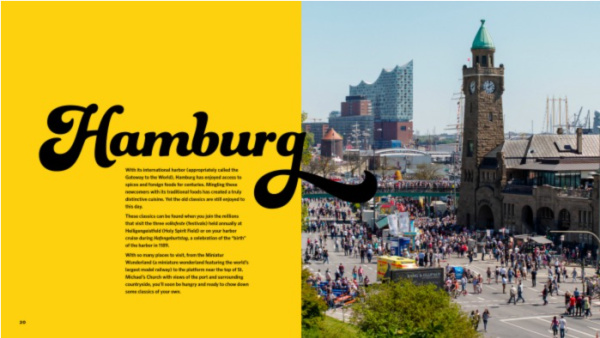 Chapter page, Hamburg, from German Meals at Oma's
With easy-to-follow recipes, beautiful photos and helpful tips throughout, you'll feel like you're cooking with Oma right by your side.
Enjoy meals like this Cauliflower Bomb from the Mecklenburg-Vorpommern area …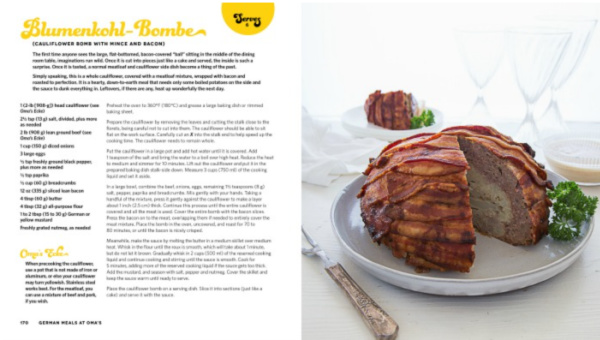 Blumenkohl Bombe recipe page from German Meals at Oma's
… or enjoy this Baden-Württemberg traditional meal …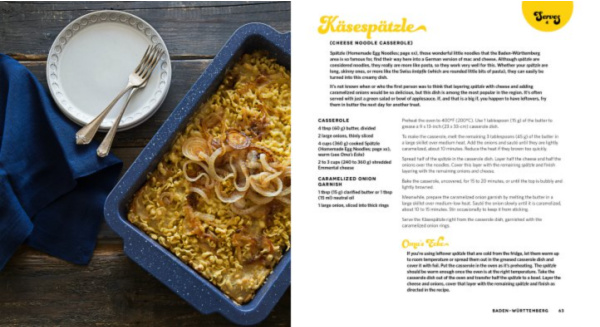 Käsespätzle recipe page from German Meals at Oma's
Whether you're in the mood for the heartwarming dishes of your childhood or you simply want to try tasty dishes from a new cuisine, I make it easy for you to take classic German recipes from my family's table to yours.
Each of these 75 wunderbar recipes has a full page color photo and is filled with tips and tricks, right from my kitchen.
Here's your chance to get German Meals at Oma's for yourself and for everyone on your gift-giving list! Pass on your German culture to your children and grandchildren. Share your love for German cuisine with your friends and neighbors.
Get Oma's paperback German Meal's at Oma's today.
I've re-created those traditional German foods that you recall your Oma making by using easily available ingredients and new methods that don't take hours.
Quick and easy. That's my motto. Wunderbar food. That's the result.
---
Many German recipes use ingredients only available in Germany. Since I don't live in Germany, having access to these isn't always easy. So, I experimented with my Mutti's recipes (many came from her hand-written notes) and made them with ingredients easily purchased at my local Canadian grocery store.

CRAVING MORE GERMAN FOOD?
These e-cookbooks, written in English, are the result. Since they are instantly downloadable PDFs, the moment you order them, you'll be cooking and baking just like Oma in no time at all! (Prices below are in USD.)
Oma's eCookbooks
Choose from my e-cookbooks that are immediately downloadable PDFs & start cooking and baking easy German foods right away. (Prices are in USD.) 
What a yummy way to pass on our German culture: eat like a German!
You'll find oodles of recipes in my eCookbooks that will trigger memories of meals at Oma's ... both from the northern part of Germany and the southern part.
All downloadable digital items are for personal, non-commercial use only. They may not be transferred, shared, forwarded, resold, distributed or posted by electronic means or as free downloads.
All images and content are copyrighted by Just like Oma and Gerhild Fulson. 
Looking for PAPERBACK COOKBOOKS?

Oma's newest cookbook (in English), Baking Just like Oma, is now available. Filled with recipes for breads, rolls, cakes, and Christmas treats, you'll be amazed how easy it is to make those wonderful German mouthwatering treats. Grab this paperback today! 
More info: Baking Just Like Oma
More info: German Meals at Oma's
Grab this cookbook as well, German Meals at Oma's, (in English). Filled with recipes from every German state, it will take you on a tour throughout Germany. Eat your way around the country and try some traditional foods that are easy to make. It's also available as a Kindle version.