How to Make your own Homemade Soup Recipes ❤️
➤ by Oma Gerhild Fulson
FTC Disclosure: As an Amazon Associate I earn from qualifying purchases.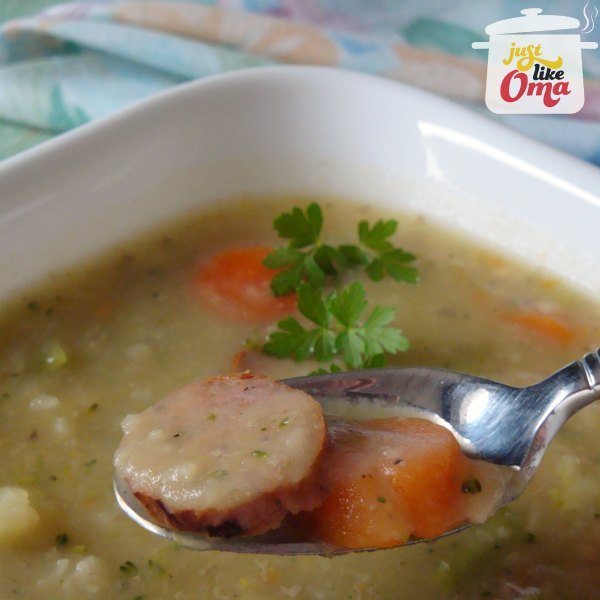 Create homemade soup recipes using ingredients you probably have right now in your kitchen. Really! It's that simple once you learn how to make soups ... with Oma ... that's me! Follow along as I show you how to make your own homemade soup recipes ... each one different if you want. Making soups from scratch is a lot easier than you think.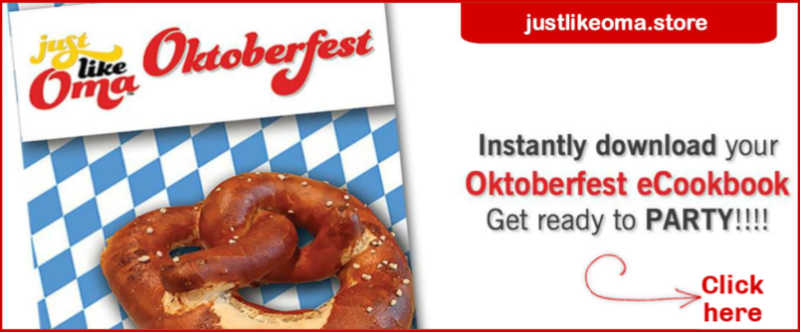 Below is a Hearty Vegetable Soup with Sausage as an example. Check the "A bit of this and a bit of that" for other ideas and the "Oma Says" for more homemade soup recipe tips.

Like the soup shown here? You'll love looking at and making more of Oma's soups. All so quick and easy!
What makes these soups so wunderbar? They bring back such wonderful memories of my Mutti's kitchen. So, of course, I had to write my own soup e-cookbook to share with my grandchildren. I know you'll LOVE it, too!
There are 84 full-color pages filled with step-by-step instructions and hints. Take a quick peek ...
Sharing these soup recipes from my Mutti and Oma to my own young grandchildren ... that's such a delicious way to pass on our German heritage :)
A bit of this and a bit of that ...
Use any leftover meat to add to the soup instead of the cooked sausages. Ham would also be nice. 
The thicker you make it with the instant potato flakes, the heartier the soup will be. 
If you don't have any broth, use beef bouillon cubes, enough to make up 6 cups of broth.
Use a different frozen veggie mix for a different soup. Be creative! Make your own masterpiece! Create your own easy vegetable soup recipes.
Oma's Homemade Soup Tips ...
When you decide you're in need of quick dinner ideas, making you own soup is a great solution.
Take a recipe that you've already made and alter it if this is your first time creating your own. 
Measurements don't need to be exact. Ingredients are easily exchanged. Add different seasonings. Omit what you don't like.
For the hearty vegetable soup above, using a hot spicy BBQ sausage really gave this soup ZING! My hubby was flabbergasted at how marvellous this soup tasted. I now know that when I need easy dinner ideas, this easy soup will be a winner. It's a keeper.
The idea of just cooking frozen veggies, instant mashed potatoes, and leftover BBQ sausages to make a wonderful quick and hearty soup was the basis for this one.
 I realized I had some leftover grilled sausages in the fridge. I also had some amazing broth I had cooked some spare ribs in before I had BBQued them. So, creativity blossomed and the following has become one of my very easy vegetable soup recipes!
Oma's Hearty Vegetable Soup with Sausage ❤️
Ingredients:
5 lb frozen California style veggies (carrots, broccoli, cauliflower mix)
about 6 cups hot water
about 6 cups hearty beef or pork broth
Instant mashed potato flakes (enough for 3 cups milk)
2 - 4 cooked sausages
salt and pepper
Montreal Steak Spice (optional)
Instructions:

Into a large soup pot, place the frozen veggies. Add hot water and broth.
Bring to boil, reduce heat to simmer, cover and simmer for about 6 - 10 minutes or until veggies are tender.
Using a potato masher, crush some of the veggies to make a creamier soup.
Stir in sufficient instant mashed potato flakes to make the soup as creamy and thick as you wish. (I used one package that normally is mixed with 3 cups liquid)
Slice cooked sausages and add to soup.

 

Season with Montreal Steak Spice, salt and pepper.
Makes about 10 - 12 servings.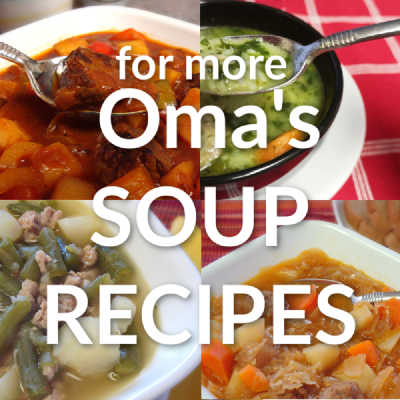 Leave a comment about this recipe or ask a question?
Pop right over to my private Facebook group, the Kaffeeklatschers. You'll find thousands of German foodies, all eager to help and to talk about all things German, especially these yummy foods. 
I pop in all the time as well, to chat and to answer questions. 
Meet with us around Oma's table, pull up a chair, grab a coffee and a piece of Apfelstrudel, and enjoy the visit.
*  *  *  *  *
Want nutritional information for a recipe?
Copy and paste the ingredient list and the number of servings into Calorie Count. 
It will give you an approximate calculation.

Need help doing conversions
between cups and grams or any such thing?
Use this site to give you all the different conversions for the different types of ingredients. 
---
PIN this ...
---
Schwenkbraten recipe that has been a delish hit an alle familien & freunde... Total Approx. Time: Prep: 15 min. + Marinating 8 hrs min. + Grill: 15 min.

My Oma made this cake every Christmas. She iced it with a white frosting that ran down the sides. She decorated it with little silver balls (candy). It
---
Words to the Wise
"No harm comes to the godly, but the wicked have their fill of trouble."
Proverbs 12:21 (NLT)