Recipe for Onion Soup – Sheila's Zwiebelsuppe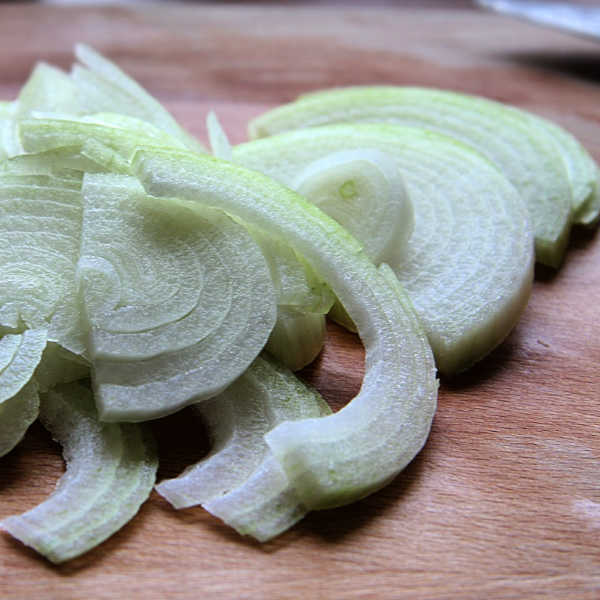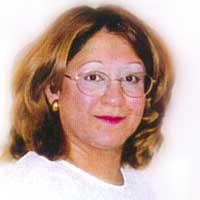 This recipe for onion soup has an astonishing history!
Sheila Jacobson wrote me an email that described in detail how the German settlers in Quebec, Canada, turned the traditional French Onion Soup into their very own tradition.
Their method of how to cook onions and turn them into a delicious German Beef Onion Soup is described below, in Sheila's own words:
Sheila's Recipe for Onion Soup: German-style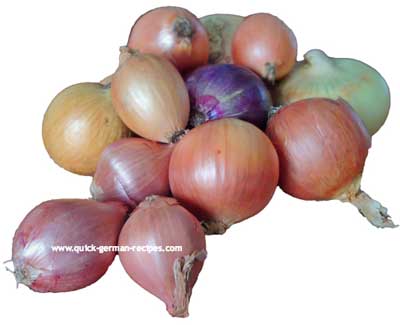 You will need LOTS and LOTS OF THINLY SLICED, LARGE YELLOW OR SPANISH ONIONS … use as many as you would like.
Remember that onions reduce to a great extent when fried or sautéed, & you can count on getting only about 1 cup of moderately crisp fried sliced onions for every 5 cups of raw sliced onions, depending on the amount of water in the onions. 
Fry the sliced onions in oil or beef suet or even lard (which was the preferred fat by the early German settlers, as it was also back in Germany), but make sure to use at least some oil as oil prevents the onions from tasting "greasy".  
Also, add a generous amount of salt sprinkled over the onions because the salt will draw out the "water" from the sliced onions, & will prevent the onions from burning easily, & also make the onions tasty & crisp.  
Do NOT use more than one tablespoon of salt for 25 to 30 cups of sliced onions.
Keep frying the sliced onions till they become moderately crisp & a medium brown in color.

Then, cut up the beef short ribs (flanken) into individual pieces with one bone each attached to a square piece of its own meat.  Also, cut up the skirt steak, hanger steak, flank steak, and beef cheeks into a maximum of 2-inch square pieces.  Do NOT cut up the shanks … leave the beef shanks intact with their bone in & their meat all attached.  
Beef oxtail is full of collagen, & you have to cut up the oxtail at each "joint" of the tail, so you get clean cut pieces of the oxtail, between the "joints".  The beef oxtail gives an incredible "rich", velvety texture to the beef soup because of all the collagen in the oxtail.  
When the beef soup gets cold, even at room temperature, in a cool room, it will "gel" if there is a lot of collagen in it, from the beef oxtail.
You DON'T need to salt the raw beef … there's enough "salt" in the sautéed/fried onions to give flavor to the beef.
Now, brown the cut up pieces of beef and the whole, intact beef shanks in the fried onions … you may remove the browned pieces of beef onto a plate to make more room in the pot for browning the other raw pieces of beef.
When all the pieces of beef have been browned, put them all back into the pot, if they had been removed to a plate to make room in the pot for sautéing the other pieces of beef.
Add either LOW SODIUM beef broth, LOW SODIUM vegetable broth, or a combination of the two LOW SODIUM broths, or just water if you prefer, to about 2 inches above the level of beef in the pot.  I think the LOW SODIUM beef broth mixed with the LOW SODIUM vegetable broth gives the best flavor, but, sometimes, my husband & I prefer to have only LOW SODIUM beef broth in the soup, & no other broth or even water.
Now, simmer the "soup" for a few hours till the meat falls off the bones, & the beef marrow has fallen out of the center of the beef shank bone.
You may eat the soup at this point, it's ready to serve. It's best eaten in typical German tradition … with lots of slices of fresh rye bread, spread with unsalted butter, served on the side.
Sheila continues to write about this recipe for onion soup:
"The history of this German Beef Onion soup is interesting in that there was a SIZEABLE settlement of German migrants to the area just southeast of Montreal, Canada, way back some 200 years ago, when German immigrants also began to settle in the U.S. in areas that are now known as Pennsylvania, & Ohio. 
The area just southeast of Montreal, in Canada, is called "The Eastern Townships", & it is along the U.S. – Canada border, which borders on the U.S. states of Maine, Vermont (Burlington, Vermont), & Upstate New York (Plattsburg, New York).
There were French Canadian settlers in that same area of The Eastern Townships since the 1500s, & these French Canadian settlers had their own collection of their version of French foods such as Onion Soup, a famous comfort soup even in France which was made legendary in the "Les Halles" market of old Paris, going back to the 1100s.
Although the Germans LOVE their soups, they prefer hearty soups in the winter time with heavy meats with attached beef bones to give added flavor.
French onion soup has NO MEAT in it, & when served, it has a slice of bread or croutons on top with grated cheese which has been broiled till it melts.
So, the early German settlers in the Southeastern part of the Province of Quebec, just southeast of Montreal, began to "Germanize" French Onion soup to make it more suitable to their liking in the winter months, because the winters in the Province of Quebec in Canada are bitterly cold, making it necessary to strengthen oneself with hearty meat soups.
The Germans took the basic French Onion soup recipe, & added generous amounts of beef short ribs (flanken), beef shank with bone in, beef skirt steak, beef hanger steak, beef flank steak, beef cheeks, beef oxtail, and whatever parts of beef that could be used & would become tender through the long braising process in liquid.
But they never used beef liver in this soup.  Beef liver should NEVER be used in this recipe. Also, beef tongue should never be used in this soup.
But I have found that this soup is best served the next day after it has been sitting in the fridge or in a very cold place (such as your back porch) in the bitter cold winter months, so that the "fat" will come to the top, & harden, so it can be easily "lifted" out, or spooned off, leaving behind an almost fat-free delicious broth with tasty fried & boiled onions with tender & flavorful boiled beef pieces in it.
I am surprised that the Germans in Wisconsin, & Minnesota, & Ohio, & Pennsylvania, never came up with this German version of the French Onion Soup … it might be because there weren't any big French communities in those parts of the U.S., so the Germans never got to find out how much they love French onion soup, especially with meat in it.
I have had this German Beef Onion Soup with a little beef, or A LOT of beef … and I can honestly say that the soup with A LOT OF BEEF is the best, especially with bone-in shank with its marrow & big amount of meat all around it, which mostly falls off into the soup after several hours of simmering.
Germans DON'T really have a big culinary tradition with melted cheese … unlike the Italians & the French & the Swiss … the Germans rarely have cheese dumplings, or anything that is similar to the Italian lasagna, or the French Onion Soup with croutons & melted cheese on top, or the Swiss sandwich – ham & cheese on rye, & the cheese is sometimes "grilled" on a Panini type grill, till it melts.
I have been making this soup for decades … my husband & I have been married for almost 40 years … this year … 2014 … will be our 40th. Wedding Anniversary … &, so, after making this German Beef Onion Soup for all these years after I got married nearly 40 years ago, I just "eyeball" the amounts of ingredients I use, & just go by "feel", &, thank God, so far, the amounts & proportions of the ingredients I have used have always produced a delicious soup.  I think it's because this "recipe" is "fool proof" … not much can go wrong with it. 
This soup is best eaten in traditional German style … with lots of slices of fresh rye bread, spread with unsalted butter, served on the side. I hope you get to try it."
---
Grab your copy of Oma's favorite soups collection in Quick Fix German Soups e-Cookbook. You'll LOVE it!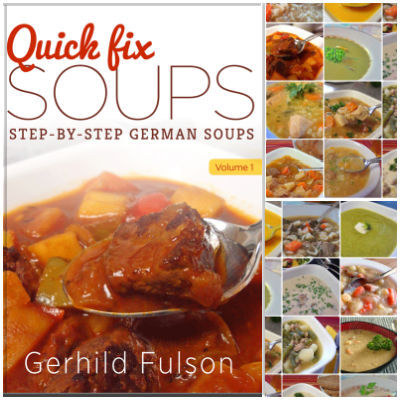 Take a peek at all Oma's eCookbooks. They make sharing your German heritage a delicious adventure!
---
Oma says,
Sheila, WOW! Thanks so much for sharing all this history and the recipe for this German Beef Onion Soup. 

I loved reading about how it came about in Quebec, Canada, since I also live in Canada. Nice to know that we've influenced a 'traditional' soup!
Leave a comment about this recipe or ask a question?

Pop right over to my private Facebook group, the Kaffeeklatschers. You'll find thousands of German foodies, all eager to help and to talk about all things German, especially these yummy foods. 
Meet with us around Oma's table, pull up a chair, grab a coffee and a piece of Apfelstrudel, and enjoy the visit.

Cooking just like Oma, making those German meals, is actually quite easy. Let me, Oma Gerhild, help you with my step-by-step methods to re-create those yummy meals you remember from your Oma.

If you're looking for tasty, traditional, and easy German cake recipes (in English) to try, then you've come to the right place! Check out these lecker treats!

Discover the ultimate German schnitzel recipe with Oma's quick and easy method - perfect for any occasion! Taste the authentic flavors of Germany today.
*  *  *  *  *
PIN this ...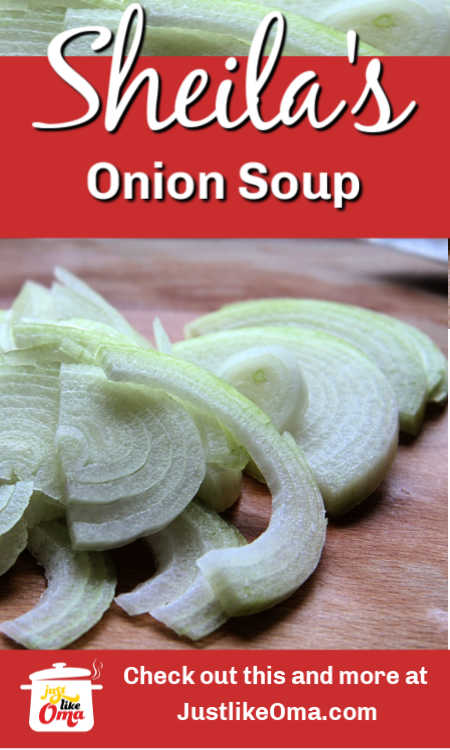 Words to the Wise
"Rumors are dainty morsels that sink deep into one's heart."
Proverbs 26:22 (NLT)