Oma's Slow Cooker Easy Chili Recipe 
➤ by Oma Gerhild Fulson
FTC Disclosure: Making a purchase via a link on the page? I may earn a small commission on the transaction - at no added cost to you. Thanks!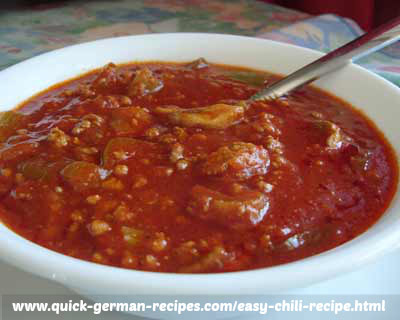 Want an easy chili recipe? Here's my slow cooker chili -- just put everything in the slow cooker in the morning and come home to dinner! That's quick prep! You can make changes to the main recipe to suit your fancy. Serve it as a soup or thicken to serve it over hot cooked rice. Omit the beans. Add mushrooms (my favorite). Add extra veggies. You choose!

This is surely the easiest way how to make chili. Using a slow cooker means that there's no standing at the stove, stirring for hours to make sure things don't burn. If you really want to make this quicker, you can always do it on the stove. You just do need to stir it frequently so that the chili doesn't settle and burn on the bottom!
I love using my new Cuisinart Slow Cooker!    (I gave away my old one!)
With a 24-hour timer and an automatic Keep Warm feature, I LOVE this! Click on the photo for more information!!!!! You'll love using this, just like I do!

Oma's Slow Cooker Easy Chili Recipe 
Ingredients:
1 lb lean ground beef
1 onion, chopped
1 clove garlic, chopped
1 cup whole tomatoes (canned)
1 cup ground tomatoes (canned)
2 cups kidney beans (canned), drained
1 cup mushroom pieces (canned), drained (optional)
1 cup chopped green/red peppers (optional)
1 tsp oregano
1 tsp ground cumin
1½ Tbsp chili powder
½ tsp salt
¼ tsp pepper
Instructions:
Place everything in the slow cooker and stir to mix, breaking up ground beef.

Cover and cook on Low for about 5 - 7 hours.

Season with extra salt and/or pepper and/or chili powder.

If sauce seems too thin, uncover the slow cooker for the last hour and turn to high.

Makes 6 servings.

Like the soup shown here? You'll love looking at and making more of Oma's soups. All so quick and easy!
What makes these soups so wunderbar? They bring back such wonderful memories of my Mutti's kitchen. So, of course, I had to write my own soup e-cookbook to share with my grandchildren. I know you'll LOVE it, too!
There are 84 full-color pages filled with step-by-step instructions and hints. Take a quick peek ...
Sharing these soup recipes from my Mutti and Oma to my own young grandchildren ... that's such a delicious way to pass on our German heritage :)
A bit of this and a bit of that ...
Add some diced celery, chopped carrots, canned and drained chickpeas.
Thicken sauce with cornstarch (dissolve about 2 Tbsp cornstarch in some cold water) and add to simmering sauce.
Serve this as a sauce over hot cooked rice.
Chili Facts ...
Usually called Chili con carne, meaning chili with meat, this dish is supposed to be a spicy stew which contains chili peppers, meat, and, depending on taste, tomatoes and/or beans.
There are so many variations for this, from the level of spiciness to the inclusion or exclusion of various ingredients. Where chili originated is a widely contested 'fact' ... with Mexico or Texas being the most likely winners.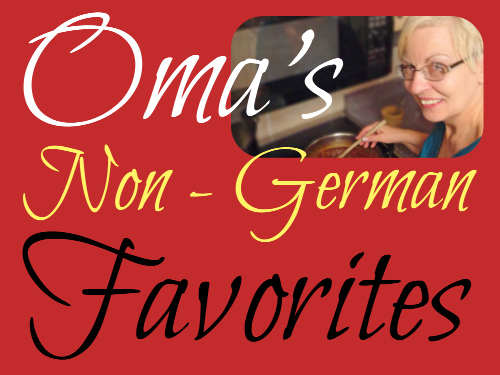 Is chili German? Absolutely NOT!
But, it tastes so good and our family loves it. In fact, I make it quite often, doubling and even tripling the recipe and using a super large pot, so that there will be LOTS of leftovers! And, it freezes well!
Some International Soups ...
Leave a comment about this recipe or ask a question?
Pop right over to my private Facebook group, the Kaffeeklatschers. You'll find thousands of German foodies, all eager to help and to talk about all things German, especially these yummy foods. 
I pop in all the time as well, to chat and to answer questions. 
Meet with us around Oma's table, pull up a chair, grab a coffee and a piece of Apfelstrudel, and enjoy the visit.
*  *  *  *  *
Thinking of starting your own Handmade Business?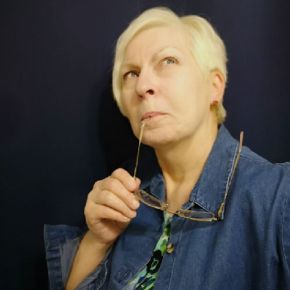 This Oma KNOWS you CAN do it.
How do I know?
Well, if I can do it, anyone can.
I've even figured out how I can help you.
I've teamed up with my own business coach, Renae Christine (yes, do google her!), to bring you this free masterclass. After you watch it, ask me any questions and I'll gladly answer them.
Don't hesitate. I'm not sure how long Renae will keep this free masterclass available.
PS:  Yes, Renae really is as amazing as all the reviews say.
PPS: Yes, the course is for handmade items, but I've used it successfully for my cookbooks. I know others are using her methods for services, direct sales, and even a local ice cream bar & grill that's constantly selling out. You've nothing to lose by taking a look ... and a whole bunch to gain.
*  *  *  *  *
Oma's Cookbooks (downloadable & print)
*  *  *  *  *
Want nutritional information for a recipe?
Copy and paste the ingredient list and the number of servings into Calorie Count. 
It will give you an approximate calculation.

Need help doing conversions
between cups and grams or any such thing?
Use this site to give you all the different conversions for the different types of ingredients. 
---
---
Try this slow cooker roast beef and you'll be amazed at how much this tastes like rouladen WITHOUT the work.

Learn how to cook pork hocks, anytime you want something traditionally German and wonderfully delicious! A hearty meal for any time of the year!
---
Words to the Wise
"A person with good sense is respected; a treacherous person is headed for destruction."
Proverbs 13:15 (NLT)