German Vegetable Recipes
Traditional German vegetable recipes ("Gemüse") can range from the very healthy to those heavily loaded with butter, bacon, and cream (and often overcooked as well).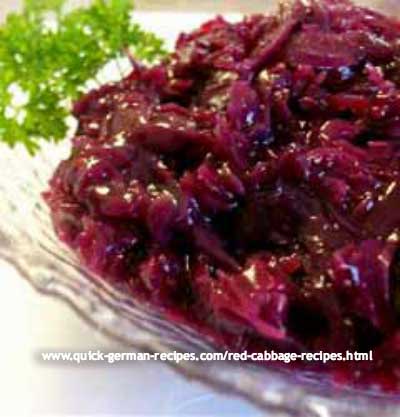 The all time favorite among my German vegetable recipes is here as well. It's THE traditional of what would be considered the BEST vegetable recipes, the German red cabbage recipe.
This one always brings smiles to my family's faces. This, as well as many others, are sure to please even the finickiest eater in your family. And, what makes this so special is that it fits with almost any meal (and looks so pretty, too!)
Try these German Vegetable Recipes
Asparagus - roasted, quick and easy!

Asparagus Salad - delicious spring-time salad

Baked Squash with Tomatoes - topped with blue cheese

Baked Tomatoes - cherry tomatoes with olive oil and thyme

Braised Cabbage - Bavarian sweet cabbage

Brussel Sprouts - finished off with butter and cream
Brussels Sprouts, Roasted - absolutely WUNDERBAR!
Butternut Squash - the kids just love this

Cabbage Rolls - traditionally filled with just meat!
Cauliflower - topped with buttered bread crumbs
Creamed Spinach - delicious and nutritious!
Crustless Spinach Quiche - a great low-carb treat!
Easy Red Cabbage - sent in by Gerhild Naggert
Endive, Hodge-Podge - sent in by Nicole!
Fennel - various recipes from roasted to gratin
Green Cabbage - this is about as traditional as one can get

Kale - by itself or mashed with potatoes
Kale Soup & Kale Casserole - several recipes to try
Kohlrabi with Ham - delicious with leftover ham or sausage

Mohrrübengemüse - carrots, braised and steamed

Mushrooms - fried with a cream sauce
Onion Tart (Zwiebelkuchen) - sent in by Joachim!
Red Cabbage - seasoned with cloves, sugar, and vinegar

Red Cabbage with Apples - apples give added flavor

Roasted Sweet Potato Slices - so not-German, so delicious!

Sauerkraut - method for traditional sauerkraut
Vegetable Frittata - easy supper!

Vegetarian Tomato and Mushroom Gratin - a traditional Auflauf
Favorites ...
Favorites in our household also include cauliflower, mushrooms, Savoy cabbage, kale, carrots, and sauerkraut. What's especially nice about these recipes is that they can be done year-round since these vegetables are staples at the market.
Since how you cook the vegetables will impact their nutritional value, as well as their texture, appearance, and color, this is always something to consider when preparing them.
There are so many varieties of vegetables to choose from. A visit to a nearby farmer's market is a great help, because so many farmers are willing to give you ideas of how to cook their produce.
Have you ever considered that rhubarb is a vegetable rather than a fruit? Try some Beef Rhubarb Dinner Recipes for something different from my friend, Lois's website www.rhubarb-central.com.
Vegetarian or Vegan?
Eating a vegetarian diet is one of the health alternatives that is becoming more common. Among the best vegetarian recipes are Vegetarian Tomato and Mushroom Gratin, a traditional Auflauf and Baked Squash with Tomatoes. This one is topped with blue cheese for an unusual but delicious taste.
As well, do check out my Vegan recipes. 
So go ahead and try one of these authentic, traditional, modernized, and tasty German vegetable recipes. You'll be adding vitamins and smiles to your dinner table!

Want nutritional information for a recipe? Copy and paste the ingredient list and the number of servings into Calorie Count. It will give you an approximate calculation.
---
---
---
Download FREE "Herbs & Spices in the German Kitchen" NOW
by Subscribing to my FREE monthly Newsletter
Quick Fix Recipes - Just like Oma's
Experience Germany: food, people, country, & RECIPES!
---
---
Remember to BOOKMARK this page, so you can find your way back!
Top of German Vegetable Recipes
German Recipes
› Vegetables
Make every day a FUN-FILLED day!
"My (Jesus) purpose is to give them a rich and satisfying life." John 10:10 (NLT)