Homemade Sauerkraut - Fermented Cabbage
by Lori Neff
Look up the health benefits of fermented cabbage - you may never want to be without it --- and it tastes great!



1 head of cabbage, thinly sliced (great with a mandolin) --- save the large outer leaves

(optional: one or two grated carrots; several thinly sliced brussel sprouts; thinly sliced broccoli)

2 tablespoons sea salt

2 tablespoons caraway seeds

In large bowl, combine the shredded cabbage with salt (and any other vegetables, if using), press down hard with your fist, pounding even, until juices are released (a great way to release some pent-up steam ---- stress relief! )
Layer about 2" of the vegetable mixture in a crock pot, sprinkle 1/4 teaspoons caraway seeds on it, pound down with a wooden dowel; keep layering 2" of the mixture, sprinkling 1/4 teaspoons caraway seeds, pounding down, repeat. You want to extract as much juice as possible, enough to cover the vegetables.
If necessary, salt water can be used to make sure the cabbage is fully submerged. Completely cover the vegetables with the clean outer cabbage leaves, and put weights on the leaves. If no weights are available, use an inverted plate on the cabbage, and put a water-filled glass jar on to the place, cover the crock pot with a fine cheesecloth. Let sit at room temperature for 2 days, then put the container in a cool corner for 2 - 4 weeks to ferment.
You can start tasting the cabbage after about 10 - 14 days, but make sure to cover everything tightly again.
Then, transfer the fermented vegetables into smaller jars, seal with lid and keep in refrigerator.
Leave a comment about this recipe or ask a question?
Pop right over to my private Facebook group, the Kaffeeklatschers. You'll find thousands of German foodies, all eager to help and to talk about all things German, especially these yummy foods. 
I pop in all the time as well, to chat and to answer questions. 
Meet with us around Oma's table, pull up a chair, grab a coffee and a piece of Apfelstrudel, and enjoy the visit.
Thinking of starting your own Handmade Business?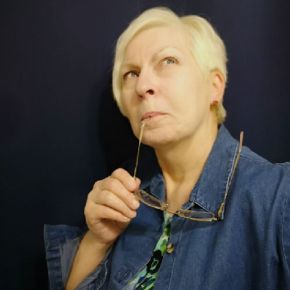 This Oma KNOWS you CAN do it.
How do I know?
Well, if I can do it, anyone can.
I've even figured out how I can help you.
I've teamed up with my own business coach, Renae Christine (yes, do google her!), to bring you this free masterclass. After you watch it, ask me any questions and I'll gladly answer them.
Don't hesitate. I'm not sure how long Renae will keep this free masterclass available.
PS:  Yes, Renae really is as amazing as all the reviews say.
PPS: Yes, the course is for handmade items, but I've used it successfully for my cookbooks. I know others are using her methods for services, direct sales, and even a local ice cream bar & grill that's constantly selling out. You've nothing to lose by taking a look ... and a whole bunch to gain.