Green Bean Soup
This Green Bean Soup ("Grüne Bohensuppe") is an emergency dinner that I often use when I don't have time to make anything else. It's so easy, so quick, and so delicious. Not only that, but there are so many options making this traditional German soup such a great staple for you as well.

| | |
| --- | --- |
| | All you need is a bag of frozen green beans, some type of potato, some kind of meat (raw or cooked), some spices, and about 20 minutes. |
German Green Bean Soup Recipe
Ingredients:
1 - 2 tbsp oil

1 lb ground beef, lean, see comments below

1 medium onion, chopped

1 2-lb bag frozen green beans

1 - 2 tbsp Vegeta Food Seasoning, see hints below

5 cups potatoes, cut up, see comments below

Instructions:
In large pot, heat oil and brown ground beef.

Add chopped onion, cook till translucent or slightly browned.

Add frozen green beans. Add raw potatoes. (If using cooked potatoes, add once beans are cooked and just reheat.)

Add sufficient water to cover.

Add Food Seasoning.

Bring to boil. Reduce heat to simmer. Cover and cook for about 20 minutes, until vegetables are soft. Cooking longer will improve the flavor.

Hints:
Add celery seeds, parsley, or summer savory to taste.

Add freshly ground pepper (I add lots!)

For this Green Bean Soup recipe, the Vegeta Food Seasoning I use has salt and dried vegetables in it. If you don't have this, just add about 1 tsp. salt and some pepper to start. Adjust seasonings to taste.

If you like soup "brothy", just leave the way it is. However, my family likes it thicker (creamier). The easy way is to slowly add Instant Mashed Potato flakes, stirring constantly, until the soup is the consistency you like.

Another way to thicken the soup is to grate a raw potato into the soup right at the beginning.

You can also thicken it with 1 - 2 tbsp cornstarch dissolved in a little cold water. Add to finished soup, slowly, until it's the way you like it.

For other options, check out similar soups, such as carrot soup.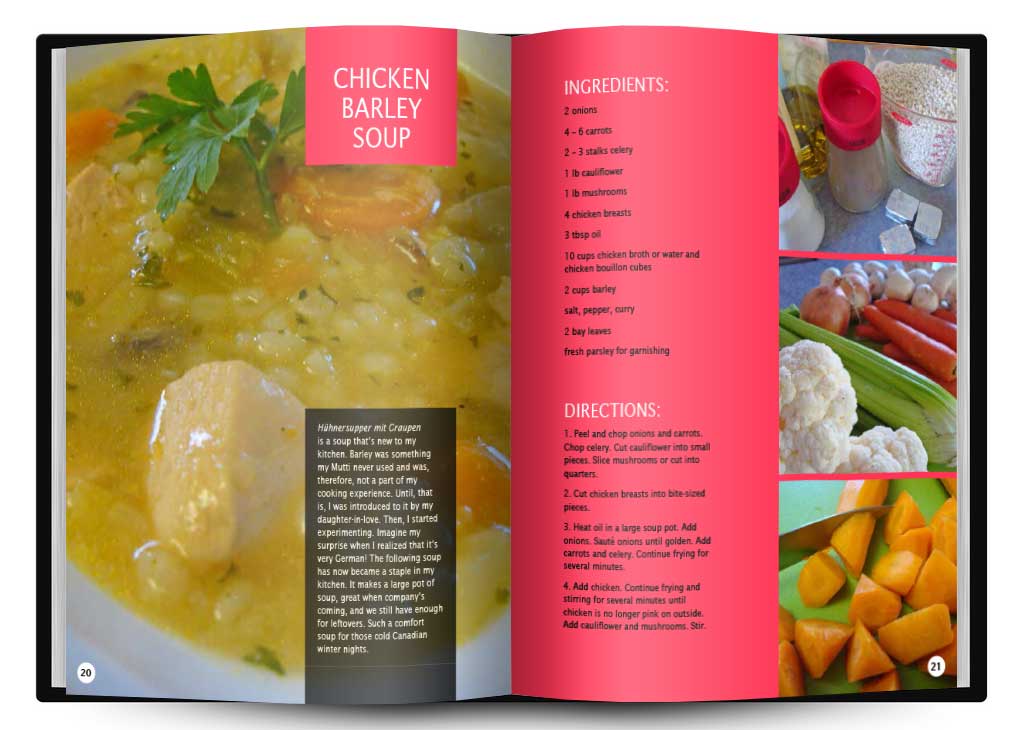 Check out Oma's new eBook Quick Fix Soups, 84 full-color  pages filled with step-by-step instructions and hints. 
Recipe cards are included. All the help you need to make traditional German soups quickly and easily.
This green bean soup is really among my favourite quick and easy soup recipes. It actually shows how to make soup in a really easy way. It comes from the idea of "a bit of this and a bit of that." If you've never cooked that way, try this soup. Follow the instructions and then do some experimenting next time.
For the meat, you can use raw ground beef (lean). If you have some smoked sausage or kielbasa (cut into chunks), that works great as well.
Or perhaps you have some leftover roast, pork or beef, and maybe some gravy.
If you are using cooked meat, omit the oil and add the cut-up meat to the frozen beans.
To get a meatier flavor, add some bouillon cubes. If you have leftover gravy, you can add that as well.
For the potatoes, you can use raw ones (peeled or unpeeled), cut in chunks, or if there are leftover cooked potatoes, use them.
Leftover mashed potatoes work great too. Or instant mashed potatoes, or canned potatoes - whatever you have! For quantities of these types of potatoes - it depends how thick you want the soup. Adding these cooked potatoes once the beans are cooked, will give you a German Green Bean Soup in about 15 minutes.
Want nutritional information for a recipe? Copy and paste the ingredient list and the number of servings into Calorie Count. It will give you an approximate calculation.
---
---
---
Download FREE "Herbs & Spices in the German Kitchen" NOW
by Subscribing to my FREE monthly Newsletter
Quick Fix Recipes - Just like Oma's
Experience Germany: food, people, country, & RECIPES!
---
---
Remember to BOOKMARK this page, so you can find your way back!
---
German Recipes

›
Soups
› Green Bean Soup